Everybody's Golf Review: Fore-play at its finest
Everybody's Golf comes to the PS4, and while it's mostly just a prettier version of its predecessors, that should be more than enough golf game for anybody.
We're reader-supported and may be paid when you visit links to partner sites. We don't compare all products in the market, but we're working on it!
Any way you look at it, golf is a truly weird game.
Golf is a game in which players get all dressed up in fancy clothes to go for what's essentially an extended walk on the lawn, risking serious skin cancer in the sunshine or lightning-based electrocution if a storm blows in.
Along the way, you buy some horrifically expensive and specifically designed sticks in order to beat the living hell out of a perfectly innocent ball until it decides to roll into a hole.
The poor ball doesn't even get to rest there for long before the entire cycle starts anew.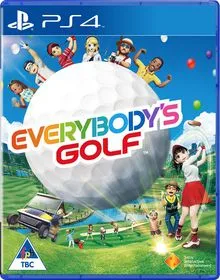 Everybody's Golf (PS4)
from base.com
Invite your friends to play golf with you today. Order now from base.com
View details
Frankly, if reincarnation is actually what happens to us after we die, you'd better hope you don't come back as a golf ball, because then your best hope is to be irrevocably sent flying into a lake, simply so they'll stop beating you. That kind of scenario makes coming back as a dung beetle sound positively luxurious by comparison.
Still, with such a weird premise, most golf games play it very conservatively when it comes to presentation. That can't be said of Sony's long-running Everybody's Golf (Hot Shots Golf if you're American), which has long taken a more generalist approach to golf, keeping the slightly odd clothing but taking a deliberately light tone when it comes to competition or presentation. In its PlayStation 4 debut, little has changed, with the same cartoony presentation throughout.
The first step in Everybody's Golf is to create your character from a very wide palette of choices, before heading out onto the courses to play. Or, to be more strictly accurate, course, at least for the first few hours of play.
While Everybody's Golf comes with multiple courses, and the promise of even more via DLC, at first you're limited to just the first 9 holes on the introductory course, which you'll play over and over and over again.
Now, I'm all for tutorials, but Everybody's Golf takes this to extremes, with a three-character-to-beat system that will see you play the same holes in a massively repetitive fashion as your character gains small improvements in their game. It's quite the relief when the rest of the game opens up to you, but I can't help but think that allowing access to more courses more rapidly would have improved the game quite markedly.
Thankfully, the core game of Everybody's Golf is incredibly accessible, and rather relaxing at that. It uses the three-click system beloved of golf games for decades now, and while that's got more to do, skills-wise with managing Excel spreadsheets than it does actual golf skill, it's an easy to explain but tough to master method for novices to quickly pick up. This is meant to be Everybody's Golf, after all. If it's too much for you, you can even opt for a two-button system, although you lose some precision in your shots by doing so.
The big new invention in Everybody's Golf is an open world system that actively encourages you to explore the whole world. That kind of approach would never be allowed on real golf courses, partially because you'd be beaned by a ball, but mostly because you'd absolutely shred the greens.
An open world approach does allow for a new "Turf Wars" multiplayer mode, where you contest against a team of foes to "capture" as many holes as possible as quickly as possible, all on the open world of the golfing greens. Your reaction to Turf Wars will depend on how seriously you take golf in the first place, but within the context of the setting of Everybody's Golf it's a decent fit.
Everybody's Golf as a series has long been accessible and simple as a title, and while that's generally a strength, beyond somewhat sharper visuals (even sparklier if you have a PS4 Pro and a suitable 4K telly to hand) it's fair to point out that this is a series that's mostly just had a visual makeover for its PS4 incarnation.
It's not universal, however. It's noticeably jarring that conversations with the many in-game NPCs you interact with are a mix of tiny snippets of voice acting with lengthy text explanations that are meant to give you characterisation behind the opponents you face. Ultimately, all you care about is beating them as quickly as possible, not if they want to be in a girl band or if they're also skilled at other sports. Some foes do unlock extra modes such as fishing, but knowing their backstory still isn't important there.
Simply beating them will do the trick, but this is a minor annoyance in what is otherwise an entirely solid golf game.
Oh, and spare a thought while you're out on the greens for all the poor innocent balls that have had to suffer to improve your game. You never know who they might be.
We reviewed Everybody's Golf Review onPlayStation 4 with a copy provided by the publisher.
Everybody's Golf
7.0 VERY GOOD
What we liked...
Cute cartoon visuals
Engaging multiplayer
Very easy to learn and invite others to play
Gradual levelling up of stats is engrossing
What we didn't like...
Terrible NPC dialogue.
Not much changed from older EG games
VERDICT
As distinct from everybody, nobody's going to even glance at Everybody's Golf unless they've got at least a basic interest in playing golf, and within that context, Everybody's Golf is just fine.
It's accessible for non-golfers as well thanks to its less-than-serious take on golf, but there's enough depth here to keep statistics freaks, as well as those who want to level up their skills with every last club playing for months.
For more information on how finder scores games, check our review guidelines.