Enter The Gungeon Xbox One Review: Shoot to kill
Puns and bullets abound in equal measure in Dodge Roll's consistently entertaining twin stick shooter.
We're reader-supported and may be paid when you visit links to partner sites. We don't compare all products in the market, but we're working on it!
There's absolutely nothing new in the twin stick shooter space, and that's hardly surprising, considering it's seen everything from frantically abstract polygonal shooters to carefully crafted comic slaughterhouses over many years of development.
Dodge Roll's Enter The Gungeon knows this full well and doesn't give a single solitary damn for any of the sacred conventions of the genre, instead taking a lightly comical tone around the twin-stick/bullet hell shooter with more than a few puns and visual gags along the way.
Part of
Enter The Gungeon's
unique charm comes from the fact that it also tosses the roguelike genre into the mix, with each dungeon level you traverse randomly generated as you go. At the end of each level lies a level boss with a gun-themed pun to defeat, after which you dust yourself off, count your wounds and carry on.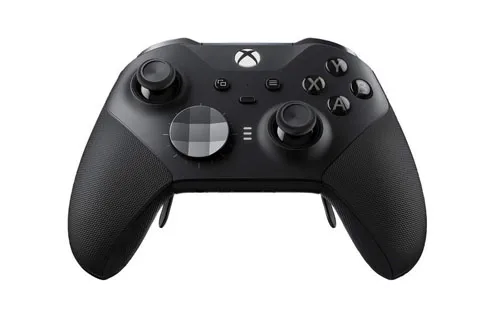 Open gallery Xbox Elite Wireless Controller Series 2
from Microsoft Store
Buy an Xbox One and get 5 video games for free.
View details
If you're thinking that this is a game you've perhaps heard something about before, you're not wrong. Enter The Gungeon was originally launched on Steam and PS4 back in 2016, and it's now made its way to Xbox One as a Play Anywhere title, which means that it also redeems in the Windows 10 Store if you buy a copy via Xbox One, or vice versa. There's also a Switch version in the works if you're a fan of Nintendo's portable console, and it's a game that should suit that system quite well.
Most heavy bullet shooters aren't heavy on plot, but Enter The Gungeon at least tries, with a legend around a gun hidden deep within a typically mysterious dungeon that can, so stories say, rewrite your personal history with just one shot. Enter some deliberately clichéd heroes with pasts they'd rather not just put behind them but instead put a bullet into and you've got a recipe for a rouge-like/bullet hell shooter with just enough plot to keep itself stable. Perhaps. There's certainly space for deep narratives in video games, but sometimes it's also just fun to kick back and let the lizard parts of your brain take over and blow stuff up. Enter The Gungeon doesn't just understand this. It positively revels in it, over and over again, like a puppy rolling around in its own mess.
Although in Enter The Gungeon's case, the mess is a mess of spent bullet casings, and terrible, groanworthy, excellent puns.
No matter which character you pick, the key gaming mechanic in Enter The Gungeon, beyond loading as much ammunition into your foes as physically possible is the in-game dodge roll. This borrows a little from the fighting game scene, because while you're rolling in specific early frames you can float right over bullets that would otherwise harm you, but the later frames of the dodge roll leave you entirely open to attack and unable to move for a few split seconds.
This makes learning how to time your rolls a vital skill, because Enter The Gungeon doesn't mess around with easy learning curves. Each dungeon is randomly generated, so you're just as likely to enter a room overflowing with monsters right at the start as you are one that just has a couple of foes waiting to off you.
The weapons in Enter The Gungeon are a particular source of joy, because while you start with the game's equivalent of a peashooter, there are hundreds of weapons that are randomly scattered in dungeons, sold in shops or dropped randomly by enemies. Yes, there are shotguns and bazookas and whatnot, but it's only when you're firing a gun that fires the letters B, A, N and G, or a gun that skates around copyright law just enough that they won't get sued for ripping off the Ghostbusters proton packs that you realise quite how seriously Enter The Gungeon doesn't take itself.
One slight issue with the random gun arrangement is that sometimes you'll be gifted a weapon that minces levels with ease, while other times you're left with something that's nowhere near as good. Modifying your approach is all good and well, but this does mean that the game's difficulty curve is a touch on the wobbly side.
As you enter each room, the doors lock behind you, which gives the game a delightfully retro, Smash-TV/Robotron-esque feel. The going is tough and deliberately so, although you can co-opt another player to join the fray with you, as long as you can amicably share the weapons... which, let's face it, is never going to happen. Dashing in to nick the randomly generated guns before your partner can is all part of the fun as well.
I tested on an original Xbox One, and the only noticeable change from the Steam version was slightly longer load times between levels. Changing to the Windows 10 store version removed these load delays entirely, just as you'd expect. It may well be different on the Xbox One S, and if anyone from Microsoft is listening I'd be happy to "borrow" a Scorpio to test load times there. No? Ah well, worth a try.
Enter The Gungeon is just as fun on the Xbox One as it was on the PC when I originally played it, although it worth noting that if your primary gaming interest is in the PC space, you might do better with the Steam version on price grounds.
We reviewed Bulletstorm: Full Clip Edition on Xbox One with a copy provided by the publisher.
Enter The Gungeon
8.0 EXCEPTIONAL
What we liked...
Seriously intense action
Great boss battles
Superb bullet-based puns abound
Huge variety of weapons
What we didn't like...
Stiff learning curve
Slower load times than on PC
VERDICT
There are plenty of twin stick shooters on the Xbox One, especially with numerous examples via backwards compatibility, but few that are as balls-to-the-wall fun and funny as Enter The Gungeon, especially with a friend along for the ride.
If you've already played the existing PC version there's nothing new here, but it's solid proof that a good game, even one with a few months on it on another platform, remains a good game.
For more information on how finder scores games, check our review guidelines.
More guides on Finder