CovaU: Electricity and gas plans
Thinking about switching to CovaU? Find out what gas, electricity, solar and green options CovaU has to offer.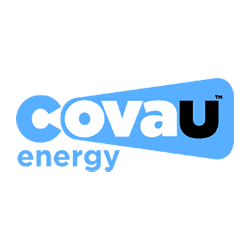 Is CovaU right for me?
What does CovaU offer? Electricity and gas in NSW and VIC.
Product highlights: CovaU has solar power and GreenPower options. All customers can enrol in a rewards program to earn discounts on a wide range of products and services.
Watch out for: You must already have solar panels installed to sign up for solar power with CovaU. Also, GreenPower is only available for business customers.
---
CovaU electricity and gas
CovaU is a NSW-based energy provider with electricity and gas services in NSW and VIC. The CovaU Pty Ltd parent company also owns CovaU Mobile, a telecommunications company that sells SIM cards and offers multi-SIM plans. After launching into the energy market in 2014, the company launched a short-lived whitelabel business insurance product that is no longer offered.
Energy plans include flexible billing options and 24/7 customer support so your questions will be answered at any time.
All electricity and gas customers can enrol in the CovaU Rewards program to access dining discounts, exclusive travel offers, gift cards and more.
| State | ⚡ Electricity | ♨️ Gas |
| --- | --- | --- |
| NSW | ✅ | ✅ |
| VIC | ✅ | ✅ |
| QLD | ❌ | ❌ |
| TAS | ❌ | ❌ |
| ACT | ❌ | ❌ |
| SA | ❌ | ❌ |
| NT | ❌ | ❌ |
| WA | ❌ | ❌ |
---
Can I get solar power?
It doesn't sell solar systems directly or offer solar panel installation, but customers who are already set up with solar panels can sign up for solar feed-in tariff plans. Solar plans are available to both residential and business customers.
Similar to CovaU's electricity plans, solar plans come with no-lock-in contracts.
Can I get GreenPower?
As a GreenPower accredited provider, CovaU is part of the government-certified renewable energy scheme aiming to increase the use of renewable resources such as wind, solar, water and bioenergy. CovaU offers a GreenPower business plan that allows customers to source either 25% or 100% of their business energy from renewable sources.
Existing business customers can also add GreenPower to an existing electricity plan by calling 1300 689 866.
GreenPower isn't yet available for residential customers.
---
Rewards program
All customers are eligible to enrol in the CovaU Rewards program, which offers discounts and exclusive offers at over 4,500 businesses. Available rewards include:
Shopping discounts
Gift cards
Dining and takeaway
Cinema discounts
Activities including theme parks and museum entry
Travel and accommodation
Car rental
Lifestyle rewards including gyms and spas
To activate your membership, use your CovaU account number and registered email address. Once you've set up your membership, you'll have two ways to redeem rewards:
For dining, takeaway, activities and rewards at local businesses: Choose the reward you want, click "redeem" and then present your smartphone at the relevant vendors.
For shopping, movie tickets, travel, hotels and car hire: Select the reward you want and purchase it online.
You can redeem the same reward multiple times, but not more often than once per customer per day. Customers can earn additional rewards by referring a friend to CovaU if they sign up to an eligible plan.
---
How can I pay my bills?
You have flexibility when it comes to paying your bills and can choose from the following options:
---
Why consider CovaU?
Rewards program. Customers can score discounts on dining, shopping products, travel, hotels, movie tickets and more with the CovaU Rewards program.
24/7 customer support. Customers have access to 24/7 phone support and a LiveChat service during business hours.
Refer-a-friend bonus. If you refer someone to CovaU and they sign up for an eligible plan, you could get an account credit or gift card.
No-lock-in contract. Plans have no-lock-in contracts so you can switch providers at any time.
Pay on time discounts. Get electricity discounts when you pay your bills on time.
Flexible billing options. You can choose a billing option that works for you, including direct debits, credit card payments, BPAY and EFT.
---
---
Ready to save on your energy bill? Find out how to switch energy providers
Read more on this topic
Lower your household bills