Elgato Stream Deck review
Quick Verdict
No matter how you use it, the Elgato Stream Deck is an incredibly handy and versatile device. It's a great solution to the stream juggle problem and can greatly improve the quality of your productions. If you're a serious gaming streamer this is about as essential as a microphone.
Strengths
A cinch to configure.
Can put hundreds of functions at your fingertips.
Robust design.
Has applications outside gaming.
Could be better
Not inexpensive.
Cabling awkwardly positioned.
---
Putting the world at your fingertips
Streamin' ain't easy. Not like it used to be, back when Twitch, YouTube and Mixer were young and all you needed to retain an audience was mad gaming skills, a mic, a cam, and a low-cut top. (Sorry, but it's true – 80% of my viewership subbed for this luscious crop of ginger chest hair of mine). Nowadays even that's not enough. You have to be interacting with your audience to grow it; tending to the dysfunctional family that is your chat-feed flock. Not an easy task if you don't have an octopus amount of limbs. Which is where the Elgato Stream Deck comes in...
Picture this: you're sat in your station and perched on the armrest of your obnoxiously large and obviously-branded gaming seat is a 118 x 84 x 21 mm device that effectively turns it into a captain's chair worthy of Picard. It's the Elgato Stream Deck, and it has put 15 LCD buttons within easy reach (providing you're within 150cm of a USB 2.0 port). Every single one of these buttons is poised to launch unlimited actions, so there's no need to remember keyboard shortcuts and do the awkward one-handed claw to achieve them (all while trying to not wind up embarrassingly dead in the game you're playing). There'll be no more squinting to find the keys in your dankly-lit cave either, because you've custom lit each button to your colour coded preference.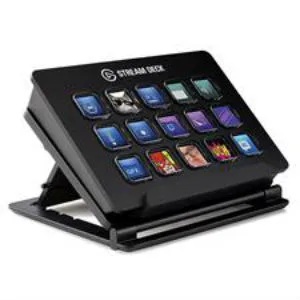 As for what they'll do when you push them and what they're going to look like, well, that's completely up to you. With one touch you might switch screen sources, start or stop a screen capture or livestream, trigger sub emotes, bust out chat macros, boot out a trash-talking troublemaker, or order yourself a pizza for dinner. Maybe you'll chase that down with some Tidepods for dessert. I'm not here to judge your influencer lifestyle. All I do know is the possibilities here are endless, plus you're give visual feedback to let you know that your orders have been given, captain.
Customising one's Stream Deck is a remarkably pain-free experience. Elgato's proprietary app lets you simply drag and drop actions onto keys, and then decorate them with custom 72 x 72 pixel icons. You'd be hard pressed to run out of actions, too, as any key can become a folder that lets you effectively stack hundreds of actions. This can be expanded even further thanks to the ability to save and switch between unique key configurations that have been setup as dedicated profiles for different games and apps. If you have the time to sit down and configure it, the Stream Deck can become an incredibly useful tool to have at your fingertips.
Better yet, thanks to the 2.0 app and firmware update, the Stream Deck has had its capabilities expanded (and the notorious crash-happy antics of the app itself have been minimised). Now you can control the brightness level of the LCD, and the app allows you to use multiple devices better or shift between smart profiles easier. The few teething issues the app had with OBS appear to have been cleared up, too. But the far and away the best enhancement is the ability to now connect multiple Stream Decks to your Mac or desktop PC. Imagine it: one Deck sitting on each of your armrests. Uber-Picard.
It's also worth noting that the Stream Deck comes with a detachable stand. Much like the unit itself it's of a sturdy build quality and being able to adjust your deck so it pivots toward you at 45 degrees is pretty handy if armrests aren't an option. In this configuration, however, the braided cable pokes out awkwardly from the top of the unit. It feels like misguided design.
As it stands today, Elgato has been designed to officially support and focus on the following applications and platforms Elgato Game Capture, OBS, Twitch, Twitter, TipeeeStream, XSplit, YouTube and Mixer. However, the Stream Deck is a versatile device that offers applications outside of the gaming space.
In a pinch video-editors and Photoshop users could use it to better support their creative workflow. I also had great success configuring it as a media player controller, by having it open pre-made VLC playlists of tunes and movies, at which point I could control things via pause/play and skip buttons that I'd created. These are just a few examples, too, Stream Deck can open and interact with a ridiculously large array of programs. The only limit here is your imagination.
Latest streaming headlines