Elgato 4K60 Pro review: Captivating results meet impressive value for money
The 4K60 Pro makes a few compromises for its price tag but its still a phenomenal product.
We're reader-supported and may be paid when you visit links to partner sites. We don't compare all products in the market, but we're working on it!
Quick Verdict
The 4K60 Pro is the real deal. It wants for a few perks, but otherwise delivers phenomenal results for the price you're paying. Elgato continues its run of top-notch products.
Strengths
Consistently and impeccably captures at the Ultra HD resolutions advertised
Supports high-framerates too (1080p120/144/240hz, 1440p120/144hz)
Dedicated software suite instead of a rehash
Could be better
Lack of HDR hurts
No encoding
Stereo audio only – not 5.1 surround
---
Like it or not, 2160p 60 frames per second is more or less the standard for high-end gaming in 2018. You can attribute this fact to relatively inexpensive Xbox One X and PS4 Pro consoles flooding living rooms, and 4K PC monitors dropping to won't-have-to-sell-a-kidney prices. Bleeding edge games running at 4K, 60fps is the way to go, but up until now there really hasn't been a cost-effective way to preserve your greatest ultra-HD moments and share them with the world. All that changes with the Elgato 4K60 Pro, a slick-looking, sensibly priced capture solution that offers broad compatibility and killer performance for the forward-looking content producer.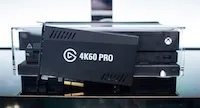 Order new Elgato 4K60 Pro
from Amazon
The Elgato 4K60 Pro allows gamers to capture 4K gameplay at 60 FPS on their PC, PlayStation 4 Pro, and Xbox One X.
View details
The deep end
Let's talk about the elephant in the room early: the price-point. This unit may seem like it's on the expensive side – especially when compared to Elgato's previous products like the HD60 and HD60S – but the fact is the 4K60 Pro is currently an extremely well-priced capture solution when put in the right context. What you're getting is a PCIe 2.0 x4 card for your desktop that allows you to bring in 4K / 60 signals (or even lower resolution feeds of 1080p / 60 and lesser) to pass-through, stream or capture. Look elsewhere on the market for a PCIe-based alternative that can achieve the same thing and you'll be paying almost double the RRP for the privilege (and the rival you find may in fact cap you at 30fps anyway).
Speaking of large jumps, casual users of the HD60 ought to be aware that they're going to need much higher-end hardware to step up into the world of the 4K60 Pro. Windows 10 is a must, and in terms of CPU, Elgato insists you be above a 6th gen Intel Core i7 or an AMD Ryzen 7. You'll also need to be packing an NVIDIA 10 series GTX or a card in the AMD Vega graphics line. Admittedly, there's a little bit of wiggle room in those minimum requirements: I was able to get a decent experience capturing Xbox One X footage with a secondary test rig – a slightly lower 5th gen (i7-5820k) with a below min GTX 970.
It's also worth noting that you're going to need some serious storage set aside before going all in on this product. At max bit rate of 140Mbps, 4K footage will be 62GB per hour or 1GB per minute.
Not going soft on the ware
The good news right off the bat is the 4K60 Pro uses DirectShow drivers which are generally more stable and more reliable than the way Elgato used to do things. I was also very happy to see that there's now a dedicated 4K Pro software suite, not just a lazy revision of the existing Game Capture 3.0 software bundled with the HD60 and HD60S. Fresh, dedicated code is always appreciated with new hardware, but the down-shot is it's a little barebones right now, features-wise. Compatibility and a smooth user experience with this product has clearly been the priority – be prepared to wait for additional bells and functionality to roll out in future updates.
Elgato's software also tries to harness any hardware-accelerated encoding options your rig might have. With AMD cards it'll look to tap into VCE, and with NVIDIA cards it'll leverage NVENC to ensure you don't take performance hits. If you have those available, the 4K60 Pro will work great; if you don't you can expect it to suck up a ton of CPU horsepower. My main testing rig was slightly above minimum and pure software mode was siphoning 45% whilst capturing at the max of 2160p 60fps. That's a thirsty beast. This could be manageable if you're only looking to capture off a console like the Xbox One X or a PS4 Pro, but the performance impact while capturing a PC game is considerable.
Footage results
Results for the desktop crowd will vary depending on horsepower and the intensity of the PC game you're throwing at the 4K60 Pro (and a bit more on this in a sec). However, I can say that I was extremely impressed with the quality of footage I captured from my Xbox One X and PS4 Pro. No artifacting, no flaws and that was at a super high bitrate. Console YouTubers can buy this, today, with confidence, but you should be aware of the 4K60's biggest downside: no HDR support. This is a hardware limitation, too. So don't hold a vain hope of a firmware update fix.
Be that as it may, high-end PC folk who love nothing better than throwing demanding games at their rig – often at odd, non-standard resolutions – may also hit a few issues in the form of minor screen-tearing and audio pops. However, Elgato's boffins have been working on these oddities since launch and seem to be stamping out the problems with regularity. If your favourite res and ratio is unorthodox, best do a bit of research before laying down your hard-earned.
Honestly, if you operate at a top-tier, bleeding-edge level, you realistically should go in with a dual rig solution in mind. Elgato hasn't added a H.264 encoder in here as it was deemed superfluous to add cost and complexity to the 4K60 Pro. That's fine if you have the CPU or GPU to pick up the slack, but many folks aren't in that boat.
Last but not least, the 4K60 Pro offers a great feature for streamers who operate in HD. You can feed out a 4K / 60 signal with no lag to your 4K screen even if you're not capturing or streaming at that resolution. On your end you can enjoy glorious ultra HD while your viewers get a very respectable 1080p (though you may need to deal with a few milliseconds of lag and, once again, no HDR on the passthrough). It's a pretty neat feature that means you don't have to suffer the sub-ultra-HD lifestyle in order to please your fans.
Final thoughts
You know what? There's always going to be one or two compromises present in a product that's half the price of its closest competitor. It's going to be up to the individual (and their wallet) to decide whether or not they can live without the few features not provided by the 4K60 Pro. Personally, and for the overwhelming most part, I think Elgato has delivered a phenomenal product here.
More guides on Finder