Electric Vehicle (EV) reviews
Australian guide to electric cars in 2021
We're reader-supported and may be paid when you visit links to partner sites. We don't compare all products in the market, but we're working on it!
Which electric car will suit you best?
---
EV facts
You might think the electric car is a recent development, occurring perhaps within the last 20 or 30 years.
In reality, the first electric vehicle is thought to have been made in the 1830s by Scottish inventor, Robert Anderson. It went on to earn the name "the Horseless Carriage". Before him, Ányos Jedlik, a Hungarian physicist made a small scale electric car model.
One of the most famous electric cars is perhaps the Lunar Roving Vehicle (or Moon Buggy) produced by NASA for Apollos 15-17. The three deployed vehicles were left on the moon, where they remain to this day.
Compare models and read our electric car reviews
By clicking "Find a Deal" on the table below, you will be redirected to our partner, Georgie. Thanks to their "bulk buying power", Georgie are able to help you buy the car you want and potentially save you money too. In fact, the average saving through Georgie is $4,616.
What are EV cars?
Electric vehicles, or EVs for short, are battery-powered automobiles. Power is stored in a pack of rechargeable batteries, and drive comes from an electric motor.
Electric car builders may install one, two or even four motors. The most common battery type is Lithium-Ion (Li-ion), which is increasingly found in everything from mass-market handheld devices to remote-controlled models. There are weight, discharge and energy density benefits to Li-ion, making them the go-to power cell until new battery technology is developed.
Because of the way electric motors deliver torque, acceleration is far more immediate than an internal combustion engine.
Instead of having a fuel filler, EVs have a charging plug, and replacing your trips to a petrol station is a visit to a charger.
What's the difference between an EV, PHEV and a hybrid/mild hybrid?
An EV (or more accurately, a Battery Electric Vehicle/BEV) has one or more electric motors and a rechargeable power bank that provides propulsion. Tesla is the most obvious and perhaps well-known EV maker, though established car manufacturers like BMW, Mercedes-Benz, Hyundai and Nissan are all in the game now.
A PHEV (Plug-in Hybrid Electric Vehicle) is a car with electric motors, a much smaller battery array and a traditional fossil-fuel engine. It combines the two forms of drive to provide the best of both worlds, including reduced fuel usage, emissions and an EV-only mode. As the name implies, you can plug-in a PHEV to recharge the batteries. An example of PHEV would be the Mitsubishi Outlander or Hyundai Ioniq. There are even some large SUVs like the Range Rover available as PHEV variants.
A Mild-Hybrid Electric Vehicle (MHEV) generates its own electrical energy from a traditional internal combustion engine and augments it with an electric motor. Typically, there's no option to select electric-only mode, though it often automatically activates at low-speeds – for example, when the stored power allows. You could think of an MHEV as a stepping stone between a PHEV and a traditional internal combustion engine car. Perhaps the most famous MHEV is the Toyota Prius.
The PHEV or MHEV acronyms more accurately denote the type of "hybrid" vehicle a model is.
Latest electric car reviews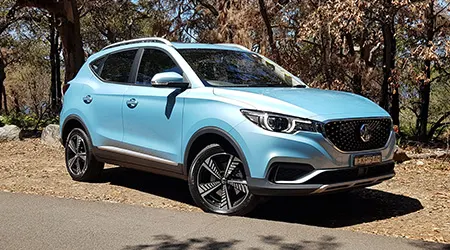 The all new MG ZS EV hits the ground running with some sharp pricing making electric more affordable for Aussies.
Read more…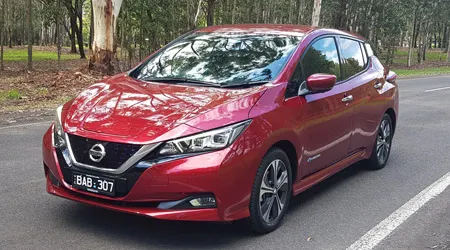 As virtually every manufacturer scrambles to get its ducks in a row and produce an electric vehicle, Nissan has been well ahead of the curve with the Nissan Leaf.
Read more…
What to consider when buying an EV
Here are some things you need to think about when purchasing an electric car.
Which EV model is best?
Best is a subjective term, so the ideal electric car for you will depend on how you plan on using it.
Which EV should I buy for a family car?
If you've got kids, you're definitely going to need space. You might like something SUV shaped, these models are proving extremely popular with car buyers at the moment. You'll also no doubt appreciate a practical and hard-wearing interior. Safety likely ranks as a high priority for parents.
That narrows our comparison down to a handful of key models, the Tesla Model X, the Mercedes EQC, Jaguar's I-Pace and the Hyundai Kona.
The first three are all built by luxury/high-end car manufacturers, with corresponding prices. So for the Model X, Tesla asks from $136,895 (not including taxes and fees), the Merc is around $144,933 (drive-away cost), while the Jag can be in hand from $155,376. They're not cheap, but you are getting a prestige SUV.
The Tesla Model X was highly reviewed by a family car review. The only point it got knocked back on was the price. The doors lift upwards which is also a really handy touch when you've got arms full of groceries and kids and need to pop them in the car.
The Jaguar is touted as a serious competitor to the Model X, with great handling, mean styling and an interior that is described as supreme. Car reviewers wrote of the Mercedes-Benz EQC that it was a really luxurious and refined EV that perhaps was a little too heavy and lacking in range.
At the other end of the EV SUV market is the Kona, which starts at $63,607. The Kona is a smaller vehicle, more akin to a crossover than an SUV. Motoring experts said the Kona was still a touch pricey, but that it was comfortable, with a respectable range and a practical interior.
All of the above models are modern vehicles, featuring many advanced safety assists.
Which EV is the most sporty?
The fastest electric car currently available in Australia is the Tesla Model S Performance, which blasts from 0-100km/h in just 2.6 seconds.
Porsche builds the Taycan Turbo S, which has 560kW and zips from a standing start to 100km/h in 2.8 seconds. The Taycan also has lots of sporty tech like adaptive air suspension, rear-axle steering, Porsche Dynamic Chassis Control Sport (PDCC Sport) and torque vectoring. Car reviewers described the Taycan as phenomenal, with jaw-dropping performance and a stylish design.
Which EV is good for around-town driving?
You'll probably want something compact for pure city-use, making parking and navigating tight roads easier. The Nissan Leaf springs to mind. It's sold as the world's best-selling EV, has a 270km range and some unique features which make it well-suited to eating up city streets.
For a start, there's the single-pedal driving mode, which automatically brakes when you ease off the accelerator. It smoothens out potholes and speed bumps with clever use of the brakes and motor. It even brakes each wheel separately for better turning. Then there's the list of safety assists. Couple those with its keen (for an EV) starting drive-away price of $54,494 and you can see why it's so popular.
Hyundai's Ioniq would also be another strong contender for similar reasons.
Which EV should I buy for a company car?
If you need to travel long distances, range is going to be the most critical factor to consider. Tesla still holds the crown for the EV with the most range, as of January 2020. The Model S Long Range spec has a New European Driving Cycle (NEDC – actually created in the 80s) derived range of 713km! The NEDC test is more of an ideal conditions figure. The Worldwide Harmonised Light Vehicle Test Procedure (WLTP – came into effect in 2017) takes place in a lab, but inputs real-world data into the equation. The Model S Long Range has a WLTP figure of 610km, which is still the highest on the market to date.
Also, with the Tesla network of superchargers, you can restore up to 249km of range in just 15 mins.
I want an electric ute
Your options at the moment are a bit limited, but they are coming.
The Tesla Cybertruck is perhaps the most obvious option. It'll start from $58,900 when it arrives here probably by 2022. It's a bit of a beast, with a towing capacity of 6.35 tonnes on the top-spec model and a super rugged stainless-steel body. Models are also incoming from Rivian and Bollinger. It is also believed that major car companies like Ford and GM are working on EV utes. Locally, many mining companies are already converting staples like the LandCruiser 79 to electric power.
Where can I charge my electric car?
If you own a Tesla, you can check this Tesla Superchargers map.
Nissan is getting behind a rapid charging network. The Electric Vehicle Council currently maintains an interactive map of charging points.
Picture: Nissan, Jaguar, Toyota, Tesla, Range Rover, Hyundai and Porsche
More guides on Finder