Best electric bikes for Uber Eats
If you want to deliver for Uber Eats, here's how to find the best e-bike for the job.
If you're thinking of
delivering for Uber Eats
to make some extra cash, you might be looking for a fast and easy way to get around the city. Electric bikes fit the bill nicely, allowing you to make quicker deliveries while using less energy.
This guide looks at the pros and cons of e-bikes for Uber Eats, and how to choose the best electric bike for your food delivery needs.
Why use an electric bike to deliver Uber Eats?
Electric bikes use a battery-powered electric motor to help you get around. In Australia, most e-bikes use pedelec technology — you need to pedal to receive assistance from the motor, and that assistance cuts out at speeds above 25hm/h.
There are several reasons why you should use an e-bike to deliver Uber Eats:
You can make more deliveries — which means you can make more cash
You use less energy
You can avoid getting stuck in traffic
Cheaper than using a car
No need to worry about finding a car park in busy areas
You don't need a driver's licence or car insurance
But there are also downsides to using an e-bike to deliver Uber Eats:
Electric bikes aren't cheap — even most entry-level options are more than $1,000
You'll still have to do plenty of legwork
You'll need to take care of essential bicycle maintenance tasks
You'll also need to buy a helmet and a bike lock
If you're making deliveries in the rain, you'll wish you had a car
Buying vs renting an electric bike
Before you start shopping around for an e-bike, it's worth considering whether you might be better off renting an e-bike. There are plenty of several electric bike shops and companies that offer rental services, and some of them are even specifically targeted at delivery riders.
This removes the need to outlay a large sum of cash upfront, allowing you to pick and choose when you'd like to hire a bike and make deliveries. The rental company also looks after all bike maintenance for you and ensures that the bike is in good working order.
The downside is obviously that you don't actually own the bike. And if you're looking at food delivery as a long-term enterprise, you may be better off in the long run if you fork out to buy your own bike.
What to look for when comparing electric bikes
Be sure to consider the follow factors when comparing e-bikes for Uber Eats:
Type of bike. Many food delivery riders look for commuter-style bikes that include features like cargo racks and kickstands. However, you may want to opt for a lightweight and streamlined road e-bike that offers extra speed. It's also worth considering whether you want a step-through or step-over bike.
Motor. Make sure the motor complies with any power restrictions that may be in place where you live. Also check how many levels of assistance it provides for your pedalling, and whether it will be mounted to the bottom bracket or a hub motor on the front or back wheel.
Range. Check the manufacturer's claimed range on a full charge for any bike you're considering buying. Will that be sufficient to cover your delivery area for a full shift?
Tyres. Does the bike come with rubber from a reputable tyre manufacturer? Also be sure to consider the trade-off between grip and speed when choosing thicker or thinner tyres.
Brakes. E-bikes are noticeably heavier than conventional bicycles, so expect disc brakes that provide the stopping power needed to bring a bulkier bike to a stop.
Gears. Some e-bikes have internal hub gears, which are easy to use and typically quite convenient for urban riding. However, there are also plenty of electric bikes with conventional derailleur-type gears.
Size. Choosing the right-size bike for your build is essential to maximise comfort and pedalling efficiency. For the best fit, head in-store and get yourself measured.
Comfort. Check parts like the seat and the handlebar grips to ensure that you'll stay as comfortable as possible during a long delivery shift.
Price. Many e-bikes are priced in the $1,000-$5,000 range, but some models are even more expensive than this. If you already own a conventional bike, you may want to consider purchasing an electric bike conversion kit as a more cost-effective option than buying a new e-bike.
5 popular electric bikes for Uber Eats in Australia
How did we choose these bikes?
The bikes featured below were chosen to showcase the range of options on offer for Uber Eats riders. We looked for bikes priced at less than $2,500 (except in the high-end category), with a range of at least 50km and up to 250W of power. Many also come with a pannier rack for carrying cargo.
Here are five electric bikes worth considering to deliver Uber Eats.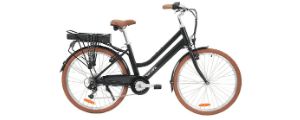 2020 Cell Ultimo E1.0 Step-Through Urban City E-Bike - Ex Demo
The 2020 Cell Ultimo E1.0 Step-Through Features a 36V 250W Entity Motor and a handy USB charge port to keep your phone on the go.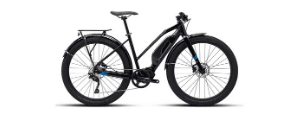 2020 Polygon Path E5 Shimano Steps E5000 E-Bike Step-Through
The Polygon Path e5 features an extended range Li-Ion 504 Wh battery and an AL6 Light Aluminium Frame, thePolygon Path E5 provides five levels of power mode assist.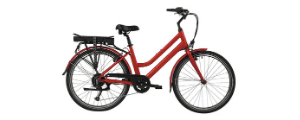 2020 Cell Ultimo E2.0 Step-Through Urban City E-Bike
With an easy-access step-through frame and a 250W rear hub motor, the Cell Ultimo E2.0 offers a quiet motor and integrated power management app.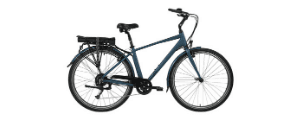 2020 Cell Ultimo E2.0 Classic Urban City E-Bike
The Cell Ultimo e2.0 Classic pedelec features a quiet motor and long lasting battery, it comes with a powerful 36V 250W Entity Motor.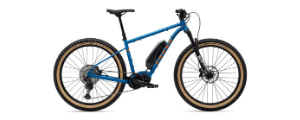 2021 Marin Pine Mountain E2 - Adventure & Bikepacking Steel HT eBike
Classified as a mountain bike the Marin Prime Mountain e2 has a 500wh Battery wheel and a 250W boost, the Marin Pine Mountain E2 can tackle a diverse range of tasks and terrain.
Where to buy electric bikes online?
If you're looking at buying an electric bike online, we're written this comprehensive buying guide. If you're ready to jump in, visit one of the following retailers.
---
---
---
---
Bottom line
There are a lot of factors to consider when choosing an electric bike — price, battery life/range, comfort and cargo-carrying features are all important. And an e-bike is an expensive purchase, so it's important to choose something that's right for you.
You'll need to research a range of options to narrow your choices down to a few possibilities. Then it's a matter of taking those frontrunners for a test-ride before deciding which is the best pick for all your food delivery needs.
FAQs
Do any power limits apply to e-bikes?
Yes, if you have a pedelec bike and want to use it on Australian roads and bike paths, the maximum permitted power output is 250W.
How do I charge an e-bike?
You can recharge your bike by removing the battery and placing it on a charger that can be plugged into a mains outlet.
Related Posts