Electric bikes for beginners
The key specs and features you need to compare to find the top e-bikes for beginners.
We're reader-supported and may be paid when you visit links to partner sites. We don't compare all products in the market, but we're working on it!
Thinking of buying an electric bike? From commuter bikes to e-mountain bikes, there's an increasing range of models available to suit cyclists starting out in the e-bike world.
But navigating all the technical jargon and finding the e-bike that's right for you is a tricky task. Keep reading for our simple guide on the specs you need to compare to find the best electric bike for beginners.
What is an electric bike?
An electric bike is a bicycle with a battery-powered electric motor. Most modern e-bikes use what is known as a pedelec (or pedal assist) system.
When you ride a pedelec bike, the motor automatically offers assistance when you pedal, so you can't just sit back and expect the motor to do all the hard work. The motor also stops providing assistance above speeds of 25km/h.
The main advantage of an electric bike is that it makes it quicker and easier to get from A to B. This makes e-bikes a popular choice among commuters who want to ride to work without raising too much of a sweat, while there are also specialist e-bikes designed for a range of other cycling styles.
Your options include:
Cruiser e-bikes
Folding e-bikes
Cargo e-bikes
Road e-bikes
5 options if you're comparing electric bikes for beginners
---
Folding option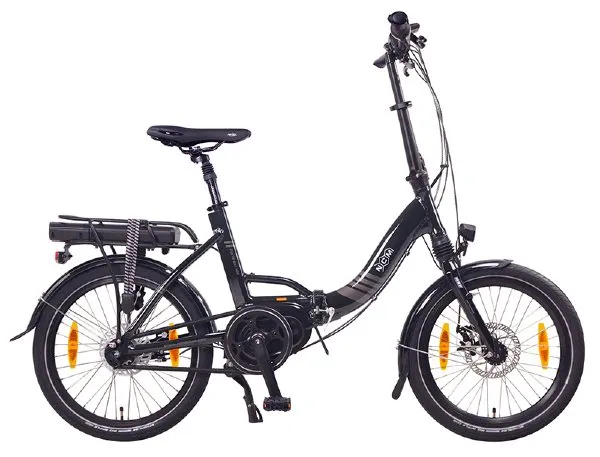 NCM Paris Max. The Paris Max offers a Bafang mid-drive motor and a 504Wh battery, plus it folds away for easy and convenient storage.
---
Vintage style option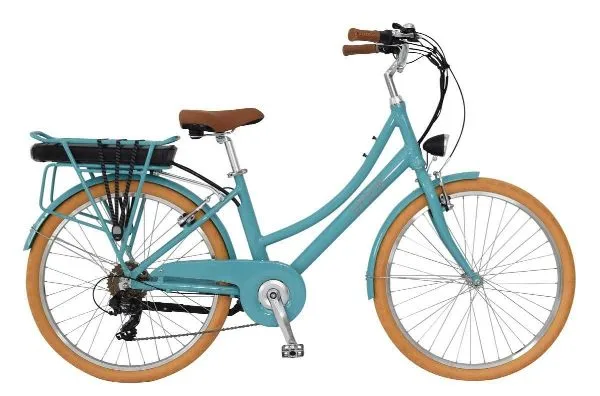 Dyson Tilba. Combining classic styling with a wide and comfortable seat, the Dyson Tilba combines good looks with functionality.
---
City option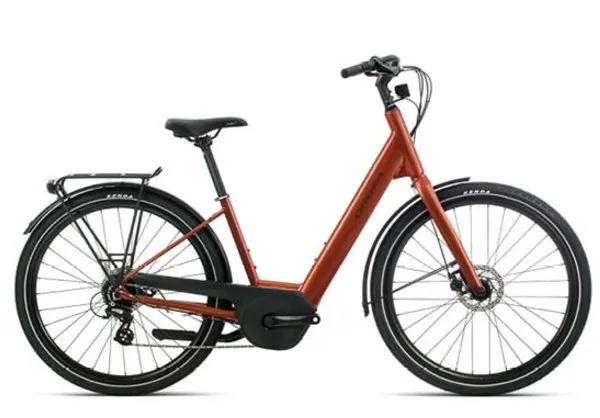 Orbea Optima E50. This step-through e-bike comes with front and rear lights, a rear rack and eight-speed gearing, making city commuting easy.
---
Long-range option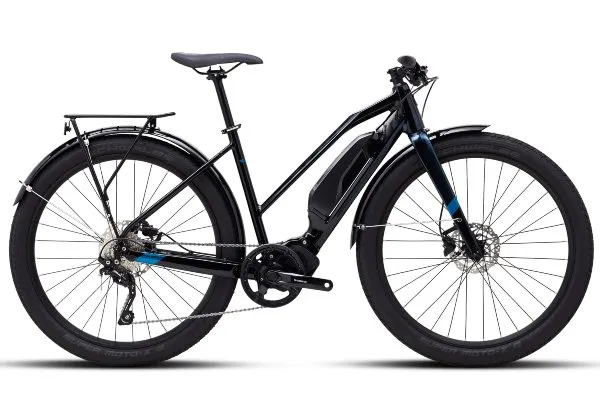 Polygon Path E5. Featuring Schwalbe Super Moto-X tyres and a 504Wh battery, the Polygon Path E5 has a claimed maximum range of up to 185km.
---
Off-road option
NCM Moscow Plus. The Moscow Plus features a 768Wh battery, Shimano gearing and Schwalbe 2.25-inch-wide tyres.
---
What to look for when comparing electric bikes for beginners
There are several factors you'll need to consider when buying your first e-bike. These include:
electric bicycle buying guide
.
Where to buy electric bikes for beginners online?
If you're ready to buy, visit one of the following sites.
---
---
Pros and cons of electric bikes for beginners
Pros
They offer an easy way to get around. Like cycling but don't enjoy sweating, strenuous exercise or battling up steep hills? An e-bike can help.
They can improve your fitness. Pedelec e-bikes offer motorised assistance as you pedal, so they still let you work on your cardiovascular fitness while you ride.
They encourage adventure. When you can ride further than you would on a traditional bike, there are more opportunities to explore new places.
There's an increasing number of affordable options. There's a huge range of electric bikes to choose from, including plenty of models to suit buyers on a tighter budget.
Cons
They can be expensive. Even entry-level e-bikes aren't cheap, with most models costing more than $1,000. There are some competitive deals to be found if you're looking to stay under $2,000.
They're usually heavy. Many beginner e-bikes weigh well over 20kg, so manoeuvring them around when you're not pedalling can be difficult for some people.
They're often quite basic. Electric bikes for beginners tend to be basic models with cheaper components. If you decide that you want a bike with a longer range or a more powerful engine, you'll need to spend extra cash to buy a high-end model.
Bottom line
Whether you're looking to get fit, commute to work or just cruise around town, there are lots of situations where an e-bike can come in handy. But there's a lot of jargon to wrap your head around if you're a newbie, so it's important to do your research before you buy.
The key consideration is to think about the style of riding you do. This will determine the type of bike you want — commuter, city cruiser, e-mountain bike or some other option — and what models are available. You can then start comparing models side-by-side, test-riding them if possible, to find your perfect introduction to the world of e-bikes.
Frequently asked questions
How far can I ride on an e-bike?
Maximum range varies depending on battery capacity, your weight, the terrain and a range of other factors. Many manufacturers will provide a range estimate, but keep in mind that this figure may not be attainable in the real world.
How long does it take to recharge the battery?
Recharge time varies depending on the battery and the charger used. As a rough guide, most batteries take 3-5 hours for a full charge.
Are e-bikes legal in Australia?
Yes, provided they satisfy certain requirements. For example, pedelec-style bikes can have a motor of no more than 250W. Check the regulations in your state or territory for more information.
Back to top
More guides on Finder