Electric and battery lawn mower Finder
Corded or cordless? Mulching or catching? Budget or high-end? We'll help you narrow down all the options and choose a mower that makes taking care of your lawn less of a chore.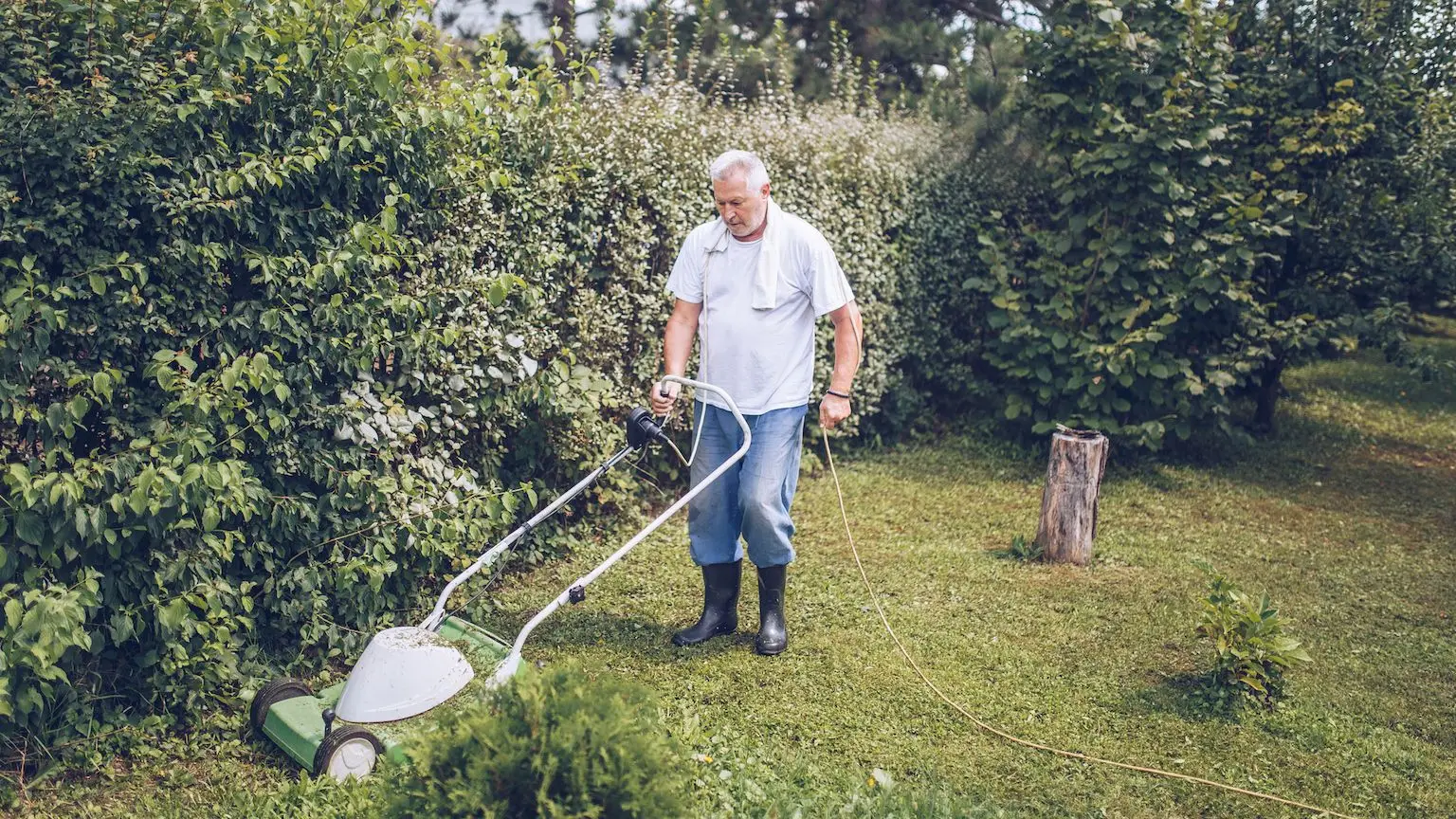 We're reader-supported and may be paid when you visit links to partner sites. We don't compare all products in the market, but we're working on it!
Best Rated Electric Lawn Mower Brand: Victa
Victa had high scores across the board for metrics such as build quality, ease of use, value for money and performance.
Quick facts about electric mowers
Electric and cordless mowers are quieter and easier to maintain than their petrol-powered counterparts.
Before buying a cordless or electric mower, you'll need to consider the size of your yard and how much money you're willing to spend.
Prices typically range from $100 up to around $800.
Compare electric and battery lawn mowers
What are my main options?
What's the difference between an electric mower and a battery-powered model? Let's take a closer look.
Electric
Sometimes referred to as corded electric mowers, these operate simply by plugging into your mains power supply. Though much less widely available than cordless models, electric lawn mowers are worth considering for those with smaller lawns.
As long as there's a power source nearby, they'll keep running all day long. Of course, there isn't always a power point within easy reach and dragging around an extension cord without tripping over yourself can get quite annoying.
Battery or cordless
If you'd prefer to do away with the power cord altogether, cordless mowers draw their power from rechargeable lithium-ion batteries. This is a whole lot more convenient than dragging around a cord and modern battery-powered motors are significantly more powerful than they used to be. Run time has also improved, with many manufacturers offering between 30 and 60 minutes of mowing on a single charge (and more in some cases).
Some models come in kits that include the mower, a battery charger and one or more batteries. Other models, known as skins, are sold on their own with no battery or charger.
How to compare electric and battery lawn mowers
If you've decided that a cordless or corded mower is right for you, now it's time to find out exactly what you need in a mower. There are a few important questions you'll need to answer:
How big is my yard?
How long does it take me to mow?
How much money am I willing to spend?
This will help you work out the key features you want, then you can compare a range of suitable mowers based on the following factors:
Cutting width
Cutting widths of 350–400mm should be sufficient if you only have a small patch of lawn to mow, but if you've got a larger yard you'll probably want a deck width of 450mm or greater to get through the job as quickly as possible.
Ease of use
Check if the handle is comfortable to grip, if all controls are within easy reach and whether you'll be able to manoeuvre the mower around your yard without any problems. If choosing a cordless model, check if the battery is easy to insert and remove.
Price
Corded electric mowers are generally priced from $100 to $250, while cordless models range from $250 up to $800.
Weight
The size and material of the cutting deck also affect how much your mower weighs, so check the cutting width and whether the deck is made of steel or plastic.
Smaller corded mowers tend to weigh around 8–12kg, while cordless models generally fit in the 10–30kg range. It's worth giving a mower a "test drive" in store before you buy to make sure you'll be able to easily manoeuvre it around your yard.
Battery
Most manufacturers claim a battery run time of between 30 and 60 minutes from a single charge, but this varies depending on the length of the grass you're cutting. If you'll need more than one charge to finish mowing your lawn, the length of time it takes to recharge your battery is important. Some models come with rapid chargers that can get the job done in 30 minutes, but others take a couple of hours. Also, check if a spare battery is included.
Mulching or catching
Check that the catcher is sturdily constructed and has handles for easy lifting and emptying. The larger the catcher, the less often you'll have to empty it but it heavier will be when full of grass clippings.
Some mowers also feature a mulching mode that mulches your grass clippings and redistributes them into your lawn as you go. This not only promotes future grass growth but also keeps your lawn looking tidy.
Cutting height
Check the specs sheet to find out the minimum and maximum cutting heights a mower offers. How many different cutting levels are available? Is the height adjustment lever easy to access and use?
Self-propelled
While most electric and battery lawn mowers need to be pushed, there are some self-propelled models available that use power from their engines to drive their rear wheels. They're worth considering if you want to give your back a break or if your yard is hilly, but tend to cost a little more.
Warranty
Check the finer details of the manufacturer's warranty to find out what's covered and for how long. These commonly range from three to six years, but the mower itself may be covered for a different period of time to the battery and charger.
Electric and cordless vs petrol lawn mowers
Why choose a cordless or electric mower instead of a petrol-powered one? There are a few important reasons:
They're easy to use. Petrol lawn mowers can seem a little complicated but with electric models, all you have to do is insert the rechargeable battery or plug in the power cord, then push a button to turn it on.
They're quiet. Electric and battery mowers can cut your grass much more quietly than petrol models and keep your neighbours happy. They also produce less vibration than petrol mowers and generally weigh less.
There's less maintenance required. You don't have to spend money on petrol, change oil, replace spark plugs or worry about any of the other mechanical maintenance tasks that come with a petrol mower.
They're more environmentally friendly. Electric mowers are a more environmentally-friendly choice for the eco-conscious gardener.
However, despite their advantages, battery and electric mowers have several unique drawbacks:
Electric
You'll need to be within easy distance of a power point
Lugging around an extension cord means limited mobility and there's also a risk of cutting the cord
Not as much power as petrol mowers
Tend to have narrow cutting widths so aren't suitable for larger lawns
Cordless
Not as powerful as petrol mowers
More expensive than corded models
Limited run time
Batteries will eventually need to be replaced
With these disadvantages in mind, there are some circumstances where you might decide that petrol power is the way to go. If you've got a decent-sized lawn to mow or you just want maximum cutting power, a new four-stroke mower might be your preferred choice.
Other garden power tools worth considering
If you're planning on buying a cordless mower, it may be worth considering whether there are any other battery-powered garden tools you need in your shed. This is because the battery that runs your mower will also usually be able to run other tools from the same manufacturer, including:
Whipper snippers
Hedge trimmers
Leaf blowers and blower vacs
Chainsaws
Pressure washers
Best rated electric lawnmower brand award breakdown
| | Total Score | Overall rating | Value for Money | Build quality | Ease of use | Performance |
| --- | --- | --- | --- | --- | --- | --- |
| Victa | 8.02 | 4.44 | 4.19 | 4.25 | 4.41 | 4.31 |
| Ryobi | 8.02 | 4.34 | 4.36 | 4.34 | 4.48 | 4.3 |
| Honda | 7.92 | 4.33 | 4.26 | 4.23 | 4.21 | 4.23 |
| Ozito | 7.85 | 4.2 | 4.46 | 4.18 | 4.26 | 4.28 |
| Kobalt | 7.48 | 4 | 4.55 | 4.45 | 4.36 | 4.36 |
| Masport | 7.44 | 4.17 | 4.17 | 4 | 4.25 | 4.33 |
| AEG | 7.35 | 3.94 | 3.72 | 4.11 | 4.06 | 4.11 |
| Other | 7.31 | 3.84 | 3.89 | 3.89 | 4.37 | 3.95 |
Data: Finder Retail Brand Survey, 2020, Kantar. Metric out of 5 stars unless indicated. Methodology and more info.
Previous Retail Awards
More guides on Finder