Top 8 eco-friendly lodges and resorts in the Daintree Rainforest and Queensland for 2021
Find out where to stay for a sustainable holiday while exploring the tropical rainforest.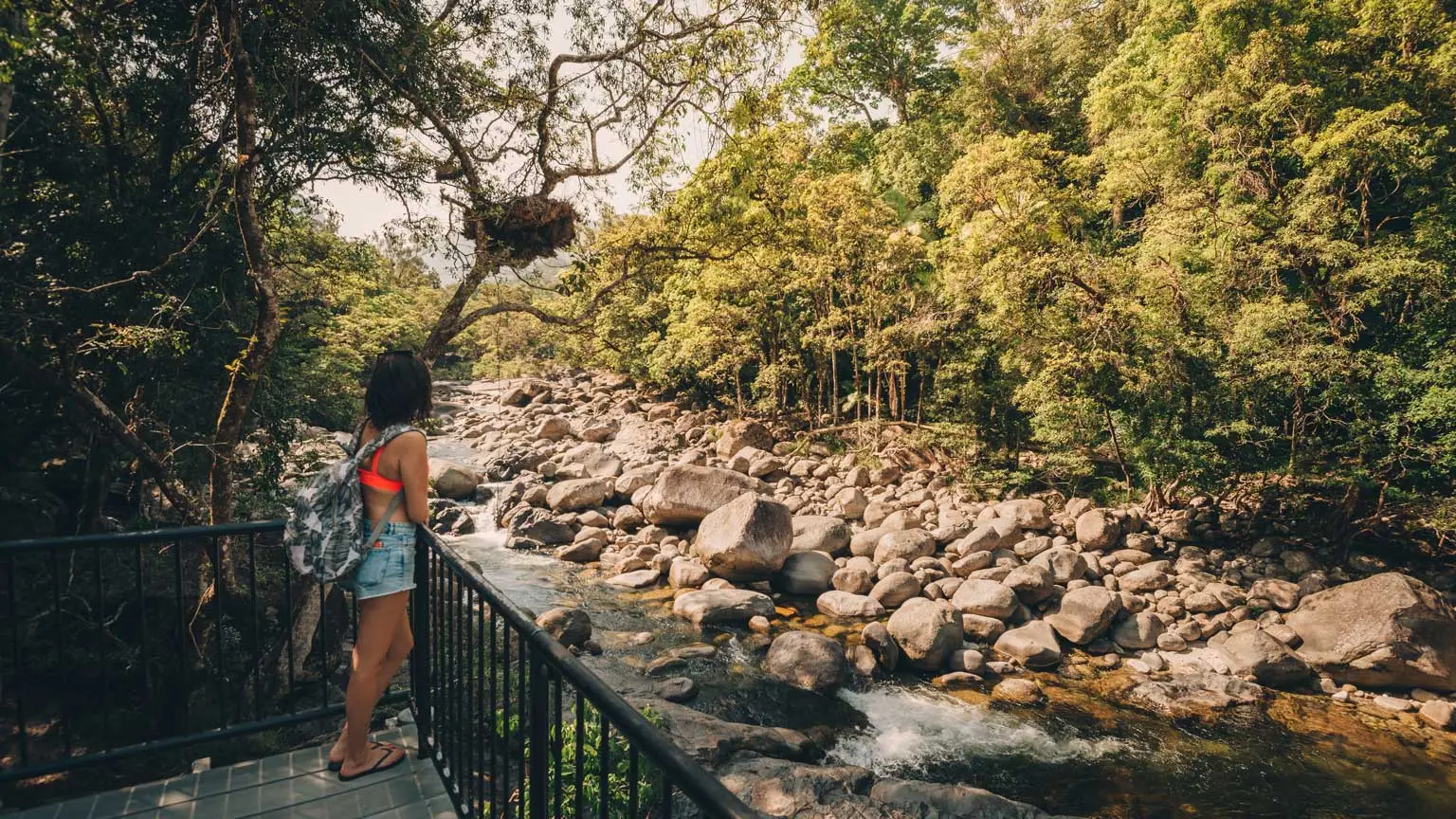 We're reader-supported and may be paid when you visit links to partner sites. We don't compare all products in the market, but we're working on it!
The Daintree Rainforest, the oldest rainforest in the world, is home to a huge variety of plant and animal species. To preserve the prehistoric beauty and the endangered creatures that live among the trees, ecotourism is taken very seriously with many tour operators and Daintree eco lodges holding an Eco Certification, which shows their commitment to sustainability and conservation.
By staying in eco-friendly accommodation in the Daintree Rainforest, you can appreciate the sights and sounds of the forest with minimal impact on the environment. We've also included some options that are a further distance away in case you would like to be able to explore more of what Queensland has to offer.
Experience the tranquillity of the rainforest with an on-site restaurant, spa, wildlife encounters and complimentary activities.
The lodge's main principle is to have zero operational impact on the environment with initiatives in place to comply with this.
Electrical vehicles are preferred over those that use petrol.
Over the last 25 years, the lodge has reforested and rejuvenated the surrounding land that was once cleared farming land.
Treehouses and main buildings have been built with minimal disturbance to the environment.
An Integrated Environmental Management System covers eco-friendly features such as enviro-smart cleaning products, energy-efficient light bulbs and treatment of wastewater.
Check rates
---
Nature lovers will enjoy sustainable luxury at this rainforest retreat. Wake up to birdsong and take a walk to the nearby waterfall.
Partly powered by solar energy and carbon emissions are offset through contributions to reforestation projects.
A donation of $50 per guest goes to the Reef Keepers Fund for the preservation and protection of the Great Barrier Reef.
No chemicals are used for cleaning and 100% of water is recycled through a treatment plan and used for irrigation.
Single-use plastics have been replaced with reusable items and all organic waste is composted.
Check rates
---
When you're not out exploring the Daintree Rainforest, observe birds and wildlife in the extensive gardens of this family-run B&B.
To reduce its environmental footprint this property has a philosophy of "rethink, reduce, reuse, repair, recycle".
Environmental best practices include the installation of energy-efficient lights, limiting air-conditioning use and standby power.
Sustainability practices are promoted and encouraged within the company and to local businesses.
Guests are encouraged to walk or cycle wherever possible and be aware of water and energy use.
Check rates
---
Stay in an individual cabin in the heart of the rainforest and appreciate off-the-grid techniques for an eco-friendly holiday.
Awarded the Advanced Ecotourism Eco Certificate for its commitment to having minimal impact on the environment.
To reduce the impact to the forest floor, specially designed walkways and stilts are used to move around the property.
A Bio Cycle water waste management system is used and guests are discouraged from using products with harsh chemicals during their stay.
To help with the protection of the Daintree, the lodge contributes to the Rescue Rainforest Foundation.
Check rates
---
Want to mix beach time with rainforest exploring? This resort is positioned on the coast just an hour and a half from the Daintree Rainforest.
Awarded Green Travel Leader status by Ecotourism Australia.
Handpicked to be a National Geographic's Unique Lodges of the World member for meeting sustainable tourism pillars.
Onsite rangers and guides who conduct free nature and wildlife walks with guests.
Buildings are made from natural, sustainable materials without dominating the surroundings.
Check rates
---
Just under three hours' drive from the Daintree Rainforest lies affordable accommodation aiming to be the "greenest lodge in the world".
Signs and interactive displays throughout the lodge teach guests about energy and conservation systems.
Guests can pick herbs from the organic garden.
An off-grid 6kW solar system provides energy for the property.
The lodge supports the local wildlife rehabilitation centre and tree planting.
Check rates
---
After your visit to the Daintree, head over to Fitzroy Island to enjoy the underwater wonders of the Great Barrier Reef.
Waste products are treated at a sewage treatment plant. Water samples are tested by an environmental clinic every week to monitor effects on the environment.
No single-use plastics are used on the island, to reduce waste. Utensils are made from bamboo, while cups and containers are biodegradable.
Staff volunteer time in the coral nursery as part of the Reef Restoration Foundation.
Regular beach clean-ups ensure the area is kept clear of debris which is harmful to marine life.
Guests can join a guided tour around the island to learn about conservation efforts and sustainability practices.
Check rates
---
Swim in the crystal-clear waters on the doorstep of the Great Barrier Reef at this 4.5-star eco-certified resort.
Recognised for its preservation of the rainforest and reef, the resort has held the Advanced Ecotourism Certification since 2001.
Straws and plastic bags have been eliminated, while refillable dispensers replace plastic toiletry bottles.
The resort boasts some of the most innovative waste management practices in Australia including a food digester recycling machine, a glass crusher and a sewage plant.
A quarter of the resort's energy is created from solar arrays, which powers the onsite sewage treatment and desalination plants.
Buildings are designed to conserve the environment. This includes building around trees with minimal vegetation clearing and using raised boardwalks to reduce interference with root systems and movement of wildlife.
Check rates
Why we chose these accommodation options:
We chose these accommodation options because they have all or most of the following points:
Long-term sustainability goals
Initiatives to reduce energy, water and waste consumption
An Eco Certification
Preserving the flora and fauna around them
Contributing to conservation efforts in the rainforest
Daintree Rainforest accommodation map
What to know before you go to the Daintree Rainforest
There is a good chance that you will encounter some wildlife while you are in the Daintree. While it may be tempting to offer food, this can lead to aggressive behaviour and also have a negative effect on their health. Keep your snacks inside your bag and allow the animals and birds to source their food from the forest.
By choosing tour and activity operators that have Eco Certification, you can support companies that provide nature-based experiences and are committed to sustainability.
To reduce carbon emissions, eat at restaurants that source food from local suppliers and opt for cycling or walking as your form of transport when possible.
Things to avoid when booking eco accommodation in the Daintree Rainforest
Even though there are many Daintree eco lodges which get our tick of approval for sustainability practices, there may be other options you are considering.
It's important to check what initiatives the property has in place and if it is really making a commitment to preserving the environment. Just because a lodge says it uses energy-saving measures, this doesn't necessarily make it eco-friendly as we'd prefer to see initiatives in a range of areas.
When doing your research, these are some questions you should be asking:
Does it change sheets and towels every day?
How does it manage wastewater?
Does it utilise solar power at all, or have energy-efficient light bulbs and appliances?
Where does it source its food and supplies from?
Did it cut down rainforest to build its property?
What recycling and composting processes are in place?
Is it working on any conservation programs?
We know that sometimes a property may not be able to tick every box that you are looking for, so you'll need to weigh up whether or not it is making a positive contribution.
Book your eco-friendly accommodation right here:
More guides on Finder