Top 9 Bali eco-stays for 2021
Swap the concrete jungle for one of these eco-resorts in Bali.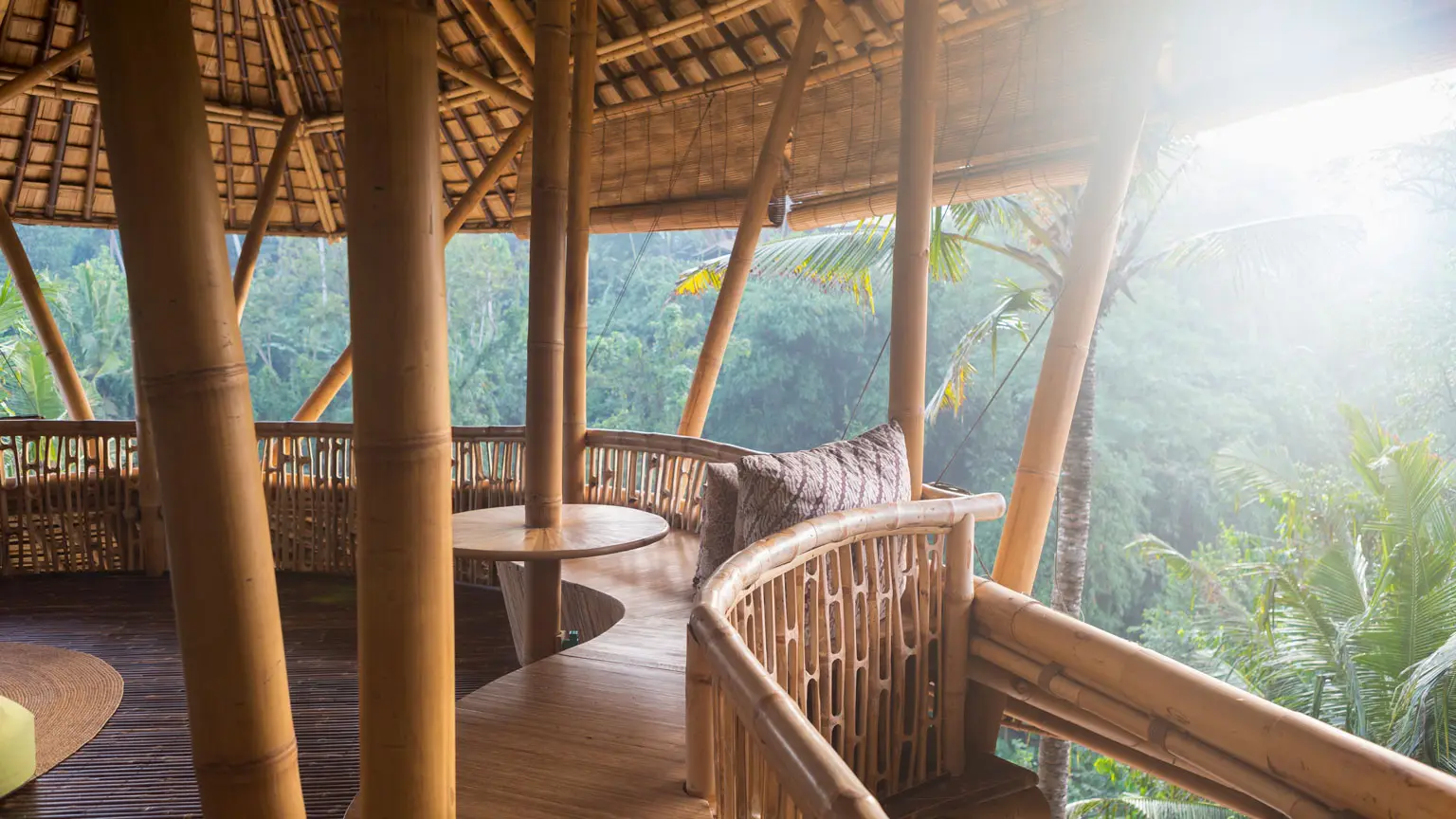 We're reader-supported and may be paid when you visit links to partner sites. We don't compare all products in the market, but we're working on it!
With millions of tourists flocking to the Instagrammable landscapes of Bali each year, things are beginning to take their toll on the island. To combat this, eco-resorts have been popping up and established hotels are implementing green policies to start tackling the problem of pollution and water shortages.
Beyond their local environment, those with an eye for sustainability have started to educate the wider communities on sustainable farming and living practices. This increase in awareness has led to a huge variety of green-fingered resorts for you to choose from in Bali. Here's a selection of our top picks.
---
Experience the tranquillity of Bali when you stay in this secluded and authentic retreat in the mountains.
Guests are provided with organic shampoo, body wash and insect repellent to reduce water contamination.
75% of the food served in the restaurant uses organic produce cultivated from the property's land.
Filtered drinking water comes directly from Mount Batukaru, so you can drink directly from the taps.
Check rates
---
Enjoy a peaceful night's sleep in your traditionally decorated, private cottage in Ubud.
Each cottage has been built entirely from Java's recycled wood in a bid to fight deforestation.
Bring your reusable water bottle as unlimited filtered water is provided for all guests.
Their organic farm grows a range of fruits and vegetables that are used to create nourishing breakfasts for guests.
Waste is composted through a worm factory to return all of the nutrients back to the soil.
Check rates
---
Even luxury resorts in Bali strive to give back to the local environment and communities – at no cost to your personal comfort.
More than 90% of the staff at Puri Dajuma Resort are from the local community.
There is an onsite rainwater tank to collect water used for cleaning and washing.
Mineral water refilling stations are available across the resort.
The resort has partnered with a local recycling company and it composts all organic matter.
Check rates
---
Founded by French philanthropists, eco-policies are at the very core of this retreat's business, including its all-natural spa treatments.
The retreat has a no-plastic policy in place, which means bamboo straws, lots of water refill stations and a comprehensive recycling system is in place.
There are "soft tourism" tour options, including walking tours to rice paddies and hikes to waterfalls.
90% of the food products used here are locally sourced.
Sanak is actively involved in educating the local communities on recycling and other environmentally-friendly practices.
Check rates
---
Enjoy complete privacy in one of these bamboo-clad villas, hidden within the serenity of Bali's rainforest.
The resort participates in a minimum of two social impact programs each year.
Building materials used are strictly recycled wood or bamboo.
Rainwater is collected and used for gardening and cleaning purposes.
Fivelements Retreat
---
Splash out on a night at this 4-star Balinese resort and wake up to early morning yoga sessions, ultra-healthy smoothie bowls and an afternoon of spa treatments.
Rainwater is harvested, brown water is recycled and only natural cleaning products are used.
The resort provides free English classes to local children and hospitality training sessions for locals.
Fruits and vegetables are picked straight from their organic permaculture garden and used in the onsite kitchen.
Check rates
---
A world away from your bamboo huts and wooden treehouses, this luxury resort hides a multitude of eco-friendly features within its contemporary walls.
Eco toilets and showers make sure no contaminated water is released back into the soil.
Ingredients are sourced from neighbouring farms, and herbs picked straight from their garden.
Guests are provided with locally sourced and organic bathroom toiletries.
Check rates
---
If you've ever wondered what it's like to live on a coffee plantation for a few days, this luxury resort gives you the chance to experience just that.
Any wastewater produced from the resort is filtered and treated onsite in two wastewater gardens. This is then used for cleaning tasks and garden maintenance.
The resort works with local coffee farmers to encourage organic farming practices.
Aside from the owner, all staff at the resort are Indonesian and they invest in hospitality industry training for locals, too.
In a bid to contribute to the regeneration of the local rainforest, the resort has left part of its plantation to grow naturally, and it maintains a strict no hunting policy in the grounds.
Check rates
---
You can't get much more unique than a Javanese-inspired private retreat in Ubud, constructed completely out of bamboo.
Eco-friendly dining includes banana leaf plates and papaya stem straws.
The resort operates a linen and towel reuse system whereby housekeeping will wash your sheets every third day to reduce water use.
It prohibits the use of fluorescent lights. You'll be equipped with LEDs, oil lamps and candles to light up your room.
Guests are given 100% natural and organic products to use in the shower to avoid soil contamination.
Check rates
Why we chose these accommodation options
Most eco-friendly accommodation options in Bali focus their efforts on reducing water consumption, increasing community education and promoting organic, local produce.
You'll find water-filling stations in abundance around the island, with a handful of resorts refusing to sell plastic bottles of water. They will, however, have reusable bottles available to purchase.
Recycling is a relatively new concept to the island, and the most eco-minded resorts have their own recycling system in place along with a compost bin for organic matter.
What to know before you go to Bali?
Take all of your rubbish with you and dispose of it in the correct bins. An increase in the number of tourists in Bali has led to more rubbish washing up on beaches, which not only looks unpleasant but also negatively affecting local wildlife.
Water overuse in Bali is a serious problem that is slowly causing the groundwater level to sink. Take quick showers and wait a bit longer before replacing your towels and linen.
Marine life in Bali is under threat due to an increase in litter and over-tourism. That being said, if you do choose to go snorkelling, remember not to touch the coral and keep a safe distance away from large animals such as turtles.
Support the local population by visiting less touristy places and by stopping at locally owned farms, restaurants and bars.
Things to avoid when booking eco-friendly accommodation in Bali
The seawater around Bali is becoming contaminated with grey water from hotels and resorts. Make sure your accommodation practices safe disposal of all wastewater.
Be sure your accommodation is the real deal. Before booking, contact the accommodation and ask about their eco-policy.
Avoid hotels and bars that import their products from overseas and therefore hugely increase their carbon footprint. Bali is full of fantastic local produce that is fresh and of great quality.
Book your eco-friendly accommodation right here:
More guides on Finder