Dyson V11 Absolute review: Why it's worth the money
The V11 may offer all the bells and whistles of the previous model, but the upgrades add an ease of use that can't be disputed.
We're committed to our readers and editorial independence. We don't compare all products in the market and may receive compensation when we refer you to our partners, but this does not influence our opinions or reviews. Learn more about Finder .

Dyson is truly leading the charge when it comes to innovative technology. With a mission statement to "solve the problems others seem to ignore", Dyson consistently delivers on products that are efficient, time saving and simple to use – and the V11 vacuums are no exception.
Considering that I already own the previous V10 Absolute+ model, I was expecting the V11 to be good, though not exactly mind blowing. After all, the V10 is an incredibly advanced vacuum, so how much better could these new ones be? Testing out the V11 Absolute over a number of weeks though, I realised that the upgrades on the V11 were much more comprehensive than I had originally anticipated.
The quick verdict
Pros: Easy to use, up to 60 minutes run time, displays remaining cleaning power in real time
Cons: Expensive, heavier than previous Dyson models
How much are they? $1,199 for the Absolute model
Where to buy them? Dyson stockists such as David Jones and The Good Guys
Dyson V11: How is it different from the V10?
Though a similar physical design to the V10, the V11 iterations are definitely more advanced. The latest models have attempted to overcome the downsides of their predecessors and as a result feature some pretty notable upgrades.
The motor
The V11 motor is Dyson's most powerful yet. While it offers the same incredible 125,000 revolutions per minute as the V10 model, the V11 motor offers 20% more suction, improving on the V10's already impressive cleaning results.
LCD screen
While the V10 model is a solid vacuum choice, its one real downside is the uncertainty of the battery life. Vacuuming is something of a guessing game with the V10 as there is no discernible way of knowing when the battery could conk out. Considering that it takes a while to charge too, this can be a major pain while getting a routine down pat.
The V11 takes the guesswork out of cleaning with the addition of an LCD screen at the back of the vacuum. The display will tell you down to the second just how long you have left until your cleaning buddy needs a recharge. It will also tell you when to clean the filter and alert you to any blockages that you need to clear. In fact, it will even show you a miniature version of your vacuum and show you how to pull it apart to get to the source of the blockage.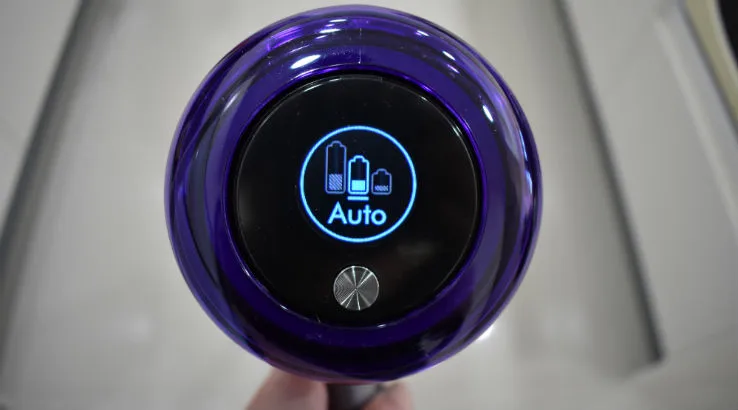 Three cleaning modes
The LCD screen also gives you three cleaning mode options as you vacuum. The three levels of power include Auto (for normal use), Boost (a turbo mode for deep cleaning of carpets or hard to pick up items) or Eco (a power-saving mode that can be used for easy cleans). As you switch between modes, the time will automatically adjust to compensate, giving you longer with the Eco mode and less time with the Boost mode.
High torque cleaning head
Where the V10 comes with two different cleaner heads to suit carpets and hard flooring respectively, the V11 comes with just one. The new cleaner head is a truly intelligent advancement, gauging the type of flooring you're currently vacuuming and adjusting the suction accordingly. You can actually hear it switch modes as you manoeuvre between flooring. The LCD screen will also automatically adjust the battery time remaining as you make the switch, assigning more time for hard flooring and less time for carpets as they require additional suction.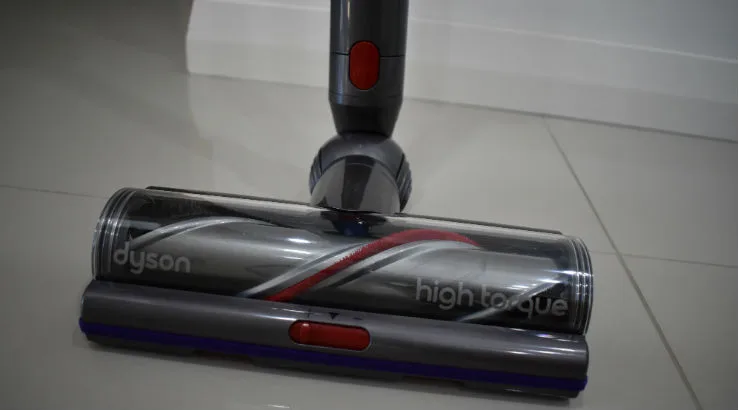 How the Dyson V11 makes day-to-day life simpler
Let me start by saying that even though I am something of a neat freak, I don't especially enjoy the process of cleaning. When I started using the Dyson V10 though, vacuuming went from being a bit of a bothersome task to a chore that I didn't really mind doing. After using the V11 model, I found the vacuuming process simplified further still, to the point that I now vacuum more frequently than ever just because it's so easy.
While I hadn't really considered changing the heads of my V10 vacuum especially cumbersome, the V11's one smart motorhead is certainly a nice addition. It's especially useful in rooms like my lounge where hard tiling takes up most of the room, while a rug takes centre place. Rather than having to switch heads to do a complete floor clean, I can simply vacuum away, happy in the knowledge that I'll be spending fewer minutes cleaning with this model than the last.
The addition of the timer on the LCD screen also took away the anxiety of not knowing if I could get all my vacuuming done in one go. Knowing the amount of cleaning time remaining meant that I could plan my time accordingly and, if need be, separate tasks such as floor cleaning and vacuuming other areas such as door runners with a charging interlude.
Were there any downsides of the Dyson V11?
While I was impressed overall by the latest Dyson model, I was surprised to note that the V11 was heavier than the previous V10 edition. It isn't exactly a workout to use, though it certainly isn't dainty either, which could be an issue for older generations.
Like the V10 model, the V11 only operates when you squeeze the trigger, rather than through having an on/off button. The idea is to preserve battery life when moving from room to room, which is handy, but could also pose a problem for those who are older or have weak hands.
Lastly, of course, is the price range. Those who are familiar with Dyson products are likely not surprised by the rather luxurious price tags. Each of the three V11 models is upwards of $1,000, which is pricey for most and quite unattainable for many.
Dyson V11 specs
| Dyson V11 Specifications | |
| --- | --- |
| RPM | 125, 000 |
| Run time | Up to 60 mins on Eco mode |
| Charge time | 4.5 hours |
| Weight | 3.05kg |
| Bin volume | 0.76L |
| Filtration | Advanced whole-machine filtration |
| Cleaning modes | 3 |
| Tools | Combination, crevice, mini soft dusting brush, mini motorised tool, stubborn dirt brush and wand storage clip |

Should you buy the Dyson V11?
The Dyson V11 Absolute provides everything you could realistically ask for from a stick vacuum and then some. With powerful suction, a smart motorhead that automatically adjusts its settings to suit the flooring and an LED display to help you with timing and functionality, the vacuum is certainly a solid investment for those willing to pay the asking price.
Given the advanced technology and ease of use though, I personally think that it's worth saving up for. However, if the price is out of the realm of possibility, other Dyson vacuum models such as the V10 range or the V8 Animal are cheaper options with the same level of quality that won't leave you disappointed.
Dyson V11: Pricing and availability
The Dyson V11 Absolute retails in Australia for $1,199 outright. You can shop it from usual Dyson stockists such as David Jones and The Good Guys. You can also shop across sellers on eBay to compare prices and nab yourself a bargain.
If you're after a slightly cheaper model, you can also shop the Dyson V11 Torque Drive for $1,099 from the same retailers, though it doesn't come with any additional accessories. Also for sale is the Dyson V11 Absolute Pro, which retails for $1,249 and includes a soft roller head for delicate hard floors, an extension hose, a mattress tool and a flexi crevice tool. The V11 Absolute Pro is only available for purchase through the Dyson site.
---
More guides on Finder