Dynamic Currency Conversion gives you the option of making overseas card payments in Australian dollars, but it often costs more than paying in the local currency.
If you're using a debit card or credit card for overseas purchases, you could have the option of paying in the local currency or in Australian dollars. Choosing Australian dollars means the payment will be processed using Dynamic Currency Conversion (DCC) and you'll be able to see exactly how much is coming out of your account.
But Dynamic Currency Conversion does come at a price, with fees that typically range from 2% to 10% built into the total payment amount. There's also the potential of additional charges from your debit or credit card provider. So in some cases, you could end up paying an extra 13% on purchases made using DCC.
This makes it important to learn how DCC works, the fees involved and how it's different to a regular overseas transaction so that you can make the most of your money wherever you go.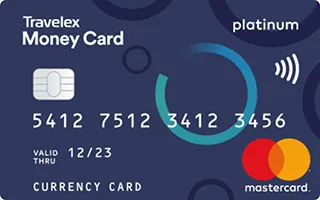 Travelex Money Card
Up to 10 currencies on 1 card
Lock in exchange rates
No overseas ATM fees
Travelex Money Card
Load and hold up to 10 foreign currencies at a time. Lock in exchange rates. Pay nothing for international ATM withdrawals.

No international ATM fees
24/7 emergency assistance
Access wherever Mastercard is accepted
PIN security
Prepaid so you can manage your spending
How does Dynamic Currency Conversion work?
If you choose to pay for an overseas transaction in Australian dollars, it will be converted from the local currency using Dynamic Currency Conversion. This means you can see exactly how much you'll be charged in Australian dollars before you complete the purchase.
A major difference with DCC is that the merchant or the financial institution that processes the transaction sets the exchange rate. This rate is fixed and usually includes a margin percentage for both the merchant and the DCC provider – meaning they make a profit on each transaction processed. So even though you'll be able to see the exchange rate that's applied to your purchase, you usually won't know what margin percentage is included.
How much will Dynamic Currency Conversion cost?
As the cost of DCC varies and usually is not clearly shown on receipts, it's hard to give a clear figure of the exact costs. However, the fees charged typically range from 2% to 10% of the total transaction cost.
How is DCC different to payments made in a foreign currency?
When you use an Australian card to make payments in a foreign currency, Visa, Mastercard or American Express set the exchange rate that's used to convert it to Australian dollars. This rate can change on a daily basis and is only applied from the date that the transaction is added to your account.
So in most cases, you won't know exactly how much you've spent in Australian dollars until the purchase shows up on your account. While this type of currency conversion can make it hard to keep track of your balance, the exchange rates set by these card schemes are usually more competitive than the rates used for Dynamic Currency Conversion.
Foreign transaction fees
Most Australian debit and credit cards charge a fee worth between 1-3% of each transaction you make overseas or online with a retailer that's based overseas. Depending on your bank or provider, you could be charged this fee even if the payment is made in Australian dollars using Dynamic Currency Conversion.
What are the pros and cons of Dynamic Currency Conversion?
The only real positive to Dynamic Currency Conversion when you're travelling is that you will know exactly how much you're spending in Australian dollars. While this may be convenient for budgeting, the following factors usually outweigh this benefit:
Foreign transaction fees. As with other foreign transactions, your credit card or debit card provider could add a fee worth around 1-3% to each DCC transaction. This means your account balance could end up lower than expected anyway.
Less competitive exchange rates. Fixed exchange rates can offer less bang for your buck compared to the fluctuating rates that apply when you pay in the local currency.
Less transparent fees. While you will see your total purchase costs before you pay for a Dynamic Currency Conversion transaction, you may not know how much of this is influenced by fees charged by the merchant and third-party payment service. This makes it hard to compare costs between DCC and regular foreign currency transactions.
Should I pay in Australian dollars or in foreign currency?
Dynamic Currency Conversion and payments made in a foreign currency both have their pros and cons when you're using a debit or credit card to make overseas payments. To help you decide between them, here are two different scenarios that show when each option is most useful.
Please note that these examples focus on exchange rates only and do not factor in foreign transaction fees charged by your bank.
Example one: Using Dynamic Currency Conversion to help you budget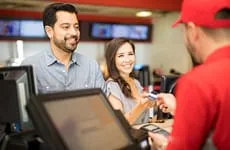 Let's say you're in New York and want to see three shows on Broadway. The total cost for the show tickets is US$350 but you only have AUS$400 in your Australian bank account and aren't sure if that will be enough.
Instead of trying to work out what conversion rate might be used if you pay in US dollars, you choose to pay for the tickets in Australian dollars. In this scenario, the three tickets cost AUD$440 and you decide to only go to two shows and pay AUD$295 for your tickets. This leaves you with another $105 of spending money.
By choosing Dynamic Currency Conversion in this scenario, you would know exactly how much the tickets cost and how much is left over. You would also avoid having the transaction declined if you'd tried to pay for the three tickets in US dollars.
Example two: Paying in a foreign currency to save on costs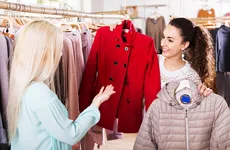 Say you're in London and see a jacket you simply have to buy. When you go to pay for it with your Australian Visa credit card, you're given the option of paying £120 or AUD$240.
In this case, you decide to pay in pounds. After 24 hours, the transaction shows up on your balance and you see that it was $208. This means you saved $32 by choosing to pay in the local currency instead of Australian dollars.
What other options do I have for making payments overseas?

If you want to avoid currency conversion costs or foreign transaction fees, compare these other travel money options:
Travel cards. These prepaid debit cards let you load and spend money in a range of different currencies. This means you can lock in the exchange rate when you get the card and keep track of your balance in the local currency without having to do any currency conversion estimates. Plus you'll be able to avoid the 1-3% foreign transaction fees that are charged by most Australian debit and credit cards.

Updated February 22nd, 2020

0% foreign fee credit cards. While you may still have to choose between paying in the local currency or Australian dollars, you won't be charged a foreign transaction fee with one of these credit cards.
Travel debit cards. There is a range of bank accounts that come with debit cards offering travel benefits such as 0% foreign fees and $0 ATM fees that could help you keep your costs down when you're travelling or shopping online.
Foreign cash. Having cash for the country or countries you're visiting means you'll be able to make payments even when cards are not accepted. It also gives you an easy way to keep track of how much money you have left because you can physically count it.
While Dynamic Currency Conversion can be a convenient option if you want to know how much you're spending in Australian dollars, it is often more expensive than paying in the local currency. Plus, there's usually the added cost of foreign transaction fees, regardless of whether or not you pay in Australian dollars.
So before you head overseas or to the online checkout, make sure you weigh up these different payment options so you can choose one that works for you.
Pictures: Shutterstock
Back to top