Ducted rangehood buying guide
We'll help you compare fixed, slide-out, canopy and under-cupboard rangehoods to find the perfect ducted rangehood for your kitchen.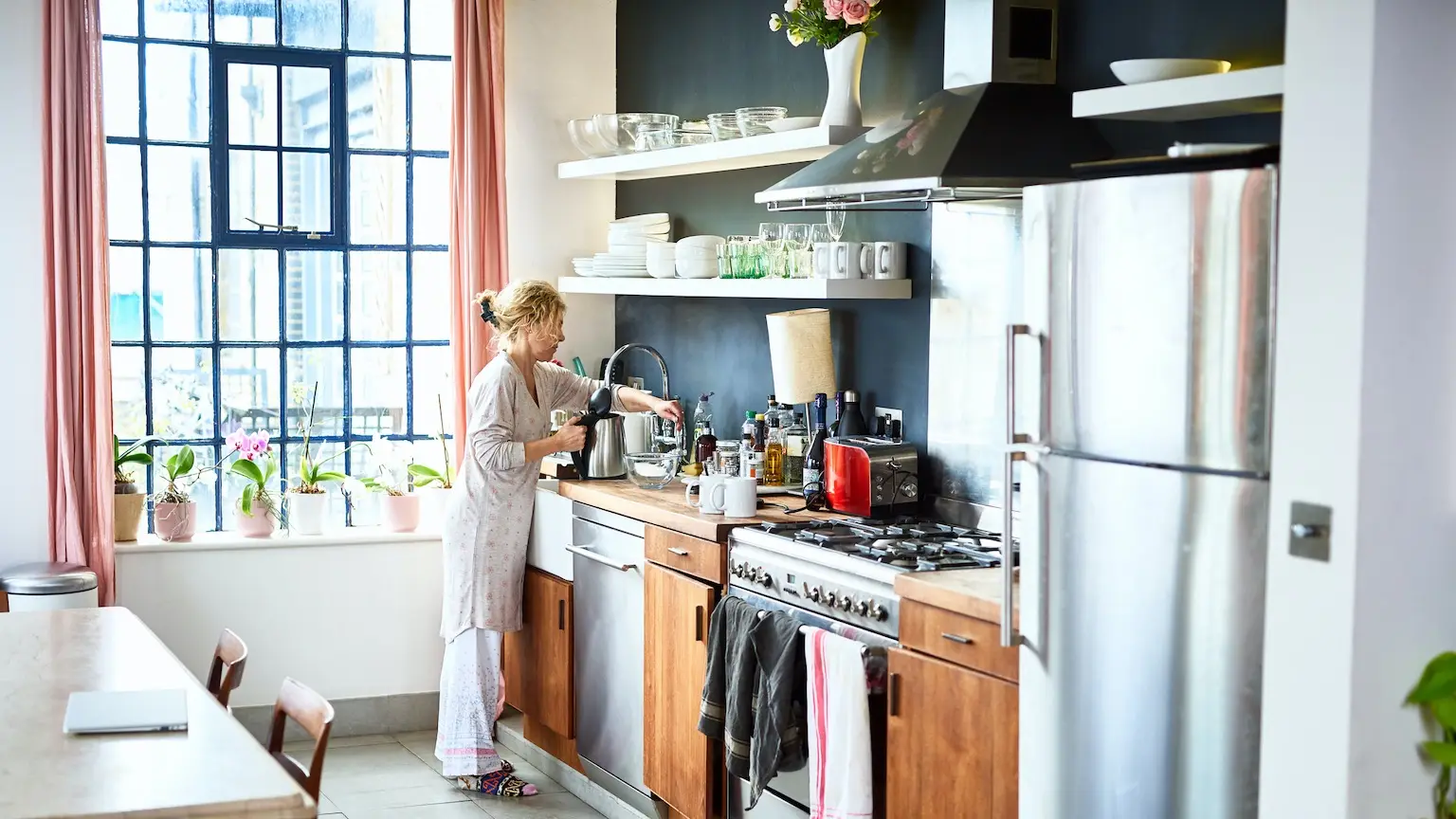 We're reader-supported and may be paid when you visit links to partner sites. We don't compare all products in the market, but we're working on it!
Quick facts about comparing ducted rangehoods:
When choosing a rangehood, consider which style is the right fit for your kitchen, the extraction rate, ease of cleaning and the price tag.
Prices can range from around $100 to more than $5,000 depending on the model you choose.
What is a ducted rangehood?
A ducted rangehood is a duct above your cooktop designed to remove smoke, odours and grease from your kitchen. It uses fan power to suck contaminated air out of your kitchen and then vent it outside through the wall or ceiling.
A rangehood ensures that food odours, smoke, steam and other particles don't linger like unwanted guests in your kitchen and throughout your home.
Ducted vs recirculating rangehoods
There are two types of rangehoods available: ducted and recirculating. Recirculating rangehoods work by filtering air and then returning it into the room, rather than venting it outside like a ducted rangehood. They pass air through a carbon filter which will need to be replaced on a regular basis, reducing smells and impurities before releasing the air back into your kitchen.
As you'd probably expect, ducted rangehoods are the most effective option for removing odours and smoke from your kitchen. However, they require installing ducted piping through the wall or ceiling, which isn't an option in all homes.
Types of rangehoods
Rangehoods are available in several different styles to suit a variety of kitchen layouts and designs:
Fixed rangehoods. The most affordable of all the available options, fixed rangehoods cover a large cooking area and feature a large filter. While they may not offer the flexibility of a retractable rangehood or the aesthetic advantages of canopy and undermount rangehoods, they offer efficient performance and won't break the bank.
Under-cupboard (or undermount) rangehoods. As the name suggests, these rangehoods are installed under your kitchen cabinetry. This design means they're tucked away out of sight and generally don't take up too much space. However, they may not cover as much of your cooktop as some other options.
Canopy rangehoods. An increasingly popular option, canopy rangehoods generally offer the most effective performance thanks to the amount of cooktop coverage they provide. They can be mounted on a wall or installed above an island bench, but some models can be quite expensive.
Retractable rangehoods. Also known as slide-out rangehoods, these models are designed to save space and be reasonably unobtrusive. The fan and light switch on when you slide the rangehood out and switch off again when you slide it shut. However, their smaller collection area means they're not as effective as canopy or fixed models.
Downdraft rangehoods. While they're not as widely available as the other options, downdraft rangehoods are concealed behind the stovetop and pop up when needed. Designed for island cooktops where venting through the ceiling may not be possible, they direct the fumes downwards to ducts beneath the floor. While they're worth considering if you want a streamlined look, downdraft models are typically expensive and not as effective as other options.
How to compare ducted rangehoods
With so many options to choose from, how do you choose the right rangehood for your kitchen? The most important factors to consider are the size of your cooktop and the space you have to work with. Those who are undertaking a full kitchen renovation (or building a new house) will have a whole lot more freedom than someone looking to replace an old or broken rangehood.
Your budget will also have a big bearing on which rangehood you select, so make sure you compare a range of options in your price range before you buy. Here are the key factors you'll need to take into account when shopping around:
Size and location
The rangehood should cover your entire cooktop. 60cm and 90cm are the most common widths, 110cm, 120cm and 150cm models are available for larger cooking areas.
The location of your cooktop will also influence your choice. For example, if your cooktop is part of an island bench, a canopy rangehood will be suitable. If your cooktop sits under kitchen cabinets, an undermount model is your only option.
Appearance
Consider how the rangehood will fit in with the rest of your kitchen decor. Canopy rangehoods can make a bold design statement, while undermount and retractable models offer a slimline look. There's also a wide range of finishes available, from a traditional white look to stainless steel, splashes of colour and even curved glass canopies.
Price
There are many styles and sizes of rangehoods available so prices can vary dramatically. Fixed rangehoods are the cheapest and start at just over $100, while slide-outs are also fairly affordable. Canopy rangehoods are priced anywhere from $200 to $5,000+, and there's a similarly broad range for undermount models.
Noise
A noisy rangehood can drown out dinner conversation or the sound of the TV, so check how loud a model is before you buy. Head in store and ask to hear the rangehood in operation so you know what sort of noise levels to expect.
Extraction rate
This measures how much air the rangehood can draw in and is listed in cubic metres per hour. The higher the figure, the more dirty air it can remove from your kitchen. Anything over 600m³/hr is at the top end of the power range, and canopy rangehoods tend to be the most powerful.
Controls
Some models offer touch controls which not only provide a smoother look but are also easier to clean, while other units come with buttons and switches. Whichever option your desired rangehood has, make sure the controls are easy to access and understand.
Additional features
Ease of cleaning. Rangehoods deal with grease, grime and a range of strong odours so will need regular cleaning. Look for a model that's simple to wipe down and doesn't have any obvious areas where grease will accumulate.
Filter. Most ducted rangehoods have aluminium filters which require regular cleaning. Make sure the model you choose has a filter that is easy to remove and clean – many will be dishwasher-safe – to ensure that your rangehood will function properly.
Lighting. Built-in lighting gives you a clearer view of the cooktop and whatever dish you're preparing. Check how much illumination is provided and whether replacing the globe(s) will be a simple job or overly fiddly.
Height above cooktop. The type of cooktop you use will affect the minimum height at which your rangehood must be above the cooking surface. For example, in Australia the rangehood must be at least 600mm above an electric cooktop and at least 650mm above gas hobs. Many manufacturers recommend additional clearance, so read the fine print closely.
Installation. If you're planning a DIY job, find out exactly what's involved in installing your chosen model. If you'll be getting a professional to do it for you, remember to factor this expense into your budget.
Timer. Want to leave the rangehood on to clear the air while you sit down to dinner with the family? Many models feature a timer so you can set the rangehood to switch itself off after a specified period.
Speeds. While some rangehoods offer up to six speed settings, two or three settings should be more than enough for most people.
Heat sensor. Some more expensive models will come with a temperature sensor that can automatically adjust the rangehood speed to suit cooking heat levels.
Warranty. Check the length of the manufacturer's warranty – two years is fairly common – and what it does and doesn't cover before you buy.
More guides on Finder