DriveClub VR Review: "Runs like a greyhound; looks like a pug"
Sony's launch racer stays on track, but does not set a blistering pace.
We're reader-supported and may be paid when you visit links to partner sites. We don't compare all products in the market, but we're working on it!
In years to come, when we look back at DriveClub VR and compare it to the other virtual reality racing games that have followed in its tracks, it won't be viewed favourably. Best described as workmanlike, it does a solid job of taking the enjoyable DriveClub experience that appeared at the launch of the PS4 and adapting it for the launch of PSVR. However, it certainly doesn't try to stretch its legs and make the most of its new reality.
---
---
Like its forerunner, DriveClub sits somewhere between the polished race simulations of the Gran Turismo series and the casual thrills of a Need for Speed. It's not as gritty as Codemasters' Race Driver series, but it's certainly not flippant with its physics either. Racing fans will appreciate the unique feel of each car and the way they respond to the undulating fantasy circuits. But they won't be impressed by the lacklustre AI opponents, the damage modelling or the visual downgrade.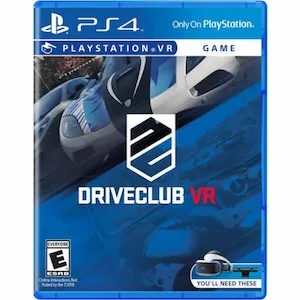 Drive Club Game PS4
from ozgameshop.com
Get behind the wheel as DRIVECLUB revs its engines for a follow-up season of edge-of-your-seat racing.
View details
There is a full game here – it's not a "VR experience" that simply trades on the DriveClub name. From the main tour to single events, challenges (in-game and issued by friends), multiplayer and the titular club mode (where you form teams with other players in order to unify your efforts under one banner) there is plenty to do.
114 circuits are on offer including five new urban locations. There's plenty to like about their design and I loved the way sharp dips and off-camber corners evoke a feeling of real movement while in virtual reality. However, I longed to feel like a real race driver on a real race track. As soon as a PSVR racing game with real circuits appears – like Bathurst or Laguna Seca – I'll drop DriveClub VR in a heartbeat. In addition to the circuits, 88 vehicles are included and all of them were in the previous game. Sadly none of the bikes have made the cut either (DLC perhaps?).
The biggest issue I have with the game is its downgraded visuals. It was to be expected; we all knew that this was to be the cost paid to enjoy first-generation VR tech. But it actually impacts gameplay. It almost feels PS2-era, and I found myself straining harder than I would have liked to make out corners and cars down the track. There are little flourishes here and there, like flags blowing in the wind, sparks flicking off cars, detailed interiors and suns setting over lakes, but look closely at anything in the environment and it's a big step back in time. Anything as advanced as seeing an opposition avatar bounce in their seat when sideswiped, or a car's bonnet crumple under impact as smoke billows out, you can forget.
I would have thought I was above worrying about visuals when I am having fun, but there's no doubt that the low resolution environment was physically impacting my ability to enjoy the experience. One second I felt like a boss, looking through the corner and around the bend, making the most of my improved sense of "being" in the virtual world to nail an apex. Then the next I was straining to make out what was coming on the road ahead – is that a corner? A car? A cow? The inability to not quite see what is coming is frustrating, plus the strain on your eyes is nauseating.
Hopefully the gap between polish and framerate will close dramatically over the coming years, as the game runs like a greyhound, but looks like a pug.
The visual hit is a shame as the actual play experience in virtual reality is enjoyable. As mentioned before, being able to look right around the corner as you turn into it, or to glance at your mirrors or over your shoulder to see who is around, feels so organic. I often felt like I was not just on a piece of track, but enclosed in a full circuit and would pick up on things I never do during normal console play. Especially in regards to the topography and the relationship of the track with the environment. Being able to flick your eyes and glance at all the data on a screen next to the dashboard is handy as well.
Usually I play in the cockpit view regardless of the game, but I can imagine that a lot of race fans who prefer the "behind the car" perspective will move into the driver's seat with DriveClub VR. The sensation provided by VR maximises the potential of this camera view and even though it is disconcerting that there is no body to look at – just detached hands clutching a steering wheel – you still feel like you're there. It's a nice touch that in a replay you are able to sit in the passenger seat and watch as your avatar struggles with the steering wheel as it recreates your efforts.
I was also really pleased with the accuracy of the motion controls, which helps seal the deal when it comes to using the cockpit view. I would never, ever choose to play a racing game with motion controls over an analogue stick, but in virtual reality, suddenly it was my preferred option. I felt like I had finite control as I held the DualShock in front of me like a steering wheel, oblivious to how stupid I looked. Steering into corners and swerving behind opposition bumpers felt right, and the thrill that comes with drifting through a corner or counter-steering out of an error feels great with the motion controls.
Maybe it is having the two hands on the steering wheel in front of you, or the way the virtual reality tricks your mind into feeling the G-Force as you power through corners, but it's a big tick for the many of you who cannot afford the full racing wheel setup.
If that is a big tick, AI is a big cross. There is plenty in the way of solo challenge content and multiplayer to dive into, but for those looking to go through the tour, the AI does little to up the tension. Extreme braking at corners is the main weakness in its lackadaisical driving, meaning that instead of providing stiff competition, the AI just gets in the way as you try and push to the front so you can focus on lap times.
Yet in that moment-to-moment gameplay of driving into and out of a corner, DriveClub VR is a lot of fun. And really, at a console's launch, that's all that matters. You will have fun. But you get the feeling DriveClub VR will live in Gran Turismo Sport's shadow as soon as it releases. And we cannot deny that similar experiences on other formats, like Project CARS on Oculus Rift, are superior despite their age. You have to wonder why Sony didn't invest fully in a DriveClub 2 that could co-exist as a standalone game, bringing more cars, the bikes and fresh modes into play. But that's a topic for another day. Race fans looking for an enjoyable launch title will still be satisfied with DriveClub VR, while casting an eager eye down the road to GT Sport.
We reviewed DriveClub VR on PlayStation 4 with a copy provided by the publisher.
---
More guides on Finder