Dragon's Dogma Dark Arisen: Seek thee out some pawn
The cult Capcom classic brings its fantastic world and beasts to the new generation.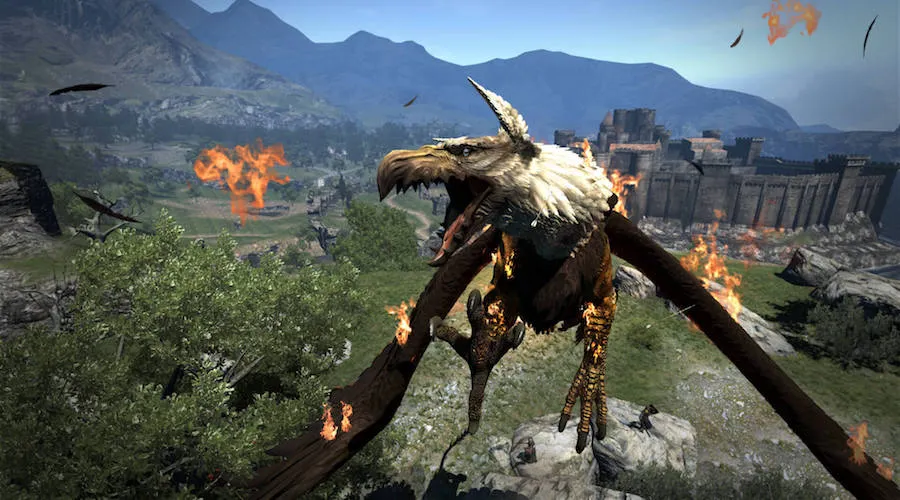 We're reader-supported and may be paid when you visit links to partner sites. We don't compare all products in the market, but we're working on it!
If you want to milk the maximum fun out of Dragon's Dogma: Dark Arisen, you really ought to think about going online and expanding your pawn collection. Pawn is shorthand for "player-created-character" in this instance. Everybody starts with a "main pawn" avatar, and a secondary AI companion pawn can be built to back you up, be a pack mule for your items, spout canned dialogue, and they'll freely migrate into the worlds of other players. In short order your own world will become awash with pawns offering to make your twosome party into a foursome. Many will be made by trolls with too much time on their hands.
Take "Damson" as an example. I found him wandering outside some seedy tavern and was immediately drawn to his fighting stats, even though he was a morbidly obese man spilling out of his teensy leather bicycle shorts. Now, I'm an open-minded fellow who's only looking to slay dragons quickly, and so I recruited him on the spot. We had a very successful partnership, though he had an odd way of alerting me to danger, by using the phrase "I have a queer feeling". And whenever we hit the hay at a tavern, the first thing he'd say in the morning would invariably be "I hope I pleased you, master". OK, Damson.
So, yeah, online experience may vary indeed. If you're after a believable and wholesome fantasy world ala The Lord of the Rings, you're probably going to be irked by the weird AI hobos wandering about. (Literally wandering, too – their traversal AI isn't the best). That said, if you opt out and try to play Dragon's Dogma offline, you'll be making a rod for your own back. There are some very decent companions out there, and if your pawn is hired by somebody else they'll level them up for you. Decisions, decisions.
Now that I've warned the dour RPG purists, let's get to the fun stuff. If you've never played Dragon's Dogma: Dark Arisen, it's best described as a party-based Dark Souls, minus the bleak atmosphere and ball-busting difficulty. Mind you, that's not to say you're living in a land of sunshine and rainbows that's bereft of personal challenge: in the opening moments, you (the titular Arisen) will have your heart stolen by an ancient dragon. It's up to your flea-sized self to then track the serpent down and kill it. He's the size of a small city. Best of luck with that.
Cue the need to level yourself up to the task by adventuring through the lush, open-world of Gransys. After selecting one of three classes – Warrior (melee), Strider (long range) or Mage (support) – the tasks and errands will be thrown at you thick and fast. You know the score: Main missions, side missions, multiple object fetch quests, and the need to pillage the environment or murder specific beasts to secure specific materials needed for equipment improvement. There are no real surprises here, which is to be expected from a five-year-old game.
If you've ever bashed something to a pulp in Devil May Cry, combat is also more or less a known quantity to you. The fairly bog-standard long-range-peppering and/or hack 'n' slash you get is entertaining, but also a little simplistic if you're used to the stamina-management depth seen in a FromSoftware title. Dark Souls fans will also lament the lack of a tangible lock-on function here (you get a form of aim assist that kinda, sorta, steers you into hitting the nearest beast). Despite that antiquated nature, steadily learning new combos and besting increasingly larger freaks is still an addictive pastime after all these years.
Speaking of slightly ropey concepts, you also have the ability to grab onto the hide of larger beasts and clamber up to attack their higher weak-points for massive damage. Most of the time those moments make for an exhilarating battle, but just as frequently the animation system will befuddle your thumbs and have you humping a leg instead of scaling to your intended pressure point. Shadow of the Colossus this sometimes is not.
Fortunately, as you're being flung off said beast – be it a griffon, chimeras or hydra – your three AI pawns can pick up your slack and pour the hurt on. They respond to your small collection of tactical commands well enough, plus continued use with a pawn makes them tune into your style of play. All of that said, for the first few hours or so you'll enter into a love-hate relationship with any pawn. On the downside, they never shut up with their near-constant, repetitive observations on life. Damson, for example, offered such pearls of wisdom as "this room is tidy", "wolves hunt in packs", and the ever-helpful "Goblins hate fire". You don't say, stupid-sexy Sherlock.
On the other hand, you'll be disadvantaging yourself if you switch off pawn subtitles (or lower the 'Voice' volume). Sometimes, they offer helpful leads on what to do next when the map gets stingy with the quest markers, and they also shout winning stratagems during battle. Heck, your minions will even strip-mine villages for sellable objects, completely unasked, and they're worth having about when the insanely difficult night-time enemies spawn.
On the "remastering" side of things, Dragon's Dogma: Dark Arisen hasn't been shown as much love. Sure, the detailing in the textures is far superior to what we got on PS3, and the eyesore screen tearing of ye olde version has been put to the sword, too. Even still, a lack of a 4K option and no 60fps feels like laziness. It's a bit of a heart-rip to fans like myself who have arisen to re-buy this cult-hit which, despite a bit of arthritis, keeps on crit-ing.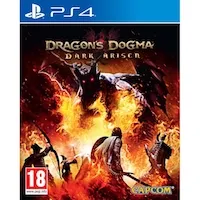 Buy Dragon's Dogma Dark Arisen for $29.99
from ozgameshop.com
Dragon's Dogma: Dark Arisen is now available for PS4, Xbox One, Xbox 360 and PC.
View details
We reviewed Dragon's Dogma Dark Arisen on PlayStation 4 with a copy provided by the publisher.
Dragon's Dogma: Dark Arisen
7.0 VERY GOOD
What we liked...
Cool asynchronous multiplayer via AI pawns
Top creature design and night ghouls worth fearing
Seductive open world and equipment grind
What we didn't like...
AI pawns can get on your nerves
Needed a few mechanical upgrades
Visuals could have been polished harder
VERDICT
A respectable albeit no-frills remastering of a sleeper-hit action-RPG. What it lacks in memorable characters and plot, it more than makes up for with swashbuckling action and addictive looting loop.
For more information on how finder scores games, check our review guidelines.
---
More guides on Finder
Get more from Finder