Dragon Quest Builders Review: Hit me with your crafting stick
Dragon Quest Builders takes the Minecraft recipe and crafts a charming light action RPG out of it.
We're reader-supported and may be paid when you visit links to partner sites. We don't compare all products in the market, but we're working on it!
Stop me if you've heard this one before. There's this game, with fantasy monsters, and a block-based world that you bash apart to find rare resources that can be crafted into whatever your imagination desires.
That's the Minecraft recipe, of course, and it would be all too easy to deride Dragon Quest Builders as a cheap Minecraft rip-off. Your first experience with it will suggest it's little more than Minecraft in a Dragon Quest skin, right down to and including the presence of delightfully cute coloured slime enemies.
While the debt to Minecraft's basic block-building world scheme is apparent (and it's worth remembering that not even Minecraft was the first game to use such a scheme) it's to Square Enix's credit that it has taken that recipe and mixed it into something quite different.
While you can get creative with Dragon Quest Builders, the core game is instead built around a carefully curated RPG storyline that sees you rebuild a shattered world after certain dark elements have emerged victorious. To say much more would be invoking the spoiler gods unless you're a particularly long-term fan of the series. Suffice to say that you're the only hope for a shattered world, but instead of being given a mystical sword, you've been given the skill to combine items to make new things, whether that's beds, doors or combat weaponry. Nobody else but you can rebuild the world, one block at a time.
Where Dragon Quest Builders deviates from the standard Minecraft recipe is that it's significantly more structured around an RPG world than Minecraft is. You can go off and build your own world if you really must, but the meat of the game is in rebuilding the world that was there before, which involves rather more precise recipes for rooms that you'll earn through the course of the game.
Dragon Quest Builders' combat isn't particularly innovative, because while it's mixing familiar fantasy weapon tropes, it's much more akin to Minecraft combat than traditional RPG combat. Essentially spamming the attack button and hoping your weapon of choice doesn't break should see you through most combat situations, so there's little depth there.
What carries the game is the skill with which it's been written and developed. When you first start out you're given a single town to rebuild, and as you make improvements, you'll attract new and, it's fair to say, somewhat eccentric non-player characters (NPCs) to live in your towns. They're equal parts frustrating (because they rely on you for most of the big in-game tasks) and charming (because they're well written for the most part). That said, there are some that you'll just want to hit with your terraforming mallet after one too many repeated requests.
While I'm on the case for minor niggles, it's also somewhat annoying that the talk, action and menu button are all mapped to the same control, because it means that you'll often go to craft something and, if someone's too close, talk to them instead, or if you're not quite square to your target, open the main menu instead. It's something that could have been avoided, but wasn't.
You could take Minecraft and apply a Dragon Quest Mod to it, and it should be to nobody's surprise that this has already been done. What you'd end up with wouldn't be Dragon Quest Builders, though. It's not just the snappy cartoon visuals, or even the NPC scripting that makes Dragon Quest Builders worth playing. It's the care with which the whole package has been put together that makes it genuinely fun to play. Some games are brutally challenging, and some are mind-bending, but Dragon Quest Builders simply revels in the fun of its core gameplay experience.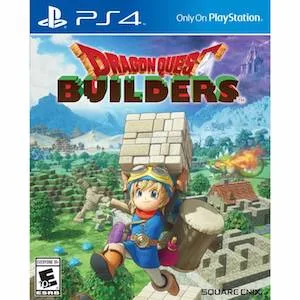 Dragon Quest Builders for PS4
from ozgameshop.com
Dragon Quest Builders is available now for PS4 on OzGameShop.
View details
More guides on Finder