Double stroller buying guide: How to find the best ride for your bubs
We'll help you choose the perfect double stroller to meet your babies' needs.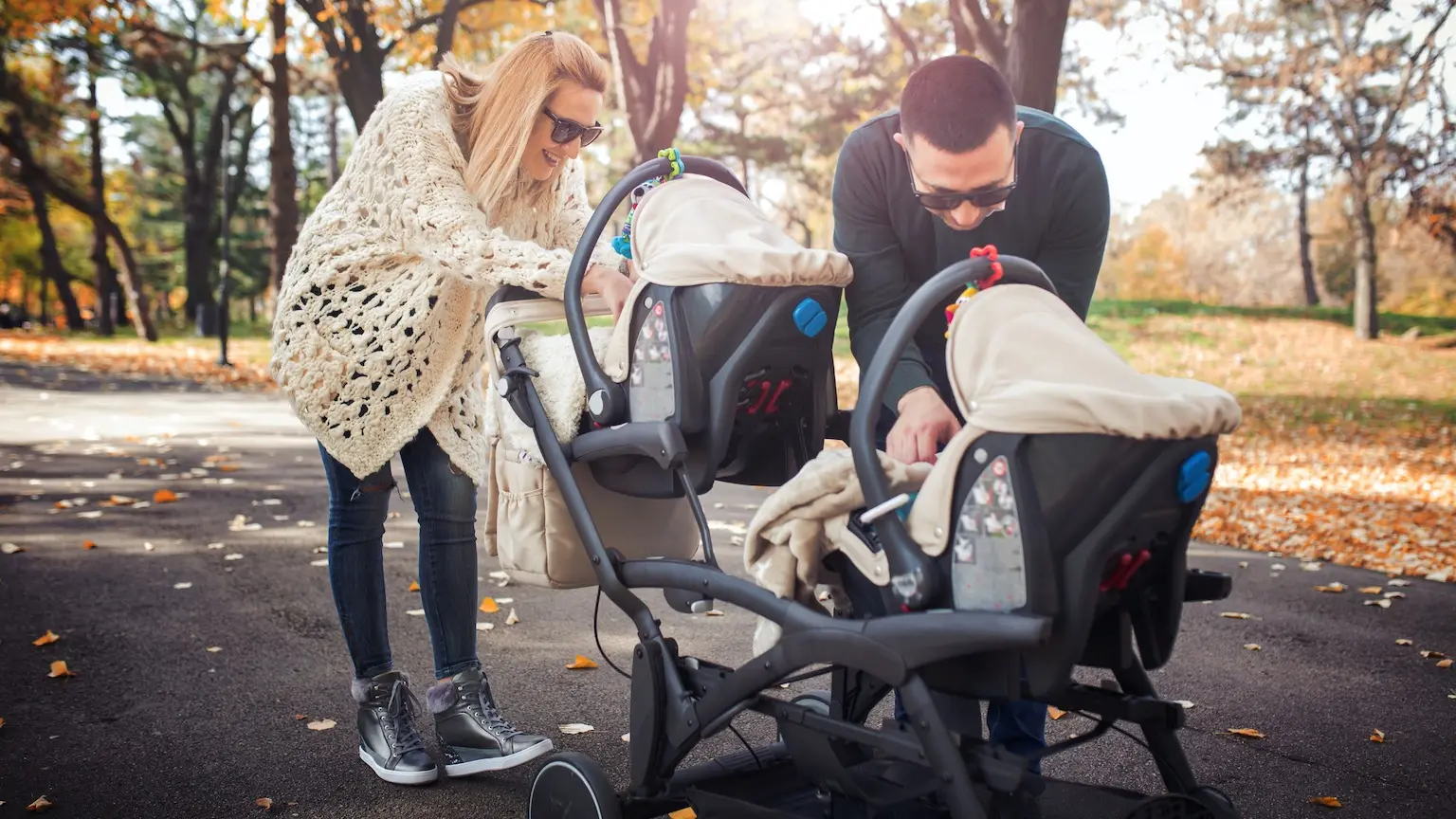 We're reader-supported and may be paid when you visit links to partner sites. We don't compare all products in the market, but we're working on it!
Quick facts about double stroller:
Double strollers are designed for twins or a baby and a toddler that are close in age. Having one set of wheels for two kids can save you time and hassle and often costs less than buying two separate strollers.
When you have two to look after and half the time, it's important to pick a stroller that fits and is comfortable, safe and easy for you to maneuver.
Seating options
Double strollers have three seating options: side-by-side, tandem and a single seat with a toddler add-on. Sit-and-stand strollers are also available for those with a baby and a child old enough to stand for the duration of the journey.
The right seating option for you depends on the age gap between your kids.
If you have twins or kids less than one year apart: Side-by-side or tandem stroller.
If your kids are more than one year apart: Side-by-side, tandem, single seat with toddler add-on or sit-and-stand stroller.
Type
Suitable for
Pros
Cons
Side-by-side

2 babies
2 toddlers
1 baby + 1 toddler

Allows you to see both kids at once
Fits in most car boots
Both seats are the same, which eliminates sibling squabbles over wanting to get the "best" seat

Wide and heavy
Difficult to move through narrow aisles and doors
Hard to carry up steps onto a kerb

Tandem (or inline)

2 toddlers
1 baby + 1 toddler

Narrower than side-by-side models
Easy to move through doors and supermarket aisles

Most models don't fit in smaller car boots
Difficult to see into the back seat
Not suitable for newborn twins

Single seat with toddler add-on

2 toddlers
1 baby + 1 toddler

Can be used with or without the toddler seat attachment

Unsuitable for newborns, as toddler seats can't fully recline
Can be heavy and bulky with the added toddler seat
Tips over more easily than other stroller types

Sit-and-stand

Narrow
Lightweight
Easy to maneuver and fit into a car

Has smaller wheels that are not suitable for bumpy surfaces or rough terrains
Older sibling may be unhappy to stand the whole time
Stroller types
Once you have chosen your seating style, you need to decide which type of double stroller suits your needs and lifestyle best.
Type
Best for
Pros
Cons
All-terrain

Suitable for neighbourhood strolls, hiking trails and bumpy surfaces

All-purpose

More durable than umbrella strollers

Not as sturdy as all-terrain models

Jogger

3-wheel design makes it easy to go running with the kids

Expensive
Not as many choices available

Umbrella

Compact, foldable and lightweight
Fits easily in a car boot

Less durable
Unsuitable for newborns and bigger preschoolers
How to compare double strollers
Double strollers typically cost between $280 and $2,400, depending on the brand and model. And while price is obviously a huge factor when deciding which model you should go with, here are the key features that you should consider:
Weight and size
Check that your stroller can fit into your car boot easily without removing the wheels. Ensure that you can lift it up and down stairs and kerbs as some are quite heavy. If you plan to take public transport, check that it's not too bulky to maneuver.
Wheels
Front swivel wheels make the stroller easier to maneuver and large wheels are better for navigating kerbs, stairs and uneven terrain. However, models with large and front swivel wheels may cost more.
Brakes
Look for brakes that are easy to reach via foot pedal or handle, and that are linked by a single lever on both rear wheels. Make sure the brakes safely lock into position.
Recline
Babies under six months need a seat that reclines more than 130 degrees. If you have two kids of different ages, look for a double stroller with reclining seats that can be adjusted separately.
Safety
Strollers should have child-resistant locks, be sturdy enough to prevent tipping over and have wheels and brakes that are inaccessible to kids. Look for products certified to Safety Standard AS/NZS 2088 and check that the model has not been recalled.
Longevity
Double strollers can typically suit kids up to four or five years old. Some tandem strollers convert to sit-and-stand models to give your toddler more room to grow.
TAdjustable backrest
Strollers that can be adjusted to semi and full-recline positions are more versatile (and better for sleeping). If your baby is under six months, make sure that the stroller is fully reclinable.
Footrest
Your kids are less likely to get injured if their feet aren't touching the ground or stuck in the front wheels.
Removable capsule
Some strollers include removable capsules that convert to car seats, so your kids can be easily transported to the car without waking them.
Storage
Strollers that come with a basket or tray can help you store baby food, nappies, spare clothing and your personal items. Keep in mind, baskets typically have a weight limit of around 5kg.
Rain cover, sun canopy, mosquito cover
These extra attachments can help your kids stay dry, out of the sun and protect against bug bites.
Five-point harness
Kids under five should wear a five-point harness that includes two shoulder straps and waist and crotch straps. Check that the harness has easily adjustable straps and user-friendly buckles that don't leave closed loops when undone.
More guides on Finder