DOOM Review: Old School Ghoul
2016's Doom is so dumb, loud and obnoxious that it has the potential to get modern players on the back foot. But give it time and it's exactly those traits that will have you bow down to the Antichrist of first-person shooters.
We're reader-supported and may be paid when you visit links to partner sites. We don't compare all products in the market, but we're working on it!
Doom is a dumb game, but in a good way. In a market where tactical shooters (The Division) and political narratives (Call of Duty) are storming the charts, developer ID Software's heavy-handed approach to revamping the Doom franchise pays off, putting the focus squarely on old-school mind-melting badassery. Big guns; bigger baddies; biggest explosions.
A little more polish could have taken this satanic shooter all the way to the pits of hell.
Doom gets away with this approach because it's so wonderfully self-aware. It knows that it doesn't need to be Doom 4, because who gives a stuff about continuity when the crux of the story is "eradicate demons on Mars in the most gruesome ways possible". It knows that it doesn't need an open-world, a complex levelling system or even a three-dimensional hero.
However, not all modern trimmings bear the number of the beast and despite Doom mostly being everything it should be – a throwback to the first-person shooter's origins – there are some core gameplay pillars that aren't as polished as the premise deserves. A little more work could have taken this satanic shooter all the way to the pits of hell.
Playing with yourself: Is Doom's campaign story any good?
Though a large chunk of the pre-release hype focused on the multiplayer component of Doom, the single-player campaign is truly its strongest mode. Doom casts aside what appeared to be the start of a multi-game arch suggested at the ending of 2004's Doom 3 with a new tale that acts as little more than to streamline the gorefest.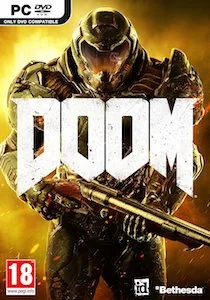 DOOM for PC
from Green Man Gaming
Developed by id software, the studio that pioneered the first-person shooter genre and created multiplayer Deathmatch, DOOM returns as a brutally fun and challenging modern-day shooter experience.
View details
For what it's worth, you play as a traditional Doomguy. You're a United Aerospace Corporation (UAC) marine who wakes up tied to an altar and surrounded by possessed scientists. Immediately, you insert your thumb into a zombie's skull and split it in two like an overgrown pistachio nut, effectively setting the tone for the rest of the game. As you stumble your naked, angry arse towards your trusty Praetor suit, the events preceding the game begin to unfold thanks to the guidance of off-screen scientist Dr Samuel Hayden.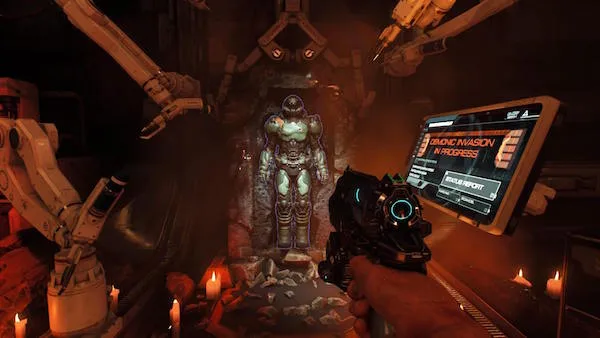 It turns out the ambitious scientists on Mars were trying to tap an unlimited source of energy from the Demon Realm and (surprise, surprise) it all turned to hell. Doomguy has no interest in the politics at UAC, or even salvaging whatever value remains from the disastrous project.
Doomguy has one mission: rip and tear. This becomes obvious when Doomguy proceeds to punch everything in sight.
This and some regular corny dialogue, like "demonic presence at unsafe levels", set the tempo high and narrative expectations low early on. It's essentially a big middle finger to anyone expecting anything more.
The intentionally-trashy premise is deemed acceptable thanks to what Doom is packing beneath the hood. Software's id Tech 6 engine makes its debut in Doom, running in 1080p at a silky smooth 60fps. It's hard to find any flaws in Doom's visual fidelity.
As the hordes of hell grow multiply in size, the frame rate vary rarely dips and close-and-personal glory kills, though fleeting, show the hideous features of demons in gruesome detail.
Satanic beasts and where to find them
As you might expect, Doom is chock full of bad guys happy to waltz in front of your double-barrel sawed-off shotgun. I was very happy to discover a number of returning monsters from the Doom bestiary, like Imps and Possessed Soldiers (essentially this gen's zombieman), both of which prove useful practice targets early on. Thankfully, Doom doesn't rely solely on old tricks.
There are a few new faces, like Hell Razer (a sniper-esque enemy) and the Summoner, that mix things up. The Summoner in particular brings a welcome challenge to the usual shotgun-to-the-face approach. Not only does Summoner, as its name implies, summon more enemies to the arena (not unlike Doom II's Arch Vile), but it also warps between positions frequently, making close-quarters combat impractical. This creates a stressful and exhilarating loop of crowd control and hide-and-go-seek that I found challenging and enjoyable.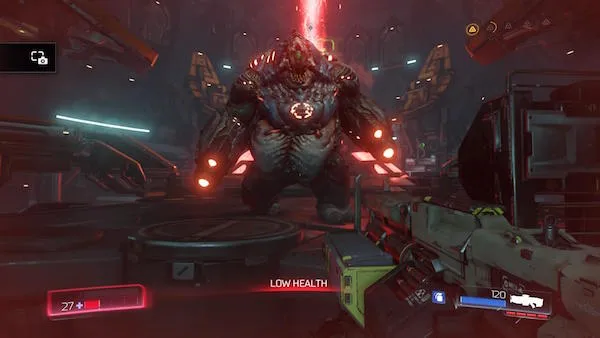 New beasts are introduced gradually throughout Doom. Some are introduced with fanfare – Imp and Mancubus both get their own intro animations – and some just randomly pop up in the middle of a battle. Giving demons an intimidating introduction excuses the lack of boss fights mid-game (the first comes quite late). It also significantly ramps up the tension when you first struggle to take down a behemoth like Mancubus, only to be thrown into the ring with two more moments later.
Ammo isn't survival-horror levels of scarce, but if you want it, you're going to have to fight for it
Every new adversary forces you to experiment with new weapons, of which there are plenty. Early on you're gifted a pistol with infinite ammo, and an ever-useful combat shotgun. Very soon you find yourself in possession of an arsenal of nine different ranged weapons, three throwables and one devastating chainsaw.
How you use these weapons comes down to the big nasty you're facing and ammo surplus. I really appreciated the way Doom withheld ammunition. It's not survival-horror levels of scarce, but if you want to reload, you're going to have to fight for it.
This fight for survival is another nod to the past, and it does a ripping job of putting you on your toes. Some enemies require heavier weapons to take down, some can only be fought from a distance, and some are bullet sponges in which you will end up unloading every last shell trying to fell.
Doom's difficulty curve is constantly gratifying. Each time you cheat death and manage to take down a troublesome creature, you're rewarded a bigger and badder weapon soon after – making your next encounter a breeze, comparatively.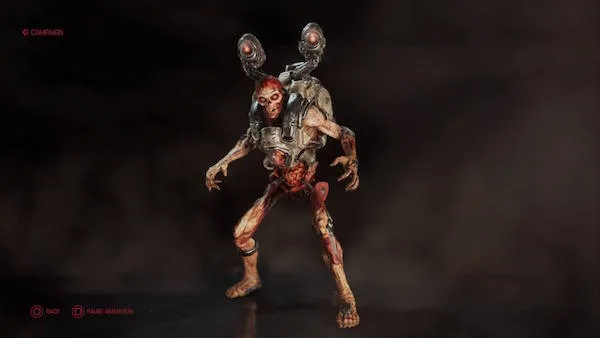 This can be helped by modding your weapons with grenade launchers, rapid-fire and missile attachments or unleashing a chainsaw attack on an enemy – the latter a one-hit-kill with limited supply. Throughout the first half of the campaign I was over-conservative with the chainsaw, but eventually it becomes a vital tool for survival. Not only is it devastatingly powerful, but it also rewards kills by spilling surplus ammunition – a key tactic to surviving later bouts.
Other low-supply weapons include the iconic BFG-9000. Just like the chainsaw, I found myself rationing BFG rounds, but all too often ending a hectic and stressful battle without firing off a single shot with what is easily the most satisfying weapon in the game. Trust me, as long as the painful end is pointed at something big, it's worth pulling the trigger.
It doesn't matter when you decide to turn the tables with the BFG or the chainsaw, eventually you're going to be running for sweet mercy, searching for ammo, health or anything else to save you from another loading screen. As they say, if you've got it, flaunt it.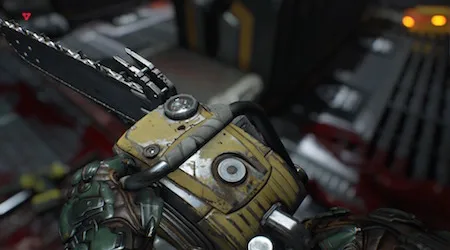 Of course, when all else fails you can always rely on your fists. Doom introduces glory kills. Essentially a first-person fatality, glory kills become available when an enemy is stunned or staggered and can be activated with the melee button.
When a demon has had enough, it will begin to flash blue and orange, the perfect moment to perform a gruesome finisher. Thanks to its quick execution and the health/ammo it rewards, glory kills quickly become a vital part of staving off the demon hordes.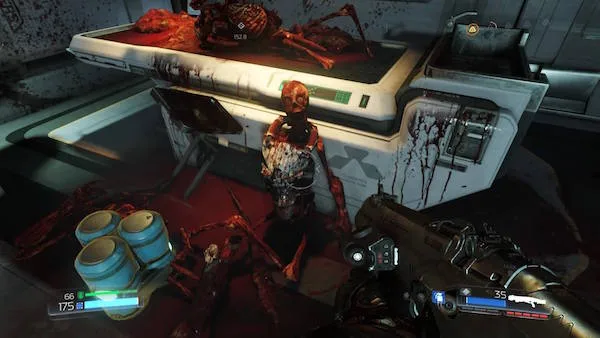 While these bloodthirsty kills are rewarding way to quickly curb(stomp) an out of control crowd, you rely on them a lot and there's not enough variety to keep them interesting. As the head count in arena battles continues to grow, glory kills became a bit of airbag for action, bringing the high-octane shootouts to a grinding halt every few seconds.
Doom would have benefited big time from making melee attacks an upgradeable skill à la weapon mods. Maybe an unlockable ranged glory kill, or the ability to string together glory kills not unlike Far Cry's Chained Takedown.
Glory kills became a bit of an airbag for action
Being constantly on the run, whether it be searching for more ammo or evading a pesky Hell Knight (they are fast and they are vicious), really gets the Doom cooking with hellfire. Ammo and armour are peppered evenly across any given arena, but they're one use items and if you want to restock (which you will) you'll want to be constantly on the move, getting familiar with every nook and cranny of the level. This old-school approach may not be to everyone's tastes, but ultimately I found the pace and energy refreshing.
Exploring the layers of hell
Exploring one of the regular enclosed battle arenas is a vital part of surviving Doom, but it's not as simple as looping through corridors and crawl spaces. Exploring the wider spaces in between battles is far more rewarding, but sadly the balance between risk and reward becomes heavily weighted to the former's side as the game progresses.
I discovered far more secrets early on than I did later in the game and it's not just because they were harder to spot later. As the game dragged on in its second half and the arena scrums became more repetitive, I began to realise it was growing harder to justify a clumsy platforming death just to unlock a 3D character model. There are perks that reduce the risk, like the perk that vibrates your controller when a secret is near and an automap that shows you unexplored areas on each map, but even they are not enough to give the player confidence they need to veer off the beaten track.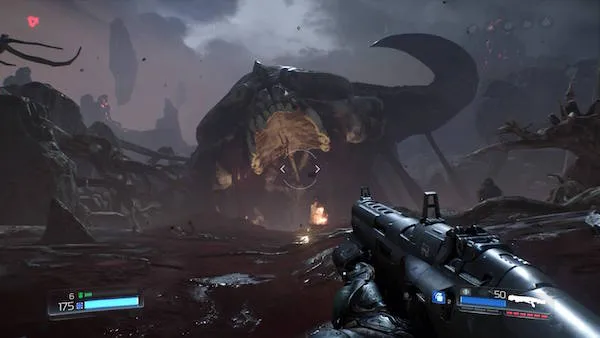 This is not the fault of the developer. Make it any easier and the secrets lose their appeal. However, there were quite a few times when I had just survived a battle by the skin of my teeth and wasn't about to take a leap of faith to search for a hidden cave or passageway.
It's a shame as 3D models aren't the only hidden treasures. Secrets vary between neat unlockables, like collectable figurines and retro-themed easter eggs, to more meaningful Praetor suit upgrades from fallen marines and Rune trials. Chips retrieved from Elites are basic ability points to spend on increasing your health, armour or ammo capacity, whereas Runes imbue your suit with unique abilities like improved mid-air movement or bonus armour drops from Doom's glory kills.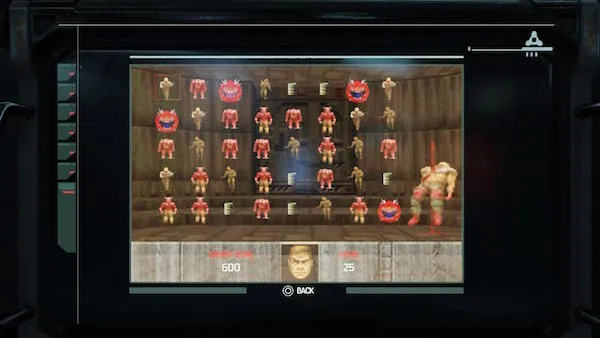 Rune trials not only yield unique upgrades, they are a lot of fun in their own right and the challenges they present offer timely respites that break up the action. What I loved about Doom's Rune Trials was the way many rewards were directly linked with the task at hand.
For example, the Blood Fuelled trial restricts your movement by only allowing you to walk for three seconds after every kill – kind of like Hell's version of netball. Your reward for this task is a speed boost after every glory kill. Makes sense, right?
Doom's single-player campaign starts out firing on all cylinders and I was swept up in its pace and combat, but it slowly ran out of gas thanks to its reliance on ostentatious arena battles dragged down by a lack of variety in its close-quarters combat. One sequence towards the end, where you're essentially asked to run the same overwhelming gambit four times in a row, is especially exhausting. By the time I reached the end I was more than ready to return to the surface.
Playing with others: Is Doom's multiplayer any good?
Back in the nineties, Doom and developer id Software were pioneers in the multiplayer space and reliving those glory days on modern machines is no doubt a huge appeal to many of you, as it was for me. But if playing Doom's campaign presents a fun, polished experience, add a few friends and it all gets a bit messy.
Just like Doom's single-player campaign, the multiplayer unabashedly tries to recreate the arena battling magic that older players grew up with. However, where Doom's single-player exhumes a relic in one piece, its multiplayer tries to spruce up a rotten corpse and it just doesn't work as well as it should.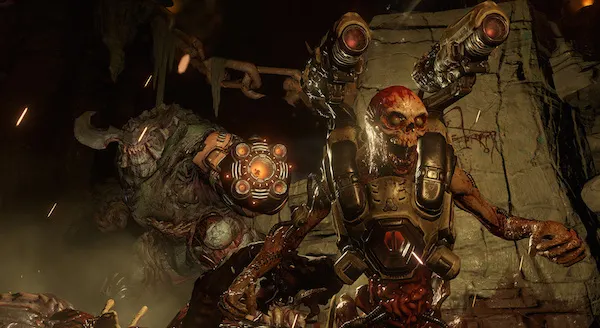 From the outset, it seemed odd that there was no option for free-for-all team deathmatch (usually my first option for multiplayer experiences to save letting the team down). Instead, I began with the Team Deathmatch.
Aside from the launch pads and claustrophobic battle arenas of days gone by, my first thought was this is incredibly bland. Which is a shocking transition from the campaign's over-the-top heavy-metal aesthetic.
Gone are glory kills and a bestiary of demons, in their stead a few additional (but forgettable weapons), nondescript marines and four playable demons. Taking control of one of four demons was fun enough the first time around, but being near-indestructible gets boring quick and not being able to get up close and personal with a glory kill takes a lot of the thrill away.
via GIPHY
There are a number of other tantalising modes, like Warpath (a king-of-the-hill style game with a moving post). Unfortunately I tried on multiple occasions to get a match in anything other than Team Deathmatch, but couldn't find the numbers required and only succeeded in one forgettable Warpath match.
I got the impression that Doom's multiplayer isn't sure where to draw the line between old and new. It tries to bring in the excitement of an Unreal Tournament or Quake Arena, while at the same time playing it safe by including a modern weapon loadout system in favour of old-school pickups. These modern and traditional aspects don't gel quite as well as one would hope and we're left with a confused in-between that struggles to stand on its own.
No doubt the multiplayer will have its fans, but I look to a multiplayer to extend the life of the game past the campaign's shelf-life. Unfortunately Doom's multiplayer just a left a bitter taste after an otherwise fulfilling campaign and is unlikely to stop the hordes ambling back towards the like of Call of Duty.
We reviewed Doom on PlayStation 4 with a copy provided by the publisher.
The Verdict: Is Doom any good?
Doom's campaign accomplishes what it set out to do and on that merit, it's hard to fault. It's a flaming tribute to the genre's roots that brings enough to the altar to separate itself from all the other big budget shooters out there.
Returning foes resurface old frustrations, whereas new hostiles force you to reconsider your guns-blazing approach and have some tact in an otherwise tactless game. From the gameplay and level design, to the soundtrack and Easter eggs, id Software has taken every possible opportunity to reference the past. To those who haven't played, that mosaic of new and old elements might sound like a recipe for disaster, but in my opinion id Software have nailed it.
Doom's campaign accomplishes what it set out to do and on that merit, it's hard to fault.
Yet Doom's nostalgia is a bit of a crutch for real progress. Its celebration of the past does not excuse its lack of imagination. That lack of creativity extends to the multiplayer, too. With huge, innovative shooters like Overwatch and Battleborn releasing in the same month, it's hard to justify sinking hours into a mode that dwells on the past without fulling tapping its potential.
Lucky then that the 13-hour single-player campaign is worth your hard-earned on its own.
More guides on Finder