DJI Osmo Mobile 2 review: A simple smarter video stabiliser
Quick Verdict
DJI's original Osmo Mobile was a pro tool for smartphone photography, but with a price drop, weight drop and improved feature set, the Osmo Mobile 2 is a gimbal for anyone wanting better stabilisation for their smartphone videos.
The good
Excellent stabilisation in either landscape or portrait modes.
AI tracking works well
Very good battery life
The bad
Inconsistent Android performance
Batteries are no longer removable
Can struggle with some larger smartphones
OIS on phones may interfere with stabilisation
---
The DJI Osmo Mobile 2 gimbal isn't just cheaper, it's also significantly better than its predecessor in almost every way.
DJI is a name you most likely associate with drones and for good reason. The company is the leader in the drone space, providing both professional-level drone rigs for pro videographers as well as consumer drone products such as the DJI Spark or DJI Mavic Air.
As such, it was something of a surprise for the company to use its stand at CES 2018 to show off an updated version of its Osmo Mobile smartphone camera stabilisation gimbal. The original was a smart enough product pitched at a crowd that wouldn't blink an eye at spending $300+ on such a device. The Osmo Mobile 2 is more squarely presented towards general consumers with lighter construction and a considerably lowered price point.
Usually, that's a recipe for compromise, but DJI went a different way.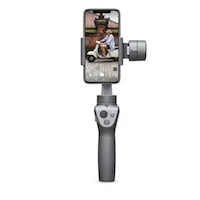 Pre-order the new DJI Osmo Mobile 2
from Apple Store
The Osmo Mobile 2 is the latest phone camera stabiliser from drone-experts DJI. Buy it now exclusively through Apple.
View details
Design
The Osmo Mobile 2's construction is a little lighter than the original, and that's mostly to do with the fact that its construction materials have changed. Where the original used heavy plastics, the Osmo Mobile 2 uses a high-strength nylon composite for its construction. That makes it considerably lighter in the hand, which equates to a lot more comfort when shooting for longer periods of time.
DJI has also taken criticism of the tripod mount on the original Osmo Mobile to heart, with a standard tripod screw at the base of the Osmo Mobile 2 making it simple to attach to most photographic accessories. DJI naturally enough sells a number of these if you wanted to stay on-brand.
The other notable design change is the removal of the trigger control on the back of the primary grip, with its function instead being handed off to the front-facing buttons. You get a free moving wire mesh joystick for gimbal operation, a standard shutter/record button and a mode button for function selection that also doubles as the power switch.
Zoom control sits around the left hand side of the handle, and the rear houses a standard USB port because the Osmo Mobile 2 can also (in a pinch) act as a battery pack for your smartphone handset.
Installation
There's a definite learning curve to setting up the DJI Osmo Mobile 2 that will vary ever so slightly depending on the handset that you're trying to put into it. The basics are easy to understand since installation should just involve balancing the smartphone clasp in your preferred portrait or landscape orientation, firing up the Osmo Mobile 2 and pairing via the DJI Go app.
One factor to note here is that while the Osmo Mobile 2 supports both portrait and landscape, you can't actually flip between the two without removing the handset, unlocking the clasp and popping it around into the other orientation. Maybe that's a feature we'll see in the Osmo Mobile 3?
Then there's the question of weighting and button placement. For smaller handsets, there's not much of an issue, but any larger screened smartphone can be a real challenge to get balanced properly while keeping the phone's side buttons (especially volume) out of the clasp. I had few issues balancing the light LG V30+, but getting a Galaxy Note 8 to stay upright was much more of an issue.
I was testing on an early preview version of the Osmo Mobile 2 and its firmware with strict instructions not to update it (or the version of the DJI Go app I was using), so your experience may vary, but in my testing, I found the Osmo Mobile 2 far more reliable on iOS than Android.
Using an iPhone X, I had no app installation issues at all, whereas different Android handsets had a variety of app and pairing issues. Once I'd got the Note 8 balanced, I found it frequently struggled to properly pair with the Osmo Mobile 2's Bluetooth connection. The LG V30+ could pair quite happily, but the DJI app for controlling it would crash quite frequently. That was better than trying to get it to work on a Google Pixel 2 XL, where the app crashed every single time I tried to load it.
I'm really hopeful that these are just teething issues with the early software I was testing with, but all I can do is assess the product in front of me. On the surface, though, it's a much easier recommendation for iPhone users than it is for Android owners.
Performance
Once installation is out of the way, you can get on with the fun of actually shooting video and stills with the Osmo Mobile 2. The use of simplified controls helps here because you're only a button press away from captures, and the general balancing is very good. Not shockingly, you can push it too far if you really try. It's still worth planning out shots beforehand if you can because the Osmo Mobile 2 can't do everything for you.
By default, DJI would prefer you used its DJI Go app for controlling the Osmo Mobile 2's functionality, although it's not absolutely necessary if all you want is the basic stabilisation to work.
The joystick controls and shutter button operated flawlessly once paired with the standard iPhone app if that's more to your taste, although you will miss out on features such as active tracking or the use of the side-mounted zoom controls. One minor annoyance here is that the DJI Go app saves files to its own camera reel by default. If you want them to appear elsewhere for playback or editing purposes, you'll then have to save them out as a secondary procedure.
A camera gimbal is only as good as its stabilisation, and here the news is mostly good, with the Osmo Mobile 2 intelligently managing most minor hand shakes while shooting what would otherwise be freehand scenes. By way of comparison, here's me walking down the street outside finder's Sydney offices with the Osmo Mobile 2 in walking mode:
The Osmo Mobile 2 does sometimes fight a little with the iPhone X's onboard optical image stabilisation (OIS), and unfortunately Apple doesn't provide an easy way to switch that off. It's feasible that on an Android handset where OIS is a selectable option that you might be able to mitigate that, but as noted, I had little luck getting it to work on a range of Android handsets.
Battery life
The original Osmo Mobile used replaceable batteries for its charging where the Osmo Mobile 2 uses a single sealed battery. While it would be tempting to call this a huge drawback because it removes a level of flexibility, the trade-off is in vastly increased battery life. Fully charged, DJI's estimates for the Osmo Mobile 2 are for up to 15 hours of battery life before requiring a recharge. That's a hefty quantity of shooting time, roughly three times that of the original model.
In my own tests, the DJI Osmo Mobile 2's battery life was excellent. I didn't quite shoot 15 hours of content with it, and that's arguably not the point for a consumer-grade gimbal like this anyway. It's slightly irksome that DJI opted for microUSB rather than USB C for actual charging, but that's ultimately a small complaint.
Verdict
Digital videography hasn't quite taken the general public by storm in the same way that digital photography has because it's an order of magnitude more complex to manage well.
That would typically put gimbals of this type more in the enthusiast/semi-pro space were it not for the fact that DJI's dropped the price and made the Osmo Mobile 2 much easier to manage than its predecessor.
As such, it's very much a gimbal for everyone, and a very easy recommendation if you're sick of your videos (no matter what they are) having far too much shudder and shake.
DJI Osmo Mobile 2: What the other reviewers say
| Site | Comment | Score |
| --- | --- | --- |
| TechRadar | "This could be the product that takes camera stabilizers mainstream." | 4.5/5 |
| Android Authority | "With the newest version of the Osmo Mobile, DJI made the gimbal more accessible" | N/A |
Pricing and availability
The DJI Osmo Mobile 2 is available now through the Apple Store for $209 outright as a time-limited exclusive. It's expected to be available through a wider variety of outlets from March 2018 at the same price point.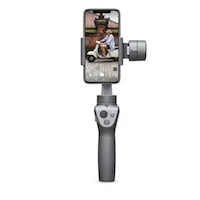 Pre-order the new DJI Osmo Mobile 2
from Apple Store
The Osmo Mobile 2 is the latest phone camera stabiliser from drone-experts DJI. Buy it now exclusively through Apple.
View details
Specifications
Product Name

DJI Osmo Mobile 2
Size

295×113×72 mm
Weight

485g
Battery capacity

2600 mAh
Charging time

2 hours
Connectivity

Bluetooth Low Energy 4.0
Latest technology headlines
---
Follow us for all the latest technology news and deals
---