DJI Mavic Air review: DJI's angry drone is a lot of fun
The DJI Mavic Air is a lot of fun for both recreation and videography, at least while its batteries last.
Quick Verdict
It's hard not to view the Mavic Air as DJI's attempt to fill every possible drone niche. If you've been hankering for a high quality, very portable drone for your flying pursuits it's an easy, if not exactly inexpensive recommendation. Just don't forget those extra batteries.
The Good
Drone flying remains fun
Easy to capture a variety of video
Avoidance system works well
Very portable
The bad
Convoluted setup
Gesture controls feel gimmicky
Not much fun with just one battery
DJI cut its drone teeth at the serious end of the market with its range of Phantom drones, only to pivot into the more affordable segment of the space with drones such as the much lower-cost DJI Spark. Its latest drone sits between the low-cost Spark and the existing Mavic Pro in the form of the lightweight and extremely portable DJI Mavic Air.
Design
Many drones, including DJI's own higher-end efforts, have little in the way of style because just about everything gets sacrificed in the name of aerodynamics, including design. There's a weird softness about DJI's Phantom drones, for example, that makes me think that they might have been designed by Moomins.
Not so the Mavic Air, which has a striking design and range of colours that makes it look rather like an angry cricket when folded up. It's no less aggressive when you fold out the quadcopter arms and ready it for flight, too.
The big factor about the Mavic Air's design is that it's not all that big at all. Folded up, it measures in at just 168×83×49mm, and DJI's contention is that you should be able to easily throw a Mavic Air into a backpack for travelling drone work. You could do the same with a Phantom, it's true, but you'd need a much bigger backpack, and it would be the only device in there. With a carrying weight of just 430g with the battery installed, it's also lightweight, so it won't drag your bag down.
Unlike the DJI Spark, you do get propellor guards in the box to use, snapping in place on each quadcopter arm once you've fully unfolded it. However, the standard DJI Mavic Air only comes with a single battery and that's a significant limitation given its flying time. More on that later.
Installation
DJI's quite attentive to its drones when it comes to firmware updates, something we noticed in our DJI Spark Review. The DJI Mavic Air was no different, as installing it was a matter of charging batteries and controllers, installing the DJI Go 4 app, signing up, connecting to the Mavic Air, realising that there was a firmware update, applying that, registering the actual Mavic Air itself with DJI, then realising there was an update to the safe fly zones to download, installing that, going through the virtual flight school tutorial... and all before I'd even taken off!
DJI's documentation is fairly sparse if you do get lost on the way, although a lot of the guides that apply to the existing Mavic Pro still fit the way you set up the Mavic Air for the most part. Once you've set up the Mavic Air once it gets a little easier from then on in, although any time there is a firmware update, you've got no choice but to wait and upgrade to it.
I should also point out that if you are considering the Mavic Air, or indeed any of DJI's drones to fly in Australia, you absolutely should go and grab CASA's "Can I Fly There" app for Android or iOS, in order to check out the specific flight rules for your location.
The Mavic Air's 430g weight is impressively light, but it's still heavy enough that you're obliged to check your flight zones before any takeoff. The app makes that rather easy and avoids any potential accidents or onerous fines if you obey the rules.
Performance
At a price step down from the Mavic Pro (and well below that of the Phantom drones), you might expect the Mavic Air to just be a little bit better than the Spark. Instead, DJI's put a few features in place that you don't even find in the Mavic Pro, such as an upgrade to its Advanced Pilot Assistance Systems (APAS) feature.
APAS intelligently routes its way around obstacles rather than stopping to avoid them, which gives it a lot of scope for creative videography, depending on your needs. I didn't test this to the point of destruction, because $1,299 drones aren't exactly inexpensive, if you follow me. Still, I was able to nimbly guide it around a couple of trees without incident, and it wouldn't fly directly into my face, something I'm still quite grateful about. We might have to worry about that kind of thing when Skynet takes over, but for now, APAS keeps both the Mavic Pro and nearby onlookers safe.
The DJI Mavic Pro offers a step up from the Spark in video quality, with support for 4K 3840×2160 video. That's a slight step down from the DJI Mavic Pro's 4096×2160 4K video, though.
From the Spark, it borrows the gesture control facility, which lets you pretend you're Rey using the Force to make your Mavic Air fly, although DJI has yet to release a fully Star Wars licensed drone. I'm sure that's just a matter of time.
Gesture controls are a neat party trick, but at least in my testing, they were nowhere near as reliable as using an actual controller or smartphone, especially as your control range is very limited when using them. Given the Mavic Air's price point and video chops, it's hard not to view them as more of a gimmick than a serious control issue.
The Mavic Air is small, and that's often a recipe for very choppy performance because it's harder to stabilise for both flight and video/photography purposes.
DJI's really done its homework here because the Mavic Air is very stable in most situations. Sure, you could push it and crash it (although why you'd want to is debatable) if you push it too far, but overall the Mavic Air stayed far more stable than I'd expect it to. On the video and still shot front, the Mavic Air steps up from the Spark with a 3-axis gimbal that barely wavered through any video or still test I threw at it.
Plus, honestly, it's just good fun to be able to do things like this when you want to:
Battery life
Battery life is always a key factor for any drone because extra battery weight (and therefore life) makes it harder to take off and is therefore a literal balancing act. DJI's quoted battery life for the DJI Mavic Air is "up to" 21 minutes, but the realistic figure there is likely to be no more than 15 minutes for an initial flight because you'll burn a few minutes of power getting the Mavic Air set up and paired before you take off. You might manage a few more on subsequent batteries, but I wouldn't bet on it.
That has some serious impact on your drone fun if you opt for the basic version of the Mavic Air because it only comes with a single battery. The "Fly More Combo" version ups that to three batteries, giving you a lot more flight flexibility. For the purposes of review, DJI supplied me with multiple batteries which made a significant difference to the experience.
Verdict
The DJI Mavic Air isn't a drone for everyone, even though you'd have to be particularly stony-faced not to get some fun out of drone flying. It's very captivating stuff even when you're just tootling around in the sky, let alone using it for creative photography and videography purposes.
Still, even if you are in the market for a DJI drone, you've got to weigh up the benefits and drawbacks of the Mavic Air. If you want a small portable drone with good video quality it's easy to recommend, but you could get even better video out of the Mavic Pro. However, the Pro doesn't have the same APAS facility as the Mavic Air. The Spark is much less expensive, but it has lower video quality and a two-axis gimbal only, but it could be a better match for early enthusiasts.
It very much feels like DJI's trying to capture every possible niche of the drone market at once with the DJI Mavic Air. It's impressive in use, even if you're only likely to fly for 15 minutes or less at a time, but it's also sitting at a price for the Combo Pack where you could just go the whole hog and pick up a Phantom 4 Pro instead. DJI wins your money either way, but it's not an easy choice to make.
DJI Mavic Air: What the other reviewers say
| Site | Comment | Score |
| --- | --- | --- |
| Engadget | "Aerial photography's next small thing" | 88/100 |
| Time | "...the Most Fun I've Ever Had Flying a Drone." | N/A |
| The Verge | "The Mavic Air really is the best of both worlds offered by the Mavic Pro and the Spark." | 8.5/10 |
| Digital Trends | "Pocket-sized and practically perfect, the Mavic Air is DJI's best drone yet." | 4.5/5 |
Pricing and availability
The DJI Mavic Air costs $1,299 in Australia with one Mavic Air in Onyx Black, Arctic White or Flame Red and one battery, remote controller, carrying case, two pairs of propeller guards and four pairs of propellers.
The Fly More Combo version of the Mavic Air includes one Mavic Air in Onyx Black, Arctic White or Flame Red, three batteries, a remote controller, a travel bag, two pairs of propeller guards, six pairs of propellers, a battery to power bank adapter and battery charging hub for $1,599.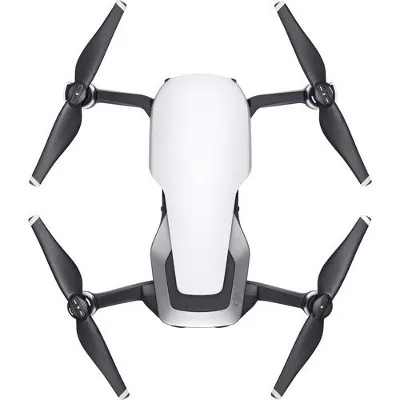 Buy the DJI Mavic Air
from Amazon
Designed for portability, the DJI Mavic Air is ideal for getting high-quality aerial shots without lugging around a several kilos of equipment. Kit yourself out with one from Amazon Australia.
View details
Specifications
Product Name

DJI Mavic Air
Size

168×83×49 mm folded, 168×184×64 mm unfolded
Weight

430g
Video resolution

4K Ultra HD: 3840×2160 24/25/30p
2.7K: 2720×1530 24/25/30/48/50/60p
FHD: 1920×1080 24/25/30/48/50/60/120p
HD: 1280×720 24/25/30/48/50/60/120p
Still resolution

4:3: 4056×3040
16:9: 4056×2280
Battery Life

Up to 21 minutes
Price

$1299/$1599
Latest technology headlines
---
Follow us for all the latest technology news and deals
---