The 200 best-rated comedy movies on Disney+
Looking for something fun to watch after a bad day? Disney+ has plenty to offer.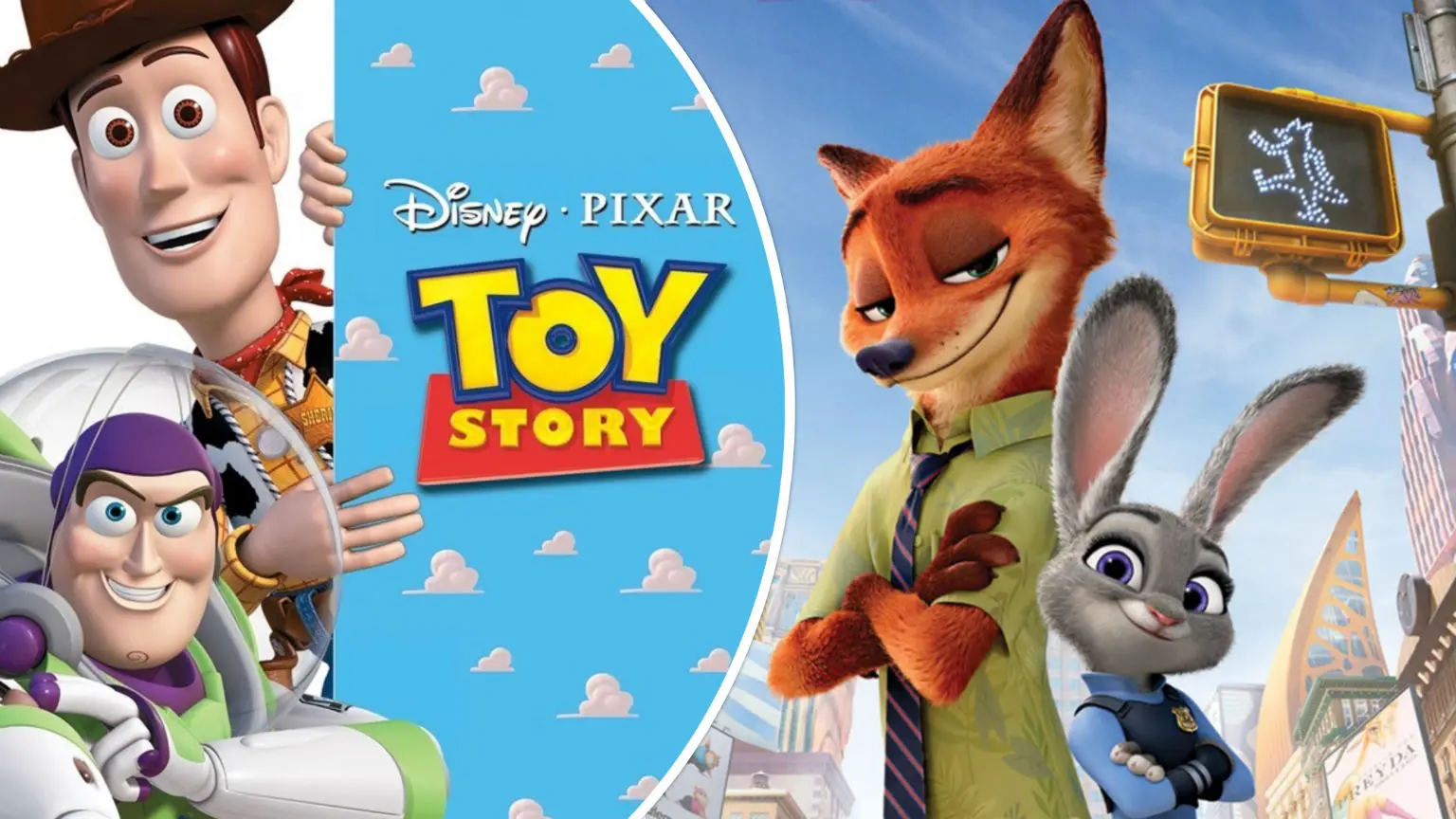 Disney+ has an impressive collection of comedy titles, whether you're looking for heartwarming musicals, superhero flicks or animated masterpieces. The new streaming service offers content not only from Disney itself, but also from Pixar and Marvel, so there are plenty of hilarious films to keep you company over a long weekend.
You can start your marathon with an animated gem like Toy Story, follow up with the absolute marvel that is Thor: Ragnarok and end with a bang by finally giving beloved classic Who Framed Roger Rabbit a stream.
If none of these titles appeal to you, not to worry, there's a lot of choice when it comes to movies that will make you laugh, with literally something for everyone.
After cross-checking the titles available with IMDb, we've compiled a list of the best comedy movies currently available on Disney+.
We collected data on 20 November 2019 from IMDb, but it is subject to change at any time. While we make every attempt to ensure the accuracy of the data, this is intended as a point-in-time analysis of the service and may not be reflective of the voting changes on the Disney+ library.
| Title | Average score | Total ratings | Genres |
| --- | --- | --- | --- |
| Toy Story | 8.3 | 823,200 | Family, Animation, Comedy, Action-Adventure, Buddy |
| Toy Story 3 | 8.3 | 707,548 | Drama, Thriller, Family, Animation, Comedy |
| Partly Cloudy | 8.2 | 18,576 | Family, Animation, Comedy, Kids |
| Finding Nemo | 8.1 | 889,997 | Family, Animation, Comedy, Action-Adventure |
| Day & Night | 8.1 | 15,498 | Family, Animation, Comedy, Kids |
| Monsters, Inc. | 8 | 760,444 | Family, Animation, Comedy, Buddy |
| For the Birds | 8 | 27,188 | Family, Animation, Comedy, Kids |
| Ratatouille | 8 | 595,757 | Family, Animation, Comedy |
| Guardians of the Galaxy | 8 | 981,018 | Superhero, Comedy, Action-Adventure, Science Fiction |
| Zootopia | 8 | 396,254 | Police/Cop, Family, Animation, Comedy |
| Toy Story 2 | 7.9 | 490,870 | Family, Animation, Comedy, Action-Adventure |
| Lifted | 7.9 | 16,695 | Family, Animation, Comedy, Kids, Science Fiction |
| Thor: Ragnarok | 7.9 | 518,811 | Superhero, Fantasy, Comedy, Action-Adventure, Science Fiction |
| Lou | 7.9 | 5,238 | Family, Animation, Comedy, Kids, Action-Adventure |
| The Sandlot | 7.8 | 73,276 | Coming of age, Family, Comedy, Sports |
| Inner Workings | 7.8 | 3,578 | Fantasy, Family, Animation, Comedy |
| Who Framed Roger Rabbit | 7.7 | 171,770 | Parody, Crime, Mystery, Comedy, Film Noir |
| The Muppet Christmas Carol | 7.7 | 43,426 | Drama, Fantasy, Family, Comedy, Musical |
| Burn-E | 7.7 | 9,374 | Family, Animation, Comedy, Kids, Science Fiction |
| Wreck-It Ralph | 7.7 | 355,188 | Family, Animation, Comedy, Action-Adventure |
| The Muppet Movie | 7.6 | 30,187 | Family, Comedy, Musical, Action-Adventure |
| Home Alone | 7.6 | 415,777 | Family, Comedy |
| Jack-Jack Attack | 7.6 | 13,369 | Fantasy, Family, Animation, Comedy |
| Guardians of the Galaxy Vol. 2 | 7.6 | 511,185 | Superhero, Comedy, Action-Adventure, Science Fiction |
| Disney Milo Murphy's Law | 7.6 | 1,453 | Comedy, Fantasy, Kids, Animation, Action-Adventure |
| Partysaurus Rex | 7.5 | 5,079 | Family, Animation, Comedy, Kids |
| Escape from the Jedi Temple | 7.5 | 182 | Animation, Comedy, Action-Adventure, Science Fiction |
| Raid on Coruscant | 7.5 | 98 | Animation, Comedy, Action-Adventure, Science Fiction |
| Riley's First Date? | 7.5 | 5,194 | Coming of age, Family, Animation, Comedy, Kids |
| Mr. Boogedy | 7.4 | 1,121 | Fantasy, Comedy |
| Phineas and Ferb the Movie: Across the 2nd Dimension | 7.4 | 7,176 | Family, Animation, Comedy, Action-Adventure, Science Fiction |
| Race for the Holocrons | 7.4 | 111 | Animation, Comedy, Action-Adventure, Science Fiction |
| Clash of the Skywalkers | 7.4 | 86 | Animation, Comedy, Action-Adventure, Science Fiction |
| Clash of the Skywalkers | 7.4 | 86 | Animation, Comedy, Action-Adventure, Science Fiction |
| Luxo Jr. | 7.3 | 11,976 | Family, Animation, Comedy, Kids |
| Hercules | 7.3 | 188,680 | Coming of age, Family, Animation, Comedy, Action-Adventure |
| The Simpsons Movie | 7.3 | 296,841 | Animation, Comedy, Action-Adventure |
| Ant-Man | 7.3 | 523,485 | Superhero, Comedy, Action-Adventure, Science Fiction |
| Monsters University | 7.3 | 300,010 | Coming of age, Animation, Comedy, Buddy |
| Hawaiian Vacation | 7.3 | 6,734 | Family, Animation, Comedy, Kids |
| Finding Dory | 7.3 | 220,479 | Family, Animation, Comedy, Action-Adventure |
| Chef Donald | 7.2 | 702 | Family, Animation, Comedy, Kids |
| The Great Muppet Caper | 7.2 | 12,482 | Crime, Family, Mystery, Comedy |
| A Bug's Life | 7.2 | 251,981 | Family, Animation, Comedy |
| Mickey's Once Upon a Christmas | 7.2 | 5,732 | Anthology, Family, Animation, Comedy |
| Sammy, the Way-Out Seal: Part 2 | 7.2 | 50 | Family, Comedy, Animals & Nature |
| The Parent Trap | 7.1 | 17,396 | Romance, Family, Comedy |
| The AristoCats | 7.1 | 85,546 | Family, Animation, Comedy, Musical, Action-Adventure |
| Bedknobs and Broomsticks | 7.1 | 31,717 | Fantasy, Family, Comedy, Musical |
| Cars | 7.1 | 339,744 | Family, Animation, Comedy, Sports |
| Mike's New Car | 7.1 | 11,289 | Family, Animation, Comedy, Kids, Buddy |
| The Princess and the Frog | 7.1 | 113,387 | Fantasy, Family, Animation, Comedy, Musical |
| Your Friend the Rat | 7.1 | 4,670 | Family, Animation, Comedy, Kids |
| The Muppets | 7.1 | 83,735 | Family, Comedy, Musical, Kids |
| Party Central | 7.1 | 1,279 | Family, Animation, Comedy |
| Ant-Man and the Wasp | 7.1 | 266,956 | Superhero, Comedy, Action-Adventure, Science Fiction |
| Ralph Breaks the Internet | 7.1 | 105,645 | Family, Animation, Comedy, Action-Adventure |
| The Reluctant Dragon | 7 | 2,221 | Family, Animation, Comedy |
| Cool Runnings | 7 | 85,786 | Family, Comedy, Biographical, Sports |
| Muppet Treasure Island | 7 | 19,668 | Romance, Family, Comedy, Action-Adventure |
| Dug's Special Mission | 7 | 4,897 | Family, Animation, Comedy |
| Blackbeard's Ghost | 6.9 | 4,668 | Fantasy, Family, Comedy |
| The Rescuers | 6.9 | 53,738 | Family, Animation, Comedy, Action-Adventure |
| Adventures in Babysitting | 6.9 | 34,813 | Coming of age, Comedy, Action-Adventure |
| DuckTales the Movie: Treasure of the Lost Lamp | 6.9 | 23,683 | Animation, Comedy, Action-Adventure |
| Millions | 6.9 | 23,866 | Drama, Family, Comedy |
| The Absent Minded Professor | 6.8 | 6,668 | Family, Comedy, Science Fiction |
| Candleshoe | 6.8 | 3,311 | Coming of age, Crime, Family, Comedy |
| Hocus Pocus | 6.8 | 88,129 | Fantasy, Family, Comedy |
| A Goofy Movie | 6.8 | 41,970 | Family, Animation, Comedy, Action-Adventure |
| Halloweentown | 6.8 | 11,408 | Coming of age, Fantasy, Comedy, Action-Adventure |
| Recess: Taking the Fifth Grade | 6.8 | 1,703 | Family, Animation, Comedy |
| Bolt | 6.8 | 178,291 | Family, Animation, Comedy, Action-Adventure |
| That Darn Cat! | 6.7 | 5,214 | Police/Cop, Family, Comedy, Animals & Nature |
| The Ugly Dachshund | 6.7 | 3,069 | Family, Comedy, Animals & Nature |
| Home Alone 2: Lost in New York | 6.7 | 270,904 | Family, Comedy |
| While You Were Sleeping | 6.7 | 85,794 | Romantic Comedy, Drama, Romance, Comedy |
| The Scream Team | 6.7 | 796 | Fantasy, Comedy |
| Recess: All Growed Down | 6.7 | 527 | Family, Animation, Comedy |
| The Good Dinosaur | 6.7 | 93,849 | Family, Animation, Comedy, Action-Adventure, Buddy |
| Cars 3 | 6.7 | 63,854 | Family, Animation, Comedy, Sports |
| Fun & Fancy Free | 6.6 | 6,055 | Fantasy, Family, Animation, Comedy, Action-Adventure |
| The Adventures of Bullwhip Griffin | 6.6 | 603 | Western, Family, Comedy, Action-Adventure |
| Heavyweights | 6.6 | 23,402 | Family, Comedy |
| Recess: School's Out | 6.6 | 8,730 | Family, Animation, Comedy, Science Fiction |
| The Lion King 1½ | 6.6 | 34,427 | Family, Animation, Comedy, Action-Adventure |
| Mater and the Ghostlight | 6.6 | 6,945 | Family, Animation, Comedy, Kids |
| The Shaggy Dog | 6.5 | 3,918 | Fantasy, Family, Comedy |
| The Love Bug | 6.5 | 13,086 | Family, Comedy, Action-Adventure, Sports |
| Snowball Express | 6.5 | 1,287 | Family, Comedy, Sports |
| The Apple Dumpling Gang | 6.5 | 4,505 | Western, Family, Comedy |
| The Mighty Ducks | 6.5 | 54,219 | Drama, Comedy, Sports |
| Miracle on 34th Street | 6.5 | 28,956 | Family, Comedy |
| The Parent Trap | 6.5 | 111,252 | Romance, Family, Comedy |
| Phantom of the Megaplex | 6.5 | 2,521 | Coming of age, Comedy |
| Ice Age: A Mammoth Christmas | 6.5 | 9,039 | Family, Animation, Comedy |
| The Wizards Return: Alex vs. Alex | 6.5 | 4,906 | Coming of age, Fantasy, Comedy |
| Lady and the Tramp | 6.5 | 2,766 | Romance, Family, Comedy, Action-Adventure |
| Sister Act | 6.4 | 80,753 | Music, Crime, Family, Comedy |
| The Three Musketeers | 6.4 | 47,601 | Romance, Family, Comedy, Action-Adventure |
| The Santa Clause | 6.4 | 86,905 | Fantasy, Family, Comedy |
| Zenon: Girl of the 21st Century | 6.4 | 6,074 | Coming of age, Comedy, Science Fiction |
| Fuzzbucket | 6.4 | 244 | Coming of age, Family, Comedy, Buddy, Science Fiction |
| Good Luck Charlie, It's Christmas! | 6.4 | 4,312 | Comedy |
| Geek Charming | 6.4 | 10,359 | Drama, Coming of age, Comedy |
| Muppets Most Wanted | 6.4 | 29,569 | Family, Comedy, Musical, Kids, Action-Adventure |
| The Radiator Springs 500½ | 6.4 | 134 | Family, Animation, Comedy, Kids, Sports |
| Freaky Friday | 6.3 | 10,862 | Fantasy, Family, Comedy |
| Honey, I Shrunk the Kids | 6.3 | 132,868 | Family, Comedy, Action-Adventure, Science Fiction |
| Smart House | 6.3 | 5,625 | Drama, Coming of age, Comedy, Science Fiction |
| Genius | 6.3 | 1,548 | Coming of age, Comedy |
| An Extremely Goofy Movie | 6.3 | 8,787 | Family, Animation, Comedy |
| The Princess Diaries | 6.3 | 119,085 | Family, Comedy |
| Once Upon a Mattress | 6.3 | 1,096 | Fantasy, Family, Comedy, Musical |
| Lilo & Stitch 2: Stitch Has a Glitch | 6.3 | 10,800 | Dance, Family, Animation, Comedy, Kids, Science Fiction |
| 12 Dates of Christmas | 6.3 | 4,657 | Romantic Comedy, Fantasy, Romance, Family, Comedy |
| Noelle | 6.3 | 1,699 | Fantasy, Family, Comedy |
| Saludos Amigos | 6.2 | 4,353 | Family, Animation, Comedy, Kids |
| The Ghosts of Buxley Hall | 6.2 | 118 | Fantasy, Family, Comedy |
| Turner & Hooch | 6.2 | 59,504 | Police/Cop, Crime, Comedy, Buddy |
| The Luck of the Irish | 6.2 | 6,021 | Coming of age, Fantasy, Comedy |
| The Even Stevens Movie | 6.2 | 6,096 | Comedy, Action-Adventure |
| Stitch! The Movie | 6.2 | 7,394 | Family, Animation, Comedy, Science Fiction |
| Sky High | 6.2 | 73,772 | Superhero, Family, Comedy, Action-Adventure, Science Fiction |
| Halloweentown High | 6.2 | 5,293 | Fantasy, Comedy, Action-Adventure |
| Leroy & Stitch | 6.2 | 4,418 | Family, Animation, Comedy, Action-Adventure, Science Fiction |
| Diary of a Wimpy Kid | 6.2 | 39,555 | Family, Comedy |
| Wizards of Waverly Place: The Movie | 6.2 | 13,776 | Coming of age, Fantasy, Comedy, Action-Adventure |
| Alexander and the Terrible, Horrible, No Good, Very Bad Day | 6.2 | 38,218 | Coming of age, Comedy |
| Big Business Girl | 6.1 | 200 | Comedy |
| The Computer Wore Tennis Shoes | 6.1 | 3,952 | Crime, Comedy, Science Fiction |
| The Strongest Man in the World | 6.1 | 2,427 | Family, Comedy, Science Fiction |
| The Cat from Outer Space | 6.1 | 3,941 | Family, Comedy, Science Fiction |
| The Apple Dumpling Gang Rides Again | 6.1 | 2,157 | Western, Family, Comedy |
| D2: The Mighty Ducks | 6.1 | 33,907 | Drama, Family, Comedy, Sports |
| The Kid | 6.1 | 38,612 | Drama, Fantasy, Family, Comedy |
| Freaky Friday | 6.1 | 117,463 | Fantasy, Family, Comedy |
| The Game Plan | 6.1 | 54,880 | Family, Comedy, Sports |
| Snowglobe | 6.1 | 1,985 | Romantic Comedy, Fantasy, Romance, Family, Comedy |
| Cars 2 | 6.1 | 144,758 | Spy/Espionage, Family, Animation, Comedy, Sports |
| George and A.J. | 6.1 | 1,730 | Family, Animation, Comedy, Kids |
| StarStruck | 6.1 | 11,742 | Romantic Comedy, Coming of age, Music, Romance, Comedy |
| Invisible Sister | 6.1 | 2,102 | Comedy, Science Fiction |
| 3 Men and a Baby | 6 | 44,158 | Comedy, Buddy |
| Rookie of the Year | 6 | 22,862 | Family, Comedy, Sports |
| Camp Nowhere | 6 | 8,277 | Coming of age, Family, Comedy |
| Never Been Kissed | 6 | 78,879 | Romantic Comedy, Coming of age, Romance, Comedy |
| Stepsister from Planet Weird | 6 | 1,260 | Family, Comedy, Science Fiction |
| Eddie's Million Dollar Cook-Off | 6 | 2,279 | Coming of age, Comedy, Sports |
| Bedtime Stories | 6 | 83,870 | Fantasy, Family, Comedy |
| Planes: Fire & Rescue | 6 | 15,616 | Coming of age, Family, Animation, Comedy, Kids, Action-Adventure |
| Bad Hair Day | 6 | 2,324 | Coming of age, Comedy, Buddy |
| Adventures in Babysitting | 6 | 2,460 | Coming of age, Comedy, Action-Adventure |
| The Million Dollar Duck | 5.9 | 1,758 | Family, Comedy |
| Gus | 5.9 | 1,455 | Family, Comedy, Animals & Nature, Sports |
| The Shaggy D.A. | 5.9 | 2,352 | Fantasy, Family, Comedy |
| Mom's Got a Date with a Vampire | 5.9 | 3,180 | Fantasy, Comedy |
| The Ultimate Christmas Present | 5.9 | 1,378 | Coming of age, Fantasy, Comedy |
| Zenon: The Zequel | 5.9 | 3,230 | Comedy, Science Fiction |
| Air Mater | 5.9 | 699 | Family, Animation, Comedy, Kids |
| Ice Age: The Great Egg-Scapade | 5.9 | 2,749 | Family, Animation, Comedy |
| Jack | 5.8 | 53,524 | Superhero, Coming of age, Comedy |
| Teacher's Pet | 5.8 | 1,457 | Fantasy, Family, Animation, Comedy |
| The Princess Diaries 2: Royal Engagement | 5.8 | 69,304 | Romantic Comedy, Romance, Family, Comedy |
| Kronk's New Groove | 5.8 | 10,117 | Coming of age, Family, Animation, Comedy |
| Twitches Too | 5.8 | 3,887 | Fantasy, Comedy |
| Minutemen | 5.8 | 5,012 | Comedy, Action-Adventure, Science Fiction |
| You Again | 5.8 | 47,341 | Comedy |
| Strange Magic | 5.8 | 9,497 | Romantic Comedy, Fantasy, Family, Animation, Action-Adventure |
| Herbie Rides Again | 5.7 | 6,774 | Romantic Comedy, Family, Comedy |
| Quints | 5.7 | 2,004 | Coming of age, Comedy |
| Chicken Little | 5.7 | 80,545 | Disaster, Family, Animation, Comedy |
| Pixel Perfect | 5.7 | 3,008 | Coming of age, Music, Comedy, Science Fiction |
| Twitches | 5.7 | 6,473 | Fantasy, Comedy |
| Planes | 5.7 | 40,509 | Family, Animation, Comedy, Kids, Action-Adventure |
| Herbie Goes to Monte Carlo | 5.6 | 6,301 | Romantic Comedy, Family, Comedy, Action-Adventure |
| Life with Mikey | 5.6 | 5,095 | Coming of age, Family, Comedy, Buddy |
| Sister Act 2: Back in the Habit | 5.6 | 45,512 | Music, Family, Comedy |
| The Big Green | 5.6 | 8,595 | Family, Comedy, Sports |
| Up, Up, and Away! | 5.6 | 1,669 | Superhero, Coming of age, Fantasy, Comedy, Science Fiction |
| The Santa Clause 2 | 5.6 | 45,911 | Fantasy, Family, Comedy |
| The Pacifier | 5.6 | 82,279 | Spy/Espionage, Comedy, Action-Adventure |
| Stuck in the Suburbs | 5.6 | 3,316 | Coming of age, Music, Comedy |
| Princess Protection Program | 5.6 | 20,048 | Spy/Espionage, Coming of age, Comedy, Buddy |
| Tom and Huck | 5.5 | 9,276 | Drama, Coming of age, Comedy, Action-Adventure |
| I'll Be Home for Christmas | 5.5 | 8,315 | Coming of age, Comedy, Action-Adventure |
| Twas the Night | 5.5 | 699 | Crime, Fantasy, Comedy |
| Cadet Kelly | 5.5 | 12,324 | Coming of age, Comedy |
| The Lizzie McGuire Movie | 5.5 | 33,744 | Coming of age, Music, Romance, Family, Comedy |
| Zenon: Z3 | 5.5 | 2,254 | Coming of age, Comedy, Science Fiction |
| Read It and Weep | 5.5 | 4,846 | Drama, Coming of age, Comedy |
| Teen Spirit | 5.5 | 6,688 | Coming of age, Fantasy, Comedy, Buddy |
| Girl Vs. Monster | 5.5 | 2,336 | Fantasy, Comedy, Action-Adventure |
| How to Build a Better Boy | 5.5 | 2,396 | Comedy, Action-Adventure, Science Fiction |
| 3 Men and a Little Lady | 5.4 | 21,189 | Romantic Comedy, Romance, Comedy, Buddy |
| D3: The Mighty Ducks | 5.4 | 23,096 | Drama, Coming of age, Family, Comedy, Sports |
| Doctor Dolittle | 5.4 | 87,288 | Fantasy, Family, Comedy |
| George of the Jungle | 5.4 | 66,889 | Family, Comedy, Action-Adventure |
| Max Keeble's Big Move | 5.4 | 6,938 | Family, Comedy |
| Old Dogs | 5.4 | 34,942 | Family, Comedy, Buddy |
Image source: Microsoft website
Latest Disney+ guides and news
Related Posts
Stream the best and save