The 20 best-rated comedy movies on Disney+
Looking for something fun to watch after a bad day? Disney+ has plenty to offer.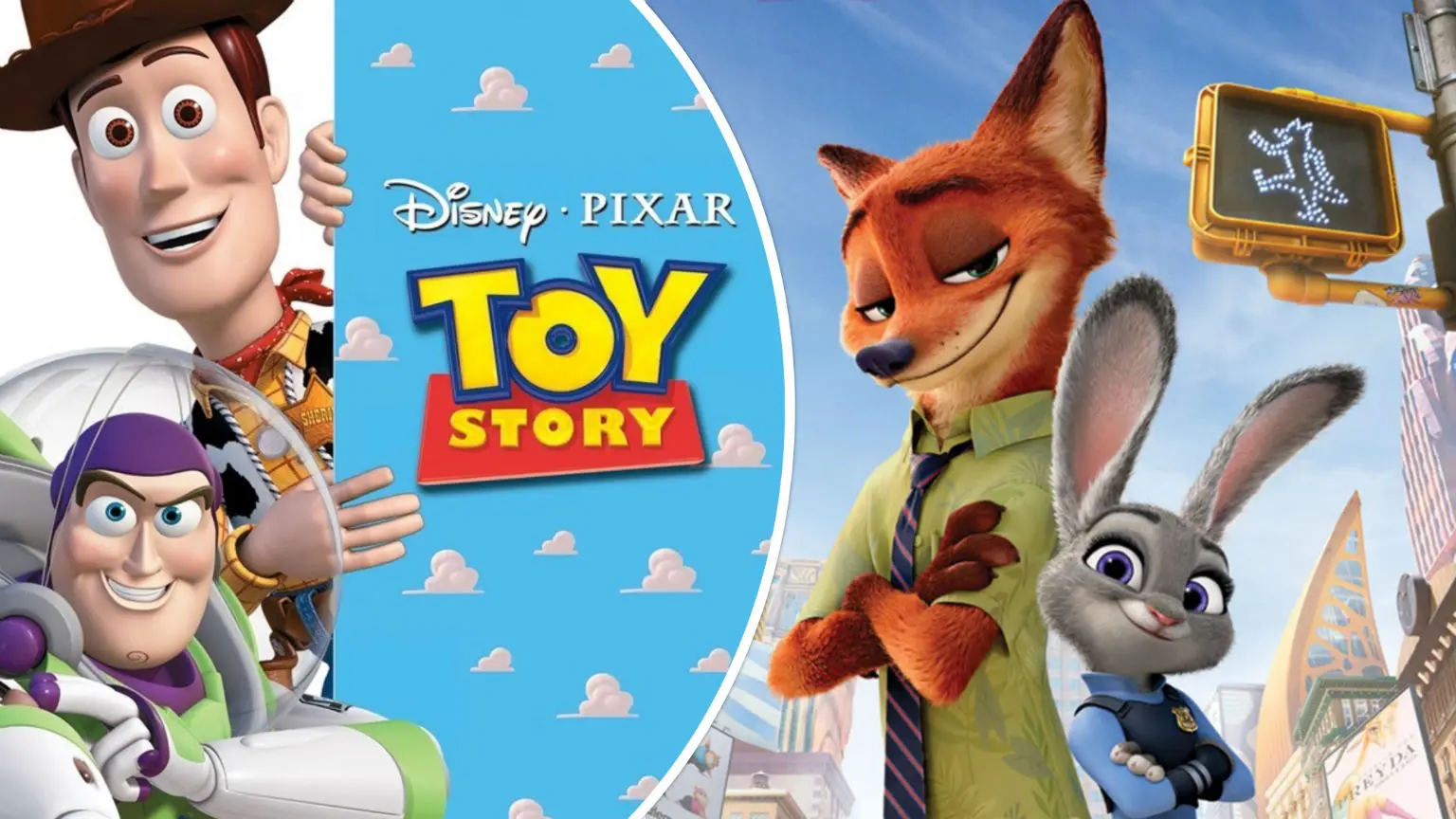 We're reader-supported and may be paid when you visit links to partner sites. We don't compare all products in the market, but we're working on it!
Disney+ has an impressive collection of comedy titles, whether you're looking for heartwarming musicals, superhero flicks or animated masterpieces. The new streaming service offers content not only from Disney itself, but also from Pixar and Marvel, so there are plenty of hilarious films to keep you company over a long weekend.
You can start your marathon with an animated gem like Toy Story, follow up with the absolute marvel that is Thor: Ragnarok and end with a bang by finally giving beloved classic Who Framed Roger Rabbit a stream.
If none of these titles appeal to you, not to worry, there's a lot of choice when it comes to movies that will make you laugh, with literally something for everyone.
After cross-checking the titles available with IMDb, we've compiled a list of the best comedy movies currently available on Disney+.
---
Toy Story
---
Year: 1995
Cast: Tom Hanks, Tim Allen, Don Rickles, Jim Varney
Rotten Tomatoes score: 100% Fresh
IMDb score: 8.3
To avoid repetition we will only include the first Toy Story on this list, but we highly recommend you watch all instalments in the franchise.
Set in a world where anthropomorphic toys come to life when humans are not around, the movie revolves around the relationship between Woody, an old-fashioned toy and Buzz Lightyear, a shiny action figure. The two go from rivals to friends in heartwarming and hilarious fashion. You'll laugh, you'll cry, you'll be dazzled by the stunning animation.
---
Finding Nemo
---
Year: 2003
Cast: Albert Brooks, Ellen DeGeneres, Alexander Gould, Willem Dafoe
Rotten Tomatoes score: 99% Fresh
IMDb score: 8.1
After his son is captured from the Great Barrier Reef and dispatched to Sydney, clownfish Marlin embarks on an exciting journey to get him back. Along the way, he benefits from the help of Dory, a friendly regal blue tang with a short memory.
An underwater adventure for the ages, Finding Nemo is just as mesmerising and funny today as it was when it hit the big screen for the first time.
---
Monsters, Inc.
---
Year: 2001
Cast: Billy Crystal, John Goodman, Mary Gibbs
Rotten Tomatoes score: 96% Fresh
IMDb score:8.0
Monster Sulley and his friend Mike work as scarers at a scream processing factory. When the two are followed back into the monster world by a very unafraid little girl, they are exiled to her (human) world, to hilarious results.
A triumph in storytelling and animation, Monsters, Inc. is a delight for viewers of all ages. Buckle up for a colourful and charming adventure.
---
Ratatouille
---
Year: 2007
Cast: Brad Garrett, Lou Romano, Patton Oswalt
Rotten Tomatoes score: 96% Fresh
IMDb score: 8.0
Meet Remy, an ambitious rat with a knack for cooking who dreams of becoming a famous chef one day. Too bad that being a rodent doesn't particularly work in his favour. When fate brings him to Paris, Remy makes an unlikely alliance with the garbage boy at a famous restaurant. Together, the two will take the culinary world by storm in no time.
A cute tale about the importance of following your dreams, Ratatouille boasts some truly laugh-out-loud moments, along with memorable characters and an inspiring story. You'll be glued to the screen.
---
Guardians of the Galaxy
---
Year: 2014
Cast: Chris Pratt, Vin Diesel, Bradley Cooper, Zoe Saldana
Rotten Tomatoes score: 91% Fresh
IMDb score: 8.0
A movie that significantly expanded the Marvel Cinematic Universe, Guardians of the Galaxy is a thrill ride from start to finish.
The story follows a ragtag group of intergalactic criminals who reluctantly agree to work together in order to stop a fanatical villain with plans to purge the universe. Whether or not you're familiar with the MCU, this superhero comedy is an excellent standalone.
---
Zootopia
---
Year: 2016
Cast: Ginnifer Goodwin, Jason Bateman, Idris Elba
Rotten Tomatoes score: 98% Fresh
IMDb score: 8.0
Taking place in a city of anthropomorphic animals, Zootopia revolves around a rookie bunny cop and a cynical con artist fox who team up to uncover a conspiracy.
With state-of-the-art animation, the movie is fast-paced and funny. Plus, it sends an important message about the value of difference, making it a fitting watch for the entire family.
---
Thor: Ragnarok
---
Year: 2017
Cast: Chris Hemsworth, Tom Hiddleston, Cate Blanchett, Tessa Thompson, Mark Ruffalo
Rotten Tomatoes score: 93% Fresh
IMDb score: 7.9
The most recent movie in the Thor franchise is also the funniest, featuring brilliant performances and enough jokey one-liners to power up the Bifrost.
Imprisoned on the planet Sakaar, Thor must race against time to return to Asgard and stop Ragnarok, the destruction of his world. To be able to do so he takes part in a deadly gladiatorial contest that pits him against former ally the Hulk. Mayhem ensues.
---
The Sandlot
---
Year: 1993
Cast: Tom Guiry, Mike Vitar, Art LaFleur
Rotten Tomatoes score: 62% Fresh
IMDb score: 7.8
Set in the 60s, The Sandlot follows Scotty, a young boy who moves into a new neighbourhood and decides to join the local baseball team.
Together, the boys go through a series of exciting adventures. The result? A sweet coming-of-age comedy that will particularly appeal to viewers nostalgic for simpler times.
---
Who Framed Roger Rabbit
---
Year: 1988
Cast: Bob Hoskins, Christopher Lloyd, Joanna Cassidy, Charles Fleischer
Rotten Tomatoes score: 97% Fresh
IMDb score: 7.7
Who Framed Roger Rabbit became an instant classic when it was released, as it blends animation with live-action scenes in an inventive and compelling manner.
The movie centres on a toon-hating detective who agrees to help a cartoon rabbit prove his innocence when he is accused of murder.
Besides being a technical feat, the movie is clever and funny. Make sure you stream it ASAP.
---
The Muppet Christmas Carol
---
Year: 1992
Cast: Michael Caine, Dave Goelz, The Great Gonzo, Steve Whitmire
Rotten Tomatoes score: 75% Fresh
IMDb score: 7.7
The Muppet Christmas Carol is perfect for the holiday season, but it actually makes for a heartwarming watch year round.
Tune in as the Muppet characters tell their own version of the classic tale revolving around an old and bitter miser's redemption on Christmas Eve. He is visited by spirits who foretell his future and share secrets from his past that helps in changing his view on life. We can almost guarantee you'll choke up by the end. You'll also laugh a lot before you get there.
---
Wreck-It Ralph
---
Year: 2012
Cast: John C. Reilly, Jack McBrayer, Jane Lynch, Sarah Silverman
Rotten Tomatoes score: 87% Fresh
IMDb score: 7.7
A delicious treat for video game enthusiasts, Wreck-It Ralph is so joyous that it's hard to resist.
The plot centres on Ralph, a game villain who is tired of playing the role of a bad guy and longs for a change of pace. Consequently, he takes matters into his own hands and sets off on a game-hopping journey across the arcade through every generation of video games to prove he's got what it takes to be a hero.
Will he realise he is good enough before it's game over for the entire arcade? Tune in to find out.
---
The Muppet Movie
---
Year: 1979
Cast: Jim Henson, Frank Oz, Jerry Nelson, Richard Hunt, Dave Goelz
Rotten Tomatoes score: 88% Fresh
IMDb score: 7.6
We're happy to report that this classic musical comedy stands the test of time. The story revolves around Kermit and his friends, who trek across America to find success in Hollywood. The hiccup? They must avoid the owner of a frog-leg restaurant with mischievous plans.
Lighthearted and fun for all ages, The Muppet Movie has something for everyone. The list includes funny lines, an engaging story and enchanting characters.
---
Home Alone
---
Year: 1990
Cast: Macaulay Culkin, Joe Pesci, Daniel Stern, John Heard, Catherine O'Hara
Rotten Tomatoes score: 65% Fresh
IMDb score: 7.6
An essential Christmas movie, Home Alone is all about eight-year-old Kevin, who is accidentally left behind when his family leaves for vacation right before the holidays. He seems happy about the development at first, but soon starts to miss them especially when a team of burglars set their eyes on his home.
The best part? You can watch it, ironically or not, basically any time of the year.
---
Guardians of the Galaxy Vol. 2
---
Year: 2017
Cast: Chris Pratt, Vin Diesel, Bradley Cooper, Zoe Saldana
Rotten Tomatoes score: 85% Fresh
IMDb score: 7.6
The second Guardians of the Galaxy movie is just as entertaining as its predecessor. This time around, the intergalactic team meets Ego, a charming celestial being who claims to be related to one of them. Too bad he's hiding some dark secrets.
With a killer soundtrack and an action-packed plot, the movie brings on the laughs without skimping on heartfelt moments. In other words, it offers something for everyone.
---
Phineas and Ferb the Movie: Across the 2nd Dimension
---
Year: 2011
Cast: Vincent Martella, Ashley Tisdale, Thomas Brodie-Sangster
Rotten Tomatoes score: 100% Fresh
IMDb score: 7.4
If you're a fan of the Phineas and Ferb series, this movie is not to miss. As Phineas and Ferb discover that Perry is a secret agent, they all get stuck in an alternate dimension where Doofenschmirtz is the ruler of the tri-state area.
Tune in for a fun mix of humour, off-beat songs and pop culture references. And to see if the beloved characters manage to find their way back home, of course.
---
The Simpsons Movie
---
Year: 2007
Cast: Dan Castellaneta, Julie Kavner, Nancy Cartwright, Yeardley Smith, Hank Azaria
Rotten Tomatoes score: 88% Fresh
IMDb score: 7.3
When Homer accidentally pollutes the town's water supply, Springfield is encased in a gigantic dome by the EPA and the Simpsons are declared fugitives. As a result, Homer must save the world from a catastrophe he himself created.
The Simpsons Movie is a treat for longtime fans of the popular series, packing enough satire and jokes to justify its runtime. If you're a Simpsons newbie, this is a good place to start.
---
Ant-Man
---
Year: 2015
Cast: Paul Rudd, Michael Douglas, Corey Stoll, Evangeline Lilly
Rotten Tomatoes score: 83% Fresh
IMDb score: 7.3
Ant-Man is 50% superhero comedy, 50% heist flick, 100% fun. The story follows Scott, a master thief who gains the ability to shrink in scale but increase in strength with the help of a futuristic suit.
But with great power comes great responsibility, so he must rise to the occasion and protect his secret from unsavoury individuals. Exciting stuff!
---
Monsters University
---
Year: 2013
Cast: Billy Crystal, John Goodman, Steve Buscemi
Rotten Tomatoes score: 80% Fresh
IMDb score: 7.3
If you loved Monsters, Inc, this Pixar prequel will be right up your alley. The movie revolves around the relationship between Mike and Sulley, who join Monsters University in order to graduate as the scariest monsters on the planet.
Initially arch-rivals, the two monsters gradually overcome their differences to become best friends. There are plenty of shenanigans along the way, to viewers' delight.
---
Finding Dory
---
Year: 2016
Cast: Ellen DeGeneres, Albert Brooks, Ed O'Neill, Kaitlin Olson
Rotten Tomatoes score: 94% Fresh
IMDb score: 7.3
Another underwater adventure you don't want to miss, Finding Dory centres on amnesiac blue tang fish Dory. With only vague memories of her past, she sets off in search of her long-lost parents with the help of clownfish Marlin and his son Nemo.
Fair warning: if you haven't already fallen in love with the world's most forgetful fish during Finding Nemo, you will now.
---
The Parent Trap
---
Year: 1998
Cast: Lindsay Lohan, Dennis Quaid, Natasha Richardson
Rotten Tomatoes score: 86% Fresh
IMDb score: 6.5
A pop culture staple, The Parent Trap follows identical twins Hallie and Annie, who are separated following their parents' divorce.
Years later, they discover each other at a summer camp and decide to switch places in order to hopefully reunite their parents. The movie is well-cast and highly enjoyable. Believe the hype.
Image source: Microsoft website
Latest Disney+ guides and news
More guides on Finder
Stream the best and save