The 2019 Aladdin will drop on Disney+ Australia in January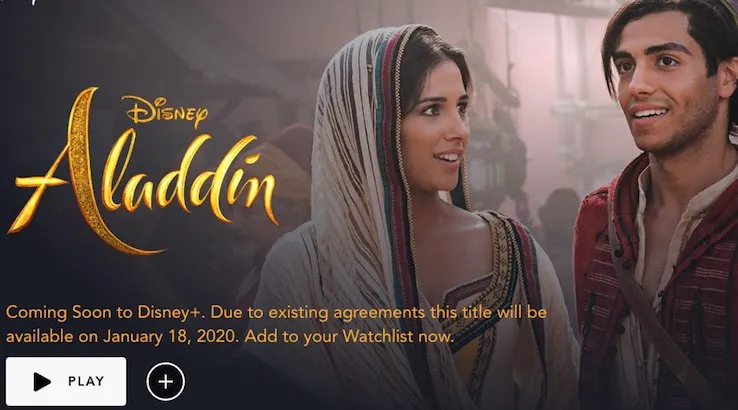 Disney+ users will be able to stream the 2019 Aladdin next month.
Disney+ offers subscribers plenty of content to binge, from classic animated flicks to original hit shows like The Mandalorian. However, some popular titles were missing from the streaming service at launch. Among them, the live-action Aladdin remake, which opened in theatres back in May.
Thankfully, the wait to stream the box office hit on Disney+ is almost over. Originally the Disney+ platform displayed 18 January as the release date for Aladdin. Though this soon changed as Aladdin launched in Australia on 8 January 2020. It joins several other big titles coming to Disney+ in 2020.
Additionally, Disney is working on a spin-off revolving around Aladdin character Prince Anders, which will star Billy Magnussen.
The live-action Aladdin remake was directed by Guy Ritchie and stars Mena Massoud, Will Smith, Naomi Scott, Marwan Kenzari, Navid Negahban and Nasim Pedrad, among others. The story revolves around the title character, a street urchin who stumbles upon a magic lamp that contains a genie. With the genie's help, he hopes to be able to impress the feisty Princess Jasmine, as long as he can best a deceptive sorcerer who wants the lamp for himself.
Aladdin was a great success for Disney, managing to become the seventh highest-grossing film of the year. There are already rumours of a sequel, which isn't surprising given the film's earnings, which surpassed US$1 billion worldwide.
Until the 2019 Aladdin drops on Disney+, you can stream the 1992 animated classic, currently available on the platform.
Disney+ details
Streaming platform Disney+ offers subscribers a generous content library, with titles not only from Disney itself, but also subsidiaries Marvel, Star Wars, Pixar and National Geographic. In other words, you can stream iconic Star Wars movies, blockbusters like Avengers: Endgame, Disney Channel series, original content like Lady and the Tramp, as well as plenty of classics from the Disney vault.
In addition, the service comes with an intuitive interface and several fun features meant to make streaming your favourite Disney titles as easy as possible.
A subscription to Disney+ costs $8.99/month. New users get a free seven-day trial, so you can explore the platform without paying a cent and decide if it's the right fit for you. Do it around 18 January and you'll be able to stream Aladdin for free.
Image source: Disney+
Latest Disney+ guides and news