Best dishwashing liquid in Australia
Check out our picks for five best dishwashing detergents in Australia that'll make your dishes sparkle including eco-friendly and skin-sensitive options.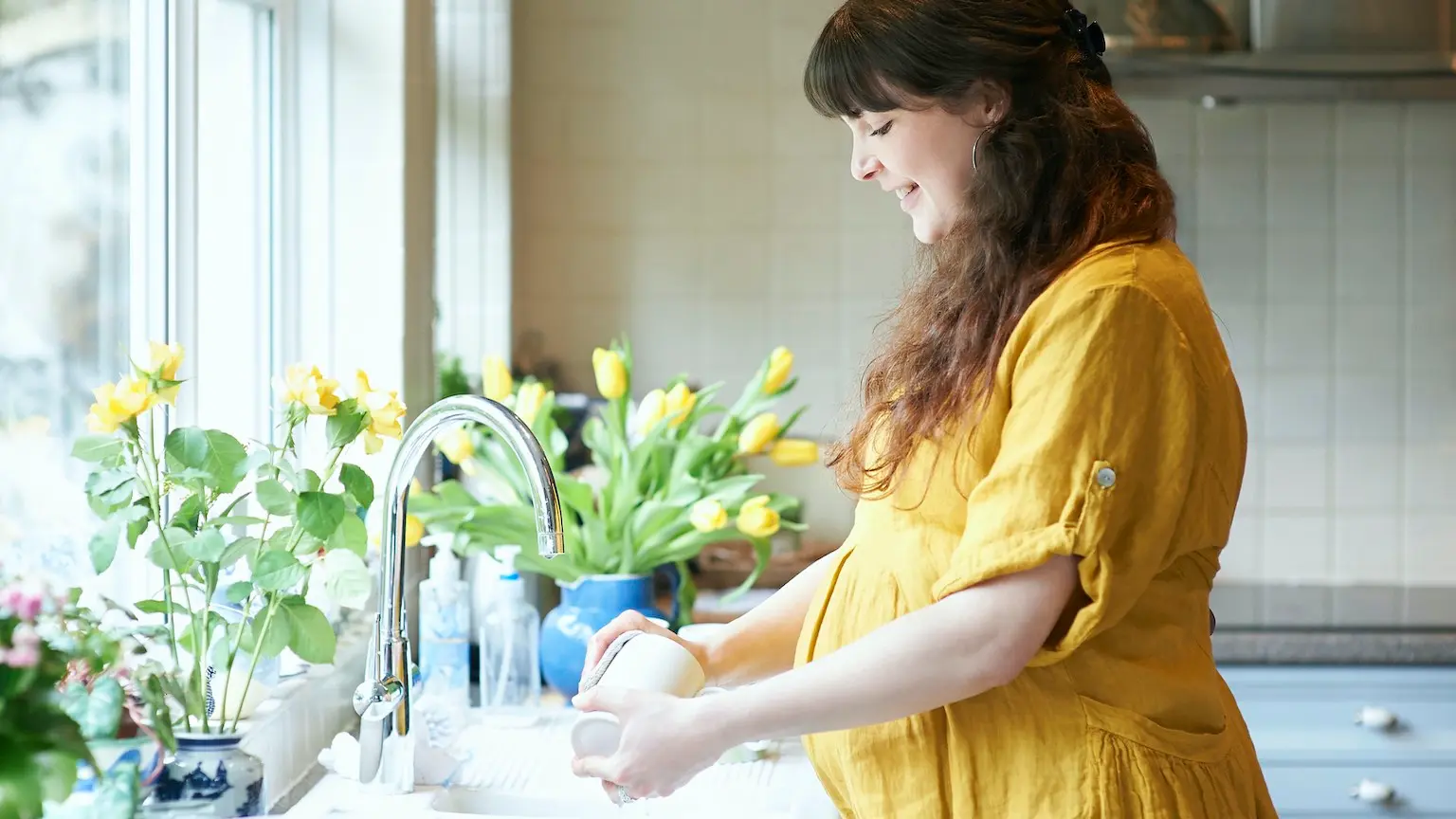 We're reader-supported and may be paid when you visit links to partner sites. We don't compare all products in the market, but we're working on it!
The best dishwashing liquid in Australia
How did we pick this list?
Our editorial team selected the dishwashing products on this list based on actual customer reviews on productreview.com.au. For each category, we carefully selected parameters based on our research and identified the dish soap with the highest review score within those parameters.
Why we chose it
With a rating of 4.7 out of 5 from six reviews on productreview.com.au, Earth Choice Dishwash Liquid is our top pick in the budget category. Priced at $0.20 per 100mL, it's a cost-effective dishwashing detergent that's also designed to be kind to the environment.
Made from a plant-based formula, Earth Choice Dishwash Liquid is grey water and septic safe. Made without harsh chemicals, it's designed to cut through grease but also be gentle for those with sensitive skin. It's also Australian made and owned, not tested on animals, and features packaging made from recycled and recyclable plastic.
Earth Choice Dishwash Liquid Lemon Fresh is available in 1L bottles from multiple Australian retailers.
---
Best mid-range pick: ALDI Tandil Ultra Dishwashing Liquid
Affordable option
Ultra-concentrated formula
Only available from ALDI
Only comes in 450mL bottles
Where to buy
Why we chose it
With a total score of 4.6 on productreview.com.au, Tandil Ultra Dishwashing Liquid from ALDI is our pick for the best mid-range dish soap. Priced at $0.35 per 100mL, it's also one of the more affordable options available.
Boasting an ultra-concentrated formula, Tandil Ultra is designed so that you use less liquid with each wash. It comes in a variety of odour-neutralising fragrances and features a phosphate-free formulation.
Tandil Ultra Dishwashing Liquid comes in 450mL bottles and is available in Lemon Antibac, Lemon & Lime, Orange, Power Soak n Clean or Sweet Pea & Freesia.
---
Why we chose it
With a rating of 4.6 out of 5 from 11 customers on productreview.com.au, Ecostore Dishwashing Liquid takes the top prize in the high-end category.
This liquid is available for as little as $0.60 per 100mL depending on the bottle size you buy and where you purchase, but generally costs more at most retailers.
Featuring plant- and mineral-based ingredients, Ecostore Dishwashing Liquid is designed to offer a natural way to clean your dishes. Formulated to be gentle on hands, it doesn't feature any synthetic dyes or perfumes and is made in New Zealand.
Lemon, Grapefruit and Ultra Sensitive varieties are available, with bottle sizes of 500mL, 1L and 20L.
---
Best for sustainability: Earth Choice Dishwash Concentrate
Made from plant-based ingredients
Recycled and recyclable packaging
Only one fragrance available in 900mL
One reviewer complains about a lack of cleaning power
Where to buy
Check availability at Woolworths
Why we chose it
If you're an eco-conscious buyer searching for an environmentally friendly dishwashing liquid, Earth Choice Dishwash Concentrate is well worth a closer look.
With a rating of 4.2 out of 5 from 10 productreview.com.au ratings, this formula is made from plant-based ingredients. Australian made and owned, this concentrate doesn't use any harsh chemicals and is grey water and septic safe. It also features 100% recycled and recyclable plastic packaging.
Earth Choice Dishwash Concentrate is available in Lemon Burst, Red Apple, Green Tea & Lime and Lemongrass & Ginger fragrances. All varieties come in 500mL bottles, while Green Tea & Lime is also available in a 900mL bottle.
---
Why we chose it
Ecostore Dishwashing Liquid is not only our pick for the best high-end option, it's also our pick if you're looking for a dishwashing detergent that's gentle on sensitive skin.
Both the Lemon and Grapefruit fragrances from this range of dishwashing liquids are pH balanced to ensure that they're gentle on hands, while they also don't feature any sodium laureth sulfate or synthetic dyes and perfumes.
Ecostore also offers an Ultra Sensitive liquid. Approved by Sensitive Choice, this formula doesn't feature any fragrances or colourants. It's also dermatologically tested and comes in 500mL, 1L and 20L sizes.
Methodology
We compared dishwashing liquids from over 10 different brands.
Detergents that have limited availability in Australia or less than 3 customer reviews were automatically excluded.
The products on this list are chosen by our editorial team and are not selected based on commercial relationships.
Types of dishwashing liquid
Dishwashing liquids help to keep your tableware and cookware clean. The chemicals in dishwashing liquids remove grime, germs and other bacteria that your dishes pick up during use. Hand-washing dishes requires a bit of elbow grease, but the right dishwashing liquid can help make it easier to cut through dirt and food build-up.
Dishwashing liquids can be divided into two main types:
Eco-friendly: The number of available eco-friendly dishwashing liquids has grown in recent years. Eco-friendly generally refers to the exclusion of phosphates and other dangerous chemicals from the dishwashing liquid solution. Some dishwashing liquid bottles are made from recycled materials to help reduce the waste caused by single-use plastics. Eco-friendly cleaners are generally more expensive than chemical cleaners.
Chemical: Many brands of dishwashing liquids don't claim to be eco-friendly. These brands often offer great cost value and are highly effective cleaning agents. Be sure to wear gloves when using chemical cleaners as they can cause skin irritation when combined with warm water.
How to compare dishwashing liquid
Small dishwashing liquid bottles can be found for around 10c per 100mL, while luxury brands can be $1.50 per 100mL or more. Larger bottles typically cost less per 100mL, but take up more room on the counter. Ultimately, the right dishwashing liquid for you will depend on your needs.
When comparing dishwashing liquids be sure to consider:
Skin sensitivity
If you have sensitive skin, avoid dyes, bleaches, added chemicals and ammonia. Most dishwashing liquid bottles state clearly if they're suitable for sensitive skin.
Phosphates
Phosphates are bad for your skin and the environment. They can also cause algae blooms after going through water systems. Try to find phosphate-free dishwashing liquids where possible.
Bottle type
Dishwashing liquids tend to come in plastic bottles or containers. Several brands make bottles from recycled materials.
Scent
This is a matter of preference. Some dishwashing liquids have quite strong scents. Most brands offer a few options so you can choose a fragrance you know you don't mind.
Foaming
Some bottles are designed to foam. This means your liquid comes out of the bottle already foamed, so you don't need to put in any effort to create a lather. Foaming liquids can be convenient if you're quickly cleaning one or two small items.
Homemade dishwashing liquids
Dishwashing liquid can be made from ingredients around your home, although the effectiveness of these cleaners varies. We recommend testing a small batch of any DIY cleaner before using it to make sure it's effective and doesn't cause any skin reactions.
Hand-washing vs dishwashers
Dishwashers vary in terms of water efficiency, but newer models are designed to use less water than you'd use washing by hand. Dishwashers also use hotter water which cleans dishes more thoroughly. However, you might not save water if you pre-rinse your dishes or if you run the dishwasher before it's full.
Hand-washing varies depending on routine. If you leave the tap running the whole time, it can be a very wasteful process. It can be more efficient if you fill the sink, soak and scrub, all while being mindful of how much water you're using. Hand-washing is an immediate way of keeping on top of dirty dishes and not letting them accumulate.
Learn more in our guide to the best dishwashers in Australia.
Where to buy dishwashing liquid online
---
More guides on Finder