Dishwasher detergent Finder: How to find the best detergent for your kitchen
Compare tablet, powder and gel detergents as well as DIY alternatives.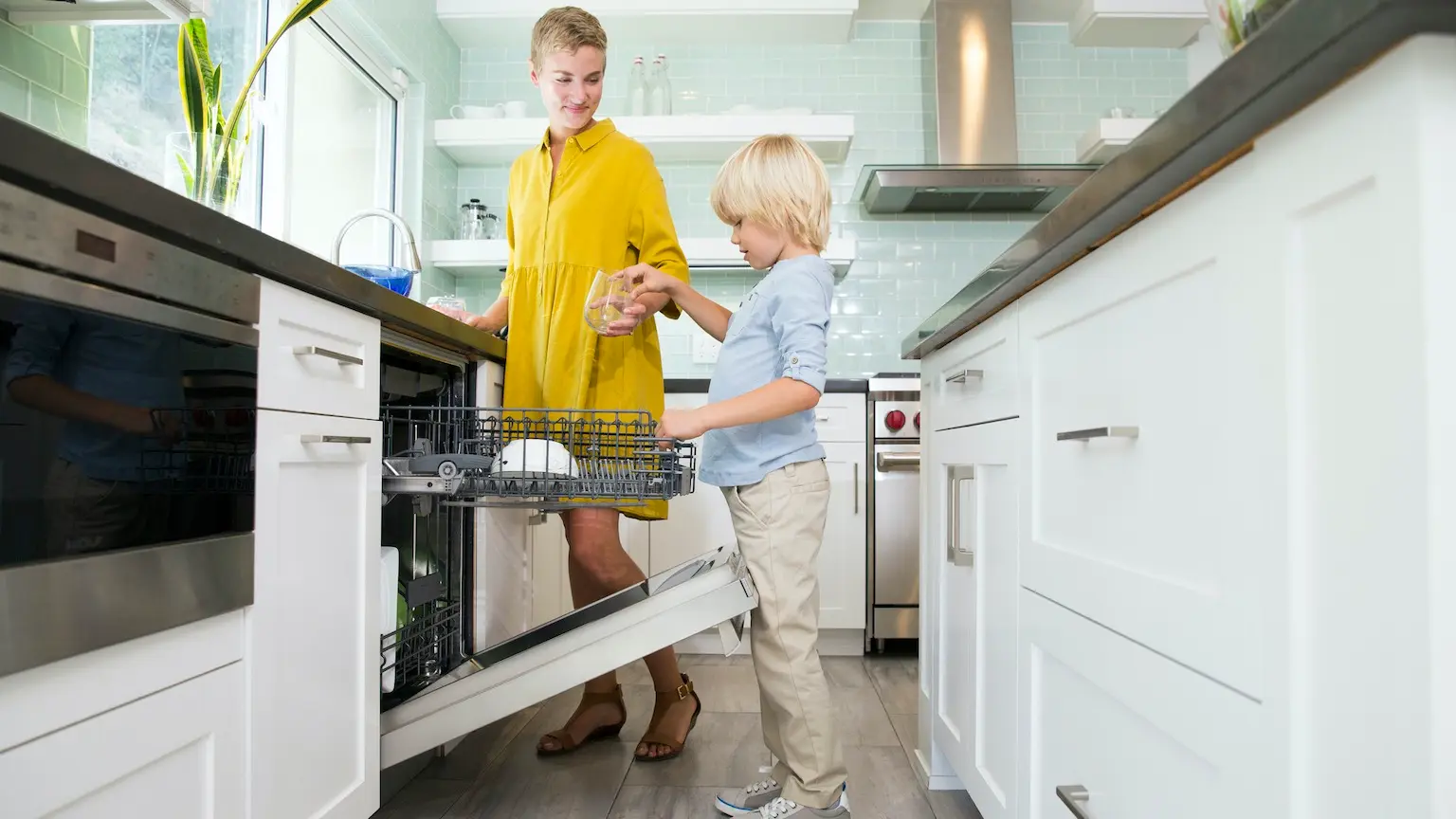 We're reader-supported and may be paid when you visit links to partner sites. We don't compare all products in the market, but we're working on it!
Best Rated Dishwasher Detergents & Liquids/Tablets Brand: Shine
Scoring best rated odour and scent, Shine's dishwasher detergents and tablets were also top rated for their effectiveness.
Key facts about dishwasher detergent:
There are several types of dishwasher detergent available including tablet, powder and gels.
Prices generally range from around $0.05 per wash up to $0.94 per wash.
To compare detergents, look closely at the ingredients and check your dishwasher's manual.
Compare some of the best dishwasher detergents
Data obtained December 2018. Prices are subject to change and should be used only as a general guide.
What is dishwasher detergent?
Dishwasher detergents are water-soluble cleaning products made specifically for washing dishes in a dishwasher. There are three main types: tablet, powder and gel.
Dishwater detergent vs dishwashing liquid
Dishwasher detergent is different from dishwashing liquid, which is made for washing dishes by hand. If used in the dishwasher, dishwashing liquid can produce excess suds and cause your dishwasher to overflow, potentially causing leaks or flooding in your home. A build-up of suds could also internally damage your dishwasher's pipes, block filters and drainage.
What types are available?
Dishwasher detergent comes in three forms: tablet (tab/pack), powder and gel.
Tablets are small blocks of concentrated dishwashing powder (some may be partially or fully made from dishwashing gel). Tablets are put in the dispenser, or simply placed in the main dishwasher area.
Powder can be poured or scooped into your dishwasher dispenser. It might be a better choice if your home has smaller washing needs and doesn't require a full tablet.
Gel is similar to dishwashing liquid used for washing dishes by hand. It can be poured into the dispenser and usually is the middle ground between powder and tablet in terms of pricing. The gel type can also be found in tablet form, which is more expensive but provides a more consistent dosage.
Pros
Cons
Tablet

Most efficient.
Usually includes a rinse aid that makes it more effective.
Comes in pre-measured amounts.
Less likely to spill.
Helps reduce time spent soaking and scrubbing.
Range of fragrance options.

Usually more expensive.
Comes in only one size so there is less flexibility for different loads.
May require longer rinsing cycles to eliminate mineral deposits.

Powder

Cheapest option.
Removes stains.
Rinses easily.
Lasts a long time before needing replacement.
Adjustable dosages.

Can be abrasive for delicate tableware, including glass.
If overused, dishes may get powdery residue; if underused, dishes won't be cleaned properly.
Can spill easily.
Loose powder can be hazardous for those with kids or pets.
If not stored properly, can be activated by water.

Gel

Slow-pouring gel is easier to control than powder.
Easier than powder to clean if spilled.
Water-based composition is less abrasive on tableware.
Works instantly and does not need time to dissolve.

Little variety available.
Sometimes the gel doesn't fully dissolve, which can leave water spots or a light film on dishes.
More expensive in the long term than pre-measured tablet form.
Not all dishwashers are compatible with gel.
Can be easily confused with handwashing liquid.
What is rinse aid?
Rinse aid, or rinse agent, is used in the rinse cycle to eliminate food residue and detergent. It can enhance your dishwasher's dry performance, minimises water spotting on plates and glasses, and prevents film from forming on dishes.
It also prevents the finish on crockery from being stripped away and glassware getting cloudy or scratched. It's already included in tablets, but not in powder dishwashing detergent.
How to compare dishwasher detergent
Dishwasher detergents can range from $0.05 per wash for the cheapest home brand powder up to $0.94 per wash for premium tablets.
Here are other essential factors you need to consider:
Cleaning performance
While tablet detergents are more expensive, they often include rinse agent, clean your dishes more thoroughly and ensure a more precise dosage each time. Your second-best option is powder. While both tablet and powder versions include enzymes and bleach (to remove stains and eat away at proteins and solids), gel form does not have the same stain removal power (generally bleaches in liquid form will kill active enzymes).
Ease of use
Tablet versions are more convenient and easy to use in pre-measured, packaged form, while powders and gels must be measured each load. Of the latter two, gel is easier to control when measuring than powder and easier to clean up.
Flexibility
Tablet detergent is less flexible, as the tablets are pre-measured and only come in one size. If you prefer to vary your dishwasher load, opt for powder or gel.
Toxin-free
Watch out for products containing phosphates. While phosphates have conventionally been used in dishwashing detergent, they are not environmentally friendly and cause algae bloom. You can find phosphate-free detergents that work just as well for similar prices.
Also, if you want to avoid phthalates, parabens and triclosan, which have been proven to be potentially toxic chemicals that can disrupt the hormone system, opt for fragrance-free versions.
Dishwasher compatibility
Some dishwashers are not suitable for gels, so double check with your owner's manual before purchasing this detergent type.
Environmental friendliness
Tablets require more packaging than powder or gels per dose. However, many companies are aiming to roll off 100% recyclable packaging soon. As they are more concentrated and smaller per load, tablets also use less energy to ship, and therefore produce a smaller carbon footprint.
Ethical considerations
There are a lot of cruelty-free options if you prefer brands that don't test on animals, and don't contain palm oil or animal by-products.
Check out energy saving tips for your dishwasher
Is dishwasher detergent safe?
Many popular brands of detergent contain harmful chemicals. Ensure your detergent is stored out of reach of children and pets, in a child-resistant container and close the packaging properly each time. Detergent can be very dangerous if swallowed. Only fill your dishwasher with detergent just before starting a cycle, and afterwards, clean away any residue immediately.
There are many safe and eco-friendly options available, but remember to check the labels before you buy anything.
DIY alternatives
Several DIY detergent alternatives are also available. They are typically compatible with dishwashers, but may not perform as well as the commercial formulas. Keep in mind, using certain ingredients could void your dishwasher warranty so be sure to check before putting anything new in your dishwasher.
When trying a DIY alternative for the first time, we recommend that you test a small batch first. The effectiveness of the formula can vary depending on your individual dishwasher and the type of water in your house.
Commonly used DIY dishwasher detergent ingredients include:
Borax
Baking soda
Vinegar (during rinse cycle)
Salt
Citric acid
Essential oils for fragrance
Grated soap
Baking powder
Lemon juice
Keep in mind, if baking soda is used regularly, its grittiness could wear away prints on crockery, particularly older china. Also, it's important to note that vinegar can eventually damage the rubber in your dishwasher and if mixed with salt, can cause discolouration in metal crockery and pans.
3 tips for making dishwasher detergent more effective
Keep detergent fresh and dry. Store your detergent in a container away from moisture to prevent lumps. Only pour it into a cup when you're ready to run a cycle. When powder detergent gets lumpy, throw it away, as it won't clean well.
Use the right amount of detergent. Using the correct amount is important if using powdered or liquid detergent that is not pre-packaged.
Determine how hard your water is. Depending on whether your water is soft or hard, your dishwasher will need a different amount of detergent for best washing performance and to avoid damaging your dishes. As a rule of thumb, harder water needs more detergent. You can find out how hard your water is by checking on your state/council website or asking them how many grains of hardness (impurity) is in the water.
Best rated dishwasher detergent brand award breakdown
| | Total Score | Overall rating | Value for Money | Ease of use | Odour or scent | Effectiveness |
| --- | --- | --- | --- | --- | --- | --- |
| Other | 8.36 | 4.50 | 4.58 | 4.62 | 4.58 | 4.58 |
| Shine | 8.19 | 4.43 | 4.57 | 4.61 | 4.39 | 4.57 |
| Finish | 8.18 | 4.50 | 4.12 | 4.56 | 4.28 | 4.40 |
| Logix (ALDI) | 8.13 | 4.39 | 4.59 | 4.69 | 4.18 | 4.35 |
| Fairy | 8.08 | 4.40 | 4.16 | 4.70 | 4.10 | 4.40 |
| Earth Choice | 8.03 | 4.36 | 4.26 | 4.46 | 4.18 | 4.42 |
| Morning Fresh | 7.99 | 4.33 | 4.02 | 4.47 | 4.27 | 4.37 |
| Coles Ultra | 7.93 | 4.22 | 4.47 | 4.56 | 4.13 | 4.28 |
| Coles | 7.46 | 3.98 | 4.26 | 4.30 | 3.82 | 4.02 |
| EcoStore | 7.39 | 4.00 | 3.50 | 4.25 | 3.75 | 3.88 |
| Koh | 7.37 | 3.75 | 4.00 | 4.75 | 4.00 | 4.00 |
*Brand did not meet the sample threshold to qualify for the award
Data: Finder Retail Brand Survey, 2020, Kantar. Metric out of 5 stars unless indicated. Methodology and more info.
More guides on Finder