Diabetes and life insurance
Does my diabetes affect my life insurance policy?
We're committed to our readers and editorial independence. We don't compare all products in the market and may receive compensation when we refer you to our partners, but this does not influence our opinions or reviews. Learn more about Finder.
If you are diabetic, but you look after yourself, you can get life insurance. However, you'll pay more in premiums. That's because life insurance companies deem diabetics as a higher risk than the average person, because your policy is more likely to pay out. Some of the long-term health complications that you could develop include:
Vision impairment or blindness.
Loss of a limb.
Kidney failure or dialysis
Heart failure and a stroke.
Can I get cover?
It's possible for people with type 1 or type 2 diabetes to take out life cover in Australia. However, the increased risks associated with diabetes mean that cover may come with a premium loading. This guide will provide you with some insight into getting cover with either type 1 or type 2 diabetes, limitations you may face and more.
Compare these direct brands
An adviser can help you find cover from trusted life insurance brands.
Get competitive quotes from multiple brands

Lower rate of declined claims (according to ASIC)

Save time and effort
---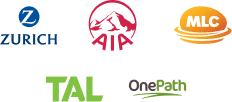 What do insurers look at when assessing people with diabetes?
An insurance underwriter will assess how controlled your diabetes and also the type of diabetes, how it is treated, age of diagnosis and any medical complications that could impact your level of risk.
Questions asked during the application process
As a longtime diabetic Jason applied for life insurance anyway. Some of the questions Jason had to undergo included:
What type of diabetes were you diagnosed with? Is it type 1 or 2, gestational diabetes, diabetes insipidus, glucose intolerance or insulin resistance?
When was the diagnosis made?
How is the condition treated? Is it treated with diet, insulin injections, oral medications or other? What is the medication and dosage amount, if applicable?
Have you experienced any complications including kidney or nerve problems, high blood pressure, vision impairment or reduced blood circulation as a result of diabetes? Have you ever experienced a diabetic or insulin coma or required hospitalisation because of the condition?
When was the condition last checked and what were the results of the tests?
What were the results of your most recent Glycosylated Haemoglobin test?
Provide the contact information for your doctor or doctors.
What information will your insurer require?
Medical attendants report will be required for both type 1 and type 2 diabetes
Diabetic questionnaire required from applicant to determine if they understand the condition and has been cooperative with a certified medical practitioner
Questionnaire will usually be required from the applicants medical attendant
The applicant may also be required to undertake an ECG and chest X-Ray if the sum-insured is substantial
Diabetes in Australia
Diabetes in Australia is on the rise and affects roughly 1.7 million Australians. Diabetes costs Australians an estimated $14.6bn per year.
According to Diabetes Australia, 280 Australians develop diabetes everyday, which is one person every five minutes. And the trend doesn't show any signs of slowing. New cases of type 2 diabetes steadily increased between the year 2000 and 2009.
In 2013, there were 2,323 new cases of type 1 diabetes in Australia, equating to 11 cases per 100,000 population.
The incidence rate for type 1 diabetes:
Is higher in males than females (12 compared with 9 per 100,000 population)
More than half (52%) of all new cases were for people under 18 years of age
Peaked at age 10–14 years (33 per 100,000 population)
Trauma insurance and diabetes
Most comprehensive trauma cover policies will offer coverage for applicants that suffer from diabetes. As with life cover, the insurance provider will assess each applicant against their criteria to determine the level of risk they carry. Premiums will depend on the age of the persons diagnosis and the level of control of the condition.
Trauma cover can provide great financial support if a policyholder is diagnosed with diabetes and it meets the conditions as defined by the provider. Trauma cover will pay out as a lump sum benefit that can be used to help cover medical expenses, mortgage repayments and any reduction of income that may occur.
What exactly is diabetes?
Diabetes is a condition that can affect many parts of the body. It stems from the body producing an insufficient level of insulin, which allows the body to transform glucose into energy. The inability to regulate blood glucose levels can result in a dangerous overload of sugar in the person's blood stream.
This means that when people with diabetes eat foods that contain glucose their bodies can't convert it into energy. Foods include:
Yoghurts and sweets
Milk
Fruit and starchy vegetables
Cereals
How is Type 1 diabetes different to type 2 diabetes?
Type 1 diabetes is where the pancreas is unable to continue making insulin, making blood cells unable to turn glucose into energy. This in turn can lead to an accumulation of dangerous chemical substances within their blood from the burning of fat. If not treated appropriately this can lead to a condition known as ketoacidosis that can be fatal.
Type 1 diabetes accounts for roughly 10-15% of all cases of diabetes. In order to prevent ketoacidosis, people with type 1 diabetes are required to take up to four insulin injections every day. The condition typically occurs in people under the age of 30.
Type 2 Diabetes is more common among older adults and makes up roughly 85-90% of all people with diabetes. In comparison to type 1, the pancreas is able to produce some insulin but it is an inefficient amount to enable the body to work effectively.
While type 2 diabetes is a result of genetic makeup it is largely associated with lifestyle factors that can result in high blood pressure and obesity, usually a result of poor diet and a lack of physical activity. Luckily for this group, it can usually be managed via healthy eating and regular exercise. However, most people with this condition will still need to take tablets or insulin when required.
Compare quotes for life insurance
Picture: Shutterstock
More guides on Finder