Deus Ex: Mankind Divided review: More metal gear than MGSV
Mankind Divided will reignite your love of claustrophobic stealth.
We're reader-supported and may be paid when you visit links to partner sites. We don't compare all products in the market, but we're working on it!
Eidos Montreal's long-awaited follow-up to the brilliant stealth-action RPG Human Revolution is just around the corner. Aside from a touch of controversy surrounding some misguided promo art, Deus Ex: Mankind Divided is set to release without so much as a peep from Square Enix's marketing team. Having spent some serious time in Mankind Divided's cyberpunk universe, it's become apparent that Deus Ex's latest will not suffer from the absence of pre-release hype because everyone will be talking about this game in the weeks to come.
In the two in-game (and five actual) years that have passed since the closing events of Deus Ex: Human Revolution, a lot of has changed for our cybernetic hero Adam Jensen and his fellow augs. The fallout from Human Revolution has caused a rift between the augmented and non-augmented (or "normals" as they distastefully refer to themselves). We enter this world when tensions between the misunderstood, mistreated augs and the fearful populace are at boiling point. You don't have to be a genius to see where this allegory is headed. This thinly veiled premise may have generated a few headlines in the lead up to release, but it's one that eventually provides a solid foundation for some pretty special stories, big and small.
Mankind Divided starts with a drawn-out (around 12 minutes) and tedious "last time on…" recap of Human Revolution. It doesn't just set the audience up for Mankind Divided, it retraces every important moment from its 2012 predecessor. By the time you get to Dubai, where Mankind Divided's action begins, you've been asked to take so much on board that it's hard to care about the what the characters in the here and now are bitching about.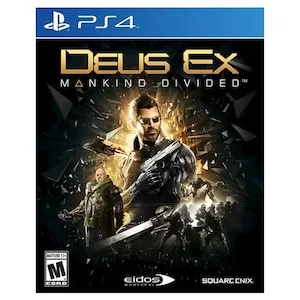 Click to buy Deus Ex Mankind Divided PS4 Game
from ozgameshop.com
Take on the role of Adam Jensen now, order today from OzGameShop.
View details
It's not helped that Adam Jensen, our leading aug, is still a massive bore. One of the minor complaints about Human Revolution was Jensen's moody, monotone voice-acting (and his terrible fashion sense). Unfortunately none of that has changed in 2029 and Adam's trench coat and shades are so 2027 it's not even funny. Jensen also has trouble answering simple "yes" and "no" questions and often opts for heavy-handed exposition. It's not necessarily the fault of the voice actor or the character. Being stoney isn't always a fault, The Witcher's Geralt is a dull character who speaks in gravelly emotionless tones, but these traits play into his story, other characters poke fun at his wooden composure and when we do eventually see him crack a faint smile or some sign or emotion, it's extremely rewarding. Jensen, however, is just a cliched tough-as-nails-cop who no one ever really gels with.
Luckily the lacklustre scene setting is temporary and it doesn't take too long for Mankind Divided to transcend its sticky opening and once that happens, it doesn't look back.
Prague is a beautiful and tragic backdrop to Deus Ex's action that's torn between two factions, both figuratively and literally. There's the obvious divide on the streets, where augs are constantly stopped and harassed, but there are also the webs of cables and fluorescent lights that dominate traditional structures, creating the series' now signature golden glow.
Whether it's the propaganda-strewn streets, or a paper and photographs plastered over an apartment wall, every part of Prague tells a story. Nothing is there for show. Everything gives a little more detail to the larger political machinations at hand or the more personal stories of those struggling through the oppression. Exploring this gorgeously decorated world isn't just a fun pastime, it also rewards you with some of the game's most intriguing and complex sidequests.
It's far too easy to get lost exploring, helping those in need - and while every small story is meaningful, spending too long from the main story's explosive missions can be tiring. The real challenge is in Mankind Divide's main quests.
Mankind Divided's main quests are spurred on by a train station bombing in Prague after the game's widely covered Dubai introduction. From there, many fingers are pointed in and outside of Interpol (where Jensen now works) and other organisations, including, but not limited to, the Augmented Rights Coalition and the Church of the Machine God. The former is a mostly peaceful movement pushed to the edge by prejudice, while the latter is a fanatical cult who seeks to leave the flesh and find Singularity. Of course, there are many more twists, turns and players involved, but anything more would be giving too much away. In order to retrieve the information they need, the player can choose to storm a hideout, gunning down everything in sight or sneak their way to the objective.
Coming straight from Dishonored, where your choice to kill or avoid detection has a much larger effect on the game's universe, it was a nice relief to have the option to go action or stealth, with no lasting consequences (at least none that I observed). Mankind Divided truly gives you the option to play your way and encourages you to consider all your options before tackling an objective.
The better you get at Mankind Divided, the more obsessed you become with perfecting each mission. Better augmentations, like Adam's new black market gear (which is tied to its own intriguing sidequest) are unlocked through a skill tree using Praxis chips (Mankind Divided's skill points). Each new skill allows you to tweak your approach slightly.
Eidos Montreal has done a stellar job of balancing power-ups here. Unlocking shiny new augmentations isn't about becoming an overpowered machine, it's about opening new opportunities to exploit in each mission. Sometimes the path you pave pays off, sometimes it doesn't. You may have fine-tuned your arms to lift a heavy fridge and reveal a crawlspace, but you probably skimped on your hacking skills, meaning you've got to find a way around the high-security door around the corner. Success ebbs and flows in Mankind Divided. So often small victories are punctuated by stressful roadblocks, forcing you to dive for the closest manhole or air duct and rethink your strategy.
Mankind Divided is at its greatest when it's truly testing the player's stealth chops. While the godfather of stealth, Metal Gear, recently opted to open up its world with The Phantom Pain, Mankind Divided proves there's still room for espionage in claustrophobic spaces. Feeding the player through interweaving vents, sewers and catwalks with a minimap and Batman-esque detection system to analyse the risks involved with each pathway. It's an experience you just can't beat. As much as I enjoyed the latest Metal Gear's open approach to stealth, Deus Ex has taken what is good - the forced memorisation of buildings' blueprints and structure through constant trial and error - and doubled down to create an impressive experience.
As much as I did enjoy Metal Gear V's open approach to stealth, there's something about the way Mankind Divided (and older MGS titles) forces you to memorise the blueprints of buildings and structures through constant trial and error that simply can't be beat. Mankind Divided serves as a reminder to what a developer can achieve when cares less they about breadth and more about depth.
Blockbusters of recent, like Fallout, and The Division, have been aiming wider-spread in-game real estate without actually filling those spaces with anything meaningful or time-worthy. Mankind Divided manages to build and nurture more significant lore in the small spaces it has to work with by handcrafting every nook and cranny of this dystopian future.
We reviewed Deus Ex: Mankind Divided on PlayStation 4 with a copy provided by the publisher.

---
Deus Ex: Mankind Divided is available for preorder on PS4, Xbox One and PC at $59.99 AUD
More guides on Finder