Destiny Rise of Iron Review: "Can't fight the SIVA"
Destiny's latest expansion is likely its last, and that's probably for the best.
We're reader-supported and may be paid when you visit links to partner sites. We don't compare all products in the market, but we're working on it!
Three years after Destiny's monumental release, the space-faring MMOFPS from Halo creator Bungie is finally wrapping things up. The Destiny: The Rise of Iron expansion is the last hurrah for the franchise.
In the search for fresh content, Rise of Iron brings a new iron-clad story, new exotic weapons, medieval armour and new locations to roam and raid. Rise of Iron offers up the same red-hot team-based action that hooked over 30 million players, but its half-baked story won't be enough to entice lapsed players and its repetitive nature proves it's time to make way for Destiny 2.
After The Taken King fully embraced the rock-and-roll fun of getting together with friends and eradicating a vengeance-fuelled space demon and all its minions, Rise of Iron reverts to a relatively drab story about a ragtag gang of lords and some particularly nasty nanotech known as SIVA. As Rise of Iron explains in passing, the Iron Lords were the last protectors of Earth before the Guardians took over as the wards of the galaxy. Before their fall, they housed the self-replicating virus SIVA that helped build cities during Destiny's golden age. However, before too long the ancient plague starts acting like a real SIVA diva, kicking its Iron Lords to the kerb and destroying all but one.

Years later, the last remaining Iron Lord, Saladin, enlists the help of the Guardians to take down some dastardly Fallen, who have sought to use SIVA for their own destructive purposes. Those purposes? Some kind of fuss and misery, but it's never made all that clear. Evil space wizards doing evil space wizard stuff, okay? Therein lies one of Rise of Iron's first problems.
If you're going to focus on story, make it either compelling or load it tongue-in-cheek fun (which The Taken King did well with the help of actor Nathan Fillion). Rise of Iron tries for a more emotional story about the fallen lords and Saladin's grief, but rather than a touching tale to pluck at your heart strings, we get the meatless bones of a pretty dreary story.
There's a glimpse of hope early in the DLC's campaign where Destiny's vanilla enemies, the Fallen, gain access to SIVA and use it to revive an old enemy, Sepiks Prime, and modify their own bodies. This leads to an early confrontation at the Iron Temple where you must battle Sepiks Perfected to reclaim the Iron Lord's base of operations. This starts out as an exciting skirmish in the vein of Destiny's best boss battles. You juggle waves of Fallen, dodging Sepiks Perfected's devastating projectiles and waiting for opportune moments to chip away at its health when its shield drops.
Before too long though, it becomes obvious that Sepiks Perfected is just a reskinned Sepiks Prime and nothing more. It's also why the SIVA-augmented Fallen known as Splicers are so unremarkable: they're the same enemies Destiny players have been destroying for three years now, just with a new coat of paint and a few alterations to their attacks that make for a more aggressive offence, but otherwise go unnoticed. Last year's The Taken King had a similar approach, but at least it revamped enemies from Hive, Vex, Cabal and Fallen.
Rise of Iron doesn't sour the addictive squad-based gameplay that made the Gjallahorn a household name, but there is little to revitalise lapsed fans who have grown weary of Destiny. In addition to the subpar story, Rise of Iron forges a new area to patrol (Plaguelands), a new social hub (Iron Temple), a new raid (Wrath of the Machine), a new strike and a few updates to old strikes and player-versus-environment (PVE) maps to incorporate the infectious SIVA.
Hardcore fans, however, will welcome these few additions to Destiny's core gameplay modes. The Plaguelands is a riot to explore. The snow-sprayed SIVA-riddled region in Old Russia doesn't feel too dissimilar aesthetically to the Cosmodrome (aside from the snow and SIVA), but it does feel meatier than previous patrol areas. The Splicers (even if they are a dull Fallen ripoff) make you work. Encounters with the Splicers on more than one occasion bled my primary ammo dry, causing me to lash out with a melee attack as damaged enemies closed in.
The Splicers (even if they are a dull Fallen ripoff) make you work
The infected also have a few very cool tricks up their sleeves that make life a little more difficult for your Guardian. SIVA-infected Dregs (the cannon fodder of the Destiny universe) move a lot faster than before and have the potential to spawn a homing "deathseeker" orb if you land a headshot. This is tough, because popping off Dregs with a well-placed headshot is cheap, gratuitous fun. The deathseeker itself is also capable of significant damage if not shot down, and they can be easy to miss in the heat of a firefight. Fierce competition in the Plaguelands is welcomed, as you'll be spending many hours there - even days. Especially if you're trying to tick every box in the Rise of Iron Record Book.
Year 2's Moments of Triumph achievement list returns in Rise of Iron's Record Book. For players like me who could wander the Patrol areas for hours, the Record Book is a godsend. This feature catalogues your many adventures across each game mode, rewarding you with exclusive armour sets, emblems and other cosmetic upgrades. The Record Book will have you meeting very specific criteria in strikes and story missions, but for the Plaguelands you'll have a neat bucket list of objectives to chip away at, like decimating 2,000 enemies, completing bounties for the Iron Lords, destroying SIVA clusters and opening hidden chests.
The Record Book gave me purpose after the game's campaign came to a close and I'd had enough of the new raid. I'm not big on player-versus-player (PVP) in Destiny (though Rise or Iron's is much more comprehensive than the Year 2 offering), so having a little list of chores was a rewarding way to fill time between strikes, and until Destiny 2 lands in 2017.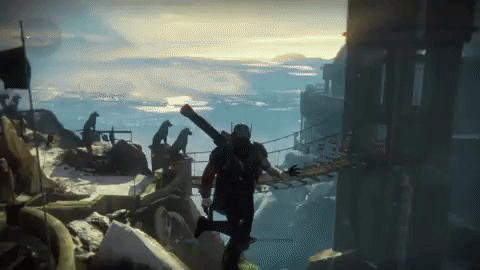 Rise of Iron's sizzling gunplay, aggressive enemy AI and Record Book achievements gave me hours upon hours of the same riveting co-op action that hooked me over two years ago. But this isn't a review for Destiny, or a free update for Destiny. It's a review for Rise of Iron and it doesn't do enough to forge its own identity after three years of doing the same thing.
---
---