Dell XPS 13 9360 Review: Small, simple and powerful
Quick Verdict
It's not the thinnest, or perhaps the most stylish looking, but it is a solid little workhorse with good battery life, and ultimately that's a better combination than having a sexy brick that dies halfway through the working day.
Strengths
Good looking ultraportable
High resolution touch screen
Decent array of ports
Good battery life
Good performance
Incorporates Killer Wireless
Could be better
Interior design doesn't live up to the exterior
Ordinary keyboard
No ethernet or HDMI port
---
Dell's XPS 13 9360 laptop is a solid and flexible contender in the premium laptop space.
Listen to any of Dell's advertising and you'll be struck with all sorts of messages that largely revolve around phrases like "value" or "discount". That's very much been Dell's market positioning for years now, with its build to order strategy a hallmark of its operations, but at the same time that has given it something of a reputation as a mass market commodity PC builder.
The Dell XPS series laptops are Dell's pitch into a more premium, design-centric space, and they've been around for a few years now. The latest entry in the XPS series focuses on the inclusion of 7th generation Core i5 and Core i7 ("Kaby Lake", if you like codenames) processors, which are meant to offer improved battery life and performance in one.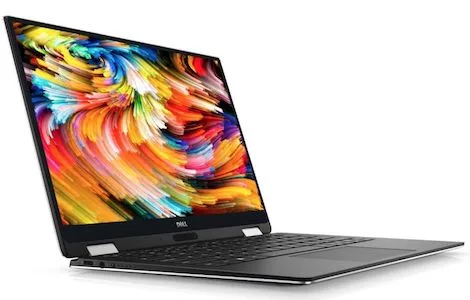 Click to buy Dell XPS 9360-1718 SLV 13.3-Inch Laptop
from Amazon US site
Order new Dell XPS today from Amazon.
View details
Dell XPS 13 9360 Specifications
| Dell | XPS 13 9360 |
| --- | --- |
| Display | 13.3in |
| Resolution | 3200x1800 |
| Weight | 1.29kg |
| Front camera | 720p Webcam |
| Processor | 7th Generation Intel Core i7-7500U |
| Memory | 8GB LPDDR3 1866MHz |
| Storage | 256GB PCIe Solid State Drive |
| Battery | 60Whr integrated battery |
| Interfaces | 2 x USB3.0, 1 x Thunderbolt 3, 1 x SD Card reader, headphone jack |
| Software | Windows 10 Home |
| Price: | $2,209 |
Upsides: Why you'd want the Dell XPS 13 9360
Good looking ultraportable: Dell's not a company that sells itself on premium style in the way that, say, Apple does, but it can make a pretty good looking notebook. Closed flat we had more than one person assume it was, variously, a MacBook or either something from HP or Lenovo, even though the Dell logo is quite prominent.
High resolution touch screen: The Dell XPS 13 9360 isn't a true 2-in-1, because the display screen is very much fixed in place, but it is touchscreen enabled if you need the functionality. With a top resolution of 3200x1800 in a display screen that's only 13.3 inches, it's crisp and very pleasant for video or gaming functions. Or, ahem, those important work duties that you're going to undertake on it, naturally.
Decent array of ports: One of the issues with smaller laptops, such as the obviously comparable Apple MacBook is that their thin and light stature mean that you sacrifice a lot in terms of available ports. Not so with the Dell XPS 13 9360, which manages two regular USB ports, Thunderbolt 3 port and an SD card reader into its sides for maximum flexibility.
Good battery life: With its high resolution screen and especially that powerful but power hungry Core i7 under the hood, our expectations for the Dell XPS 13 9360's battery life weren't immense. Running full screen 1080p video looping at maximum screen brightness, the Dell XPS 13 9360 managed a very solid 9 hours and 27 minutes of battery life before going flat. Your overall usage may vary from that figure, but it gives decent hope for anyone looking for an eminently portable machine with all-day battery life. By way of comparison, HP's eminently stylish Spectre 13 lasted only 5 hours 21 minutes in the same test conditions, and Microsoft's Surface Pro 4 managed 8 hours and 26 minutes.
Good performance: The Dell XPS 13 9360 uses Intel's 7th generation ("Kaby Lake") processors, and while the combination we tested with 8GB of RAM isn't an absolute killer, it's very solid indeed; if you've got the cash to splash a 16GB variant is also available. In ad-hoc testing and gameplay the Dell XPS 13 9360 rarely missed a step for basic tasks. The only caveat there is that the included GPU is Intel's own HD Graphics 620, which is hardly a high end graphics solution.
Incorporates Killer Wireless: The Dell XPS 13 9360 uses a Killer Wireless 1535 chip, which is the kind of part you'd more commonly find on a full-fledged gaming laptop. You won't necessarily see improved performance if your wireless network isn't high-end enough, but under the right conditions it can definitely fly.
Downsides: Why you might not want the Dell XPS 13 9360
Interior design doesn't live up to the exterior: The outside casing of the Dell XPS 13 9360 certainly suggests a premium style experience, but the interior is much more utilitarian than that. It's entirely an aesthetic call, but the slightly rubbery wrist rest and clicky keyboard is functional rather than fashionable.
Ordinary keyboard: Competing devices have comfortable keyboards that look great and are comfortable under the hand. By comparison, the Dell XPS 13 9360's keyboard just feels ordinary, veering towards feeling just a little cheaper than we'd like on a laptop at this kind of price point.
No ethernet or HDMI port: Yes, the Wi-Fi is good, and you could opt for a USB ethernet interface, or send video over the single Thunderbolt 3 port. Still, many laptops with this kind of profile manage both HDMI and Ethernet, and the Dell XPS 13 9360 omits them entirely.
Who is it best suited for? What are my other options?
There's something of a renaissance in premium-priced ultraportables at the moment, and overall, the XPS 13 9360 competes well within this space. It's not the thinnest, or perhaps the most stylish looking, but it is a solid little workhorse with good battery life, and ultimately that's a better combination than having a sexy brick that dies halfway through the working day.
Still, you do have plenty of other choices, including HP's Spectre 13 or Apple's MacBook or MacBook Pro lines to name but a few.

Where can I get it?
Dell sells the XPS 13 9360 through its web site in, as you'd expect, a variety of configurations and price points. Our particular XPS 13 9360 configuration would, at the time of writing, set you back $2,209, but you can pay less for a model with a lower resolution screen, or bump up the configuration at a higher price point.
---
For more technology news, deals and offers, follow and subscribe below
---