Dell Inspiron 15 7000 Review
Quick Verdict
If you want desktop-style power with very intermittent tablet usage,it's a solid option.
Strengths
Performance if you need it
Tablet capability
Range of port connections
Battery life surprisingly good
Could be better
Waste of keyboard space
Huge in tablet form
Laptop size but no ethernet port
---
Dell's flip-top Inspiron 15 7000 offers a good laptop experience, but as a tablet it's a bit on the cumbersome side.
Dell is well known in the computing space for delivering directly configurable laptops and desktops under its own branding, as well as more gaming-specific fare under the Alienware brand. The Inspiron 15 7000 sells itself as a 2-in-1 device due to the multi-mode hinge that allows you to flip its large 15.6 inch display completely around to the back of the laptop, whereupon it's effectively a Windows 10 tablet device.
| Model | Dell Inspiron 15 7000 |
| --- | --- |
| Display | 15.6in |
| Resolution | 1920x1080 |
| Dimensions | 18.9x378.9x252.5mm |
| Weight | 2.18kg |
| Processor | Intel Core i5-6200U |
| Memory | 8GB |
| Storage | 256GB SSD |
| Ports | HDMI, 2xUSB 3.0, 1xUSB C, SD/SDHC/SDXC reader |
| Software | Windows 10 Home |
Upsides: Why you'd want the Dell Inspiron 15 7000
Performance if you need it: You can certainly buy a cheaper laptop than the Inspiron 15 7000, but you'll be looking at a lower power processor and less memory to go with it. The model of Inspiron 15 7000 we tested came with 8GB of RAM and an Intel Core i5-6200U processor, giving it a reasonable amount of power for tasks both productive and entertaining. It's still only running on Intel's HD Graphics 520 solution rather than a dedicated GPU if you're a gaming fanatic, but even that can stand up fairly well on its own. For what it's worth across multiple benchmarks the Inspiron 15 7000 marginally outpaced the recently reviewed Razer Blade Stealth ultrabook, which sells at around the same price point.
Tablet capability: The very sturdy hinge on the Dell Inspiron 15 7000 is fully reversible. Unlike hybrid solutions such as the Microsoft Surface Book or Surface Pro 4, this isn't a removable unit, but instead one that flips around the back of the Inspiron 15 7000. It's an incredibly reliable hinge that we can see lasting the lifespan of the notebook, giving you the use of the Inspiron 15 7000 as a tablet when you need it.
Range of port connections: As a full laptop, the Dell Inspiron 15 7000 comes with a range of connection ports, including USB-C, although this isn't how it charges. If you do need full HDMI or USB capability it is present for use.
Battery life surprisingly good: Big laptops can pack in big batteries, but the demands of full Core processors and large screens usually mean that they're not actually capable of much more than a couple of hours away from a power cord. The Dell Inspiron 15 7000 managed a respectable four hours and twenty three minutes of looped 1080p video playback at full brightness with Wi-Fi enabled and battery saving measures disabled. That might not sound like a lot, but the reality for a unit this powerful and large is that it's surprisingly high. Given its bulk, we can't see too many users opting to work with it away from a desk and a power supply, but it's nice to know that you could do so if you wanted to.
Downsides: Why you might not want the Dell Inspiron 15 7000
Waste of keyboard space: The Inspiron 15 7000's keyboard sits in the middle of an island of metal, which both makes it look smaller than it is but also suggests wasted space. The keys could be a little larger without creeping too close to the edges of the laptop, and in use you have to creep your hands right up above the touchpad to type.
Huge in tablet form: It should be no surprise that a 15-inch tablet is large. Flip the multi-mode hinge on the Dell Inspiron 15 7000 over and it'll run in full Windows 10 tablet mode, but you're most likely going to struggle to use a tablet that large for any appreciable length of time simply due to its sheer size.
Laptop size but no ethernet port: Bigger laptops usually pack in a wired ethernet port, but it's notable by its absence on the Inspiron 15 7000.


Who is it best suited for? What are my other options?

While Dell pitches the Inspiron 15 7000 as a hybrid device, because that's the cool category right now, the reality is that this is a laptop that you might sparingly use as a tablet, but not frequently due its rather large heft in the hand. It's not likely to supplant your iPad, or for that matter the much more portable Surface line. If you want desktop-style power with very intermittent tablet usage, however, it's a solid option.

If you wanted something that's more tablet and portable friendly, you could consider Microsoft's Surface Pro 4 or Samsung's Galaxy TabPro S as alternatives to the Inspiron 15 7000; they both have smaller screens but are much lighter and have considerably better battery life. If a more laptop-style device appeals, consider Microsoft's Surface Book device.

Where can I get it?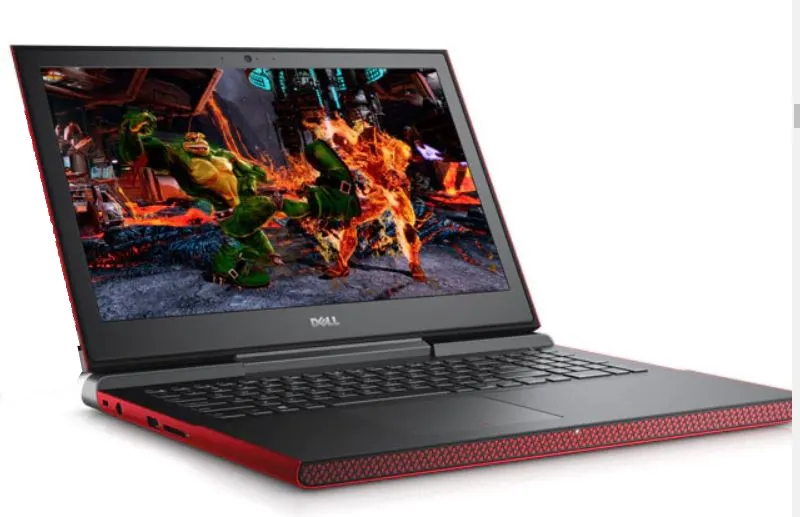 Dell sells the Inspiron 15 7000 in a variety of configurations on its web site for direct sales. Dell's pricing can vary over time and naturally by the exact specifications you choose for the laptop, but at the time of writing the model tested sold for $1698.99.