Dell 2.1 speaker system AE415 review
Quick Verdict
If you regularly watch movies or listen to music at your desk, then Dell's AE415 will provide you with a decent audio experience, without taking up the large amount of space needed by a sound bar.
Strengths
Solid bass performance
Compact design
Clever cabling
Good value for money
Could be better
No independent power
Cables, cables everywhere
Only available in black
---
Dell's 2.1 powered speaker system is an affordable choice if you're looking for better audio than your laptop's built-in options.
Watching blockbuster movies and listening to music through your laptop has one big disadvantage: the speakers in laptops are, almost without exception, small and tinny. If you want more oomph in your special-effects explosions or you're keen for better bass, then the Dell 2.1 Speaker System might fit the bill. It uses Maxx Audio technology from Waves to provide enhanced sound quality, with a top output of 30 watts.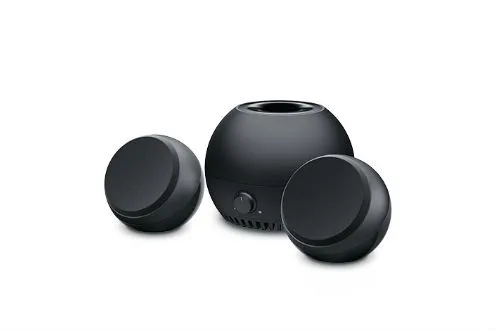 The kit comprises two globe-shaped but flat-based 5 watt speakers (each about the size of a particularly large orange), connected to a 20 watt subwoofer (similarly shaped and slightly smaller than a soccer ball). The subwoofer features a balance control and is where the power cable is plugged in; the main power and volume controls are on the left speaker. To connect to your PC, you use the supplied 3.5mm connector plugged into your laptop or desktop's headphone jack. There are also two headphone jacks on the left speaker if you want to listen through headphones while still taking advantage of the Maxx Audio output.
Upsides: Why you'd want the Dell 2.1 Speaker System AE415
Solid bass performance: The difference in audio quality from the AE415 when compared to the built-in speakers on my laptop, a business-grade Lenovo X1 Carbon ThinkPad, was very noticeable. As you'd expect, the biggest improvement was in bass-heavy music. Proper stereo separation is also very evident (and something you'll struggle to get with virtually any Bluetooth speaker).
Compact design: The speakers won't take up too much room on your desk, and the subwoofer can be rested on the floor adjacent to it. If you have a typical flat-pack computer desk, the speakers will sit comfortably on one of the higher shelves.
Clever cabling: The left speaker has a nine-pin connector (since it also carries power signalling), while the right speaker is a standard RCA plug. That means you can't get confused about which speaker goes where, and you don't have to mess around with wiring.
Good value for money: At $99 including delivery, the AE415 speakers are competitively priced.
Downsides: Why you might not want the Dell 2.1 Speaker System AE415
No independent power: The AE415 has to be plugged into mains power to operate. While that's almost inevitable for any audio system with a proper subwoofer, it does make the speakers less easy to relocate than battery-powered Bluetooth alternatives.
Cables, cables everywhere: You need to plug the power cable and each of the speakers into the subwoofer, and then separately connect the subwoofer to your PC. Depending on how your desk is arranged, that could become messy.
Only available in black: That might seem like a trivial point, but in a world filled with candy-coloured portable speakers, going solely monochrome is a little limiting. Since the speakers will be a permanent feature, you'll want them to match your laptop and other accessories.
Who is it best suited for? What are my other options?
If you regularly watch movies or listen to music at your desk, then Dell's AE415 will provide you with a decent audio experience, without taking up the large amount of space needed by a sound bar. For the price, the speakers offer very acceptable performance.
If your desk space is highly constrained, then headphones are likely to be a better choice (Dell is active in that space, along with many other companies).
The need for connected power means that the AE415 isn't portable. If you want a speaker you can take anywhere, there are dozens of Bluetooth alternatives on the market, though relatively few at this price point.
In your lounge room, you can enhance your movie-viewing experience with a full 5.1 kit or incorporate a sound bar for a more TV-friendly solution.
Where can I get it?
Dell sells the Dell 2.1 Speaker System AE415 directly through its website for $99.