DEEBOT OZMO 610 review: A robot vacuum at a bargain price
A hi-tech robot vacuum at a bargain price? We put the DEEBOT OZMO 610 to the test in a messy family home.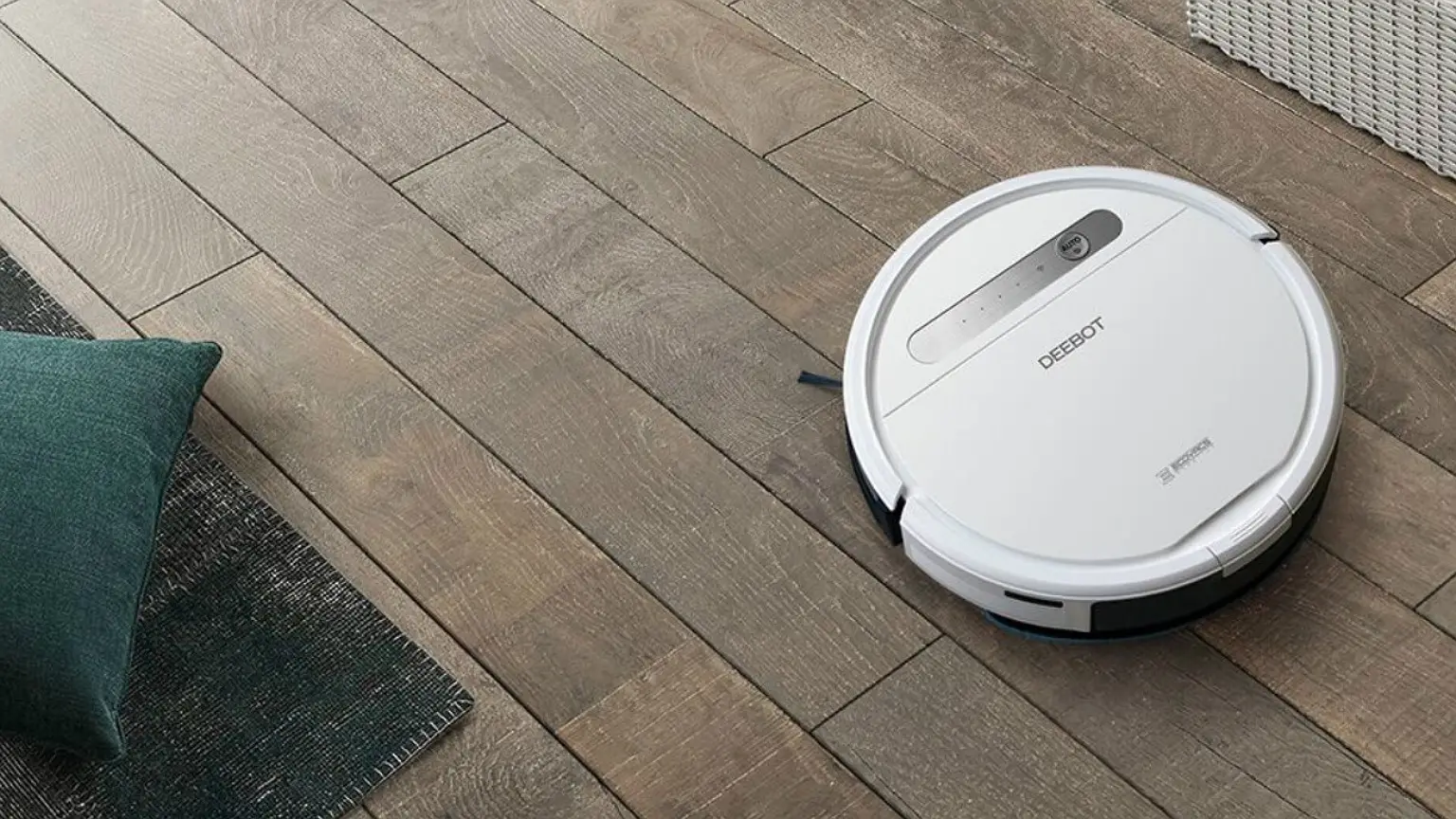 Earlier this year, ALDI offered the DEEBOT OZMO 610 as part of its special buy of the week at the bargain price of $299. This offer saw shoppers queueing up outside ALDI stores around the country hoping to snare one of these models at a basement price. It's been rumoured that in some stores the stock sold out in just eight minutes.
This week ALDI is putting the DEEBOT OZMO 610 on sale again this Wednesday 4 September.
I had the opportunity to put this model through its paces in advance to see if it's worth getting out of bed to queue up early at your local ALDI this Wednesday for a vacuum pet of your own.
The quick verdict
What is it? A robot mop and vacuum
Price. $299 as part of ALDI's special buys
Where to buy. ALDI – Wednesday 4 September
Pros
The price
This model mops as well as vacuums
It's quiet
Good pick up of dirt and debris and can easily fit under beds and couches
Run time of 110 minutes – ample for a small to medium home
Can schedule cleaning remotely via the app
Navigates obstacles and stairs well
Cons
This model doesn't map the layout of your home and struggled with multiple rooms without manual guidance
The app took several goes to get loaded and connected
The provided user manual isn't super clear.
---
Why a robovac?
For a while now I've resisted the robot vacuum trend. Despite a few rave reviews from friends, I was certain that these little machines were overrated and no match for the kind of chaos my household of pets, kids and partner can conjure up when it comes to a mess.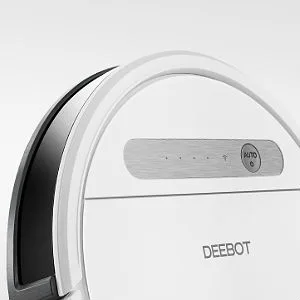 Despite my reservations, I was intrigued to give one a go. After all, some folks seem to become so attached to their robovacs that they give them names. One family I know (who aren't religious at all) have named theirs "Jesus" as "his" arrival was a Christmas miracle. Others got a little clever calling theirs Dustin or Colleen. (Give it a minute, you'll get it.)
Cute names aside, one of the biggest obstacles so far with this friendly household robot has been the price point. Generally, robot vacuum cleaners range in price from very basic models at about $300 right through to $1,400 vacs, which financially is a big investment for what might just be an overhyped dust buster.
Back to top
---
Design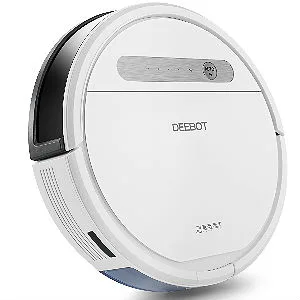 The model is sleek, white and good looking. With a dark coloured, unobtrusive docking station, this nice design is a plus because to get the best use out of the robot vac, you will want it on the floor charging at all time in an accessible location.
The circular shape allows the device to oscillate ,which also means that when the device inevitably touches (or occasionally hits) your furniture, it only contacts it a little bit, rather than head on with full force (which is what would happen if it was a square shape). While this is great for keeping your furniture safe from damage, the trade-off is that the circular shape means it's not particularly great at reaching into corners.
The design means your floors will be kept reasonably dirt-free (and your furniture unharmed), but it won't be a replacement for a manual vacuum when it comes to achieving a thorough clean.
Back to top
---
Performance
In a house with hardwood floors, it was surprising just how much dirt and detritus this unit picked up. The model works back and forwards methodically over the floor space, slowing down when more spot cleaning is required.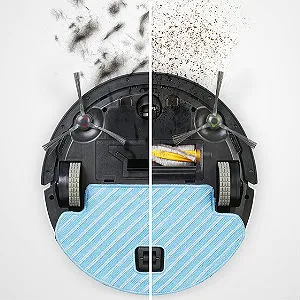 The V shaped brush claims to pick up more dirt and dust, and the unit can be programmed to go from spot cleaning mode, edge mode and max mode for extra dirty floors. Even on what I thought was a reasonably clean floor, it picked up a decent amount of dirt and debris.
The unit is low to the ground, so it can get under most pieces of furniture such as couches and beds, and it handled the dust bunnies, cat hair, hair and even the occasional Barbie doll shoes it found with no problems.
The obstacle sensors are excellent and this machine easily navigated furniture and more random objects (like the cat's water bowl) as well as being smart enough to avoid plummeting down the stairs.
The main attraction in this unit is the mopping mode. As the owner of a home with hardwood floors throughout, I am a reluctant mopper. The DEEBOT OZMO 610 can wet mop the floor without leaving puddles and after a session had removed a nice layer of grime and left the floorboards shining.
The run time is 110 minutes, which was more than ample for the main kitchen, living and dining area of my home, and when it's running out of charge, the unit sends itself back to the docking station to recharge so it's ready for another clean.
The main downside is this model doesn't map or "learn" the area that it cleans (which is a feature of some robot vacuums), which means the cleaning pattern can be a little random. While the DEEBOT worked well in the big open spaces of our home, it did miss some areas entirely while returning to clean some spots that it had already covered. Downstairs where there are multiple rooms off a long hallway, the unit struggled to identify every doorway and enter every room so couldn't be relied on to do a thorough clean of this area of the house.
Specifications: See link
Back to top
---
The verdict
This little robot vacuum is good looking, quiet and once you get the hang of it, pretty easy to use. While it's no replacement for a manual vacuum cleaner or my personal weapon of choice in the messy wars (the Dyson stick vac), this is definitely a great gadget for in-between cleans to keep things looking spick and span.
If you have hard floors and hate mopping as much as I do, then the DEEBOT OZMO 610 will have extra appeal.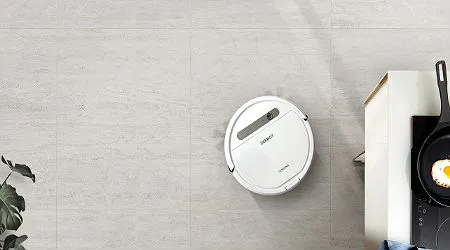 While this particular model doesn't always capture every room or every corner, it does give a decent overall clean. However, in a busy, and messy, household like mine, I'm looking forward to scheduling it to clean our living areas overnight so we can wake up to clean floors in the morning.
Finally, in case you are wondering, even this vacuum now has a name. My kids named him Dobby, after the house-elf from Harry Potter.
Back to top
---
Related Posts