Death Squared review: Highly functioning
Pandemonium in SMG's cubic puzzler.
We're reader-supported and may be paid when you visit links to partner sites. We don't compare all products in the market, but we're working on it!
Sydney indie devs SMG Studios have been getting mobile gamers hooked with their One More puzzle series (the App Store's equivalent of crack cocaine) on iOS and Android, myself included, for years now. So you could imagine my delight (and pending relapse) when the studio's outrageously fun multiplayer puzzler, Death Squared, was announced.
While the PlayStation 4 and Xbox One versions of Death Squared have been out and about since March, the Nintendo Switch version has only just been released. And while I've only played the PlayStation 4 version of Death Squared briefly (at last year's RTX Sydney), Switch's portability makes this version of the party puzzler the best it can be.
Death Squared's set up is a simple one: one to four robot cubes (players) co-operate to solve a series of puzzles in increasingly hazardous environments. While your actions are limited to moving your playable cube around the pitch, things start to get a little complicated with obstacles and OHS nightmares that move when you move and (generally) put your allies in the line of fire.
We use the term allies loosely because no matter how tight your real-life bond is with your fellow cubes, every single one of you will be laying the blame on your incompetent partners after a few rounds of Death Squared.
Though it's not conducive to your team's success, sabotaging your friends (and vice versa) becomes half the fun. Each player gets a rating at the end of the match based on their number of deaths. Which is a hilariously unfair system considering the majority of your deaths will be thanks to your team mate's folly.
Complementing the game's competitive nature is the genuinely hilarious writing in the game. This was one of
Death Squared's
biggest treats for me personally. It's not often you get some hilarious banter to accompany what's otherwise a
fairly
straightforward puzzler (it's not often you get good comedy writing in games at all).
When you die more than a few times, the game will give you a rating ranging from Highly Functioning to Invalid. It's pretty insulting. There's also a narrator David and an AI assistant who not only takes jabs at each other but also the player. You can find some real gems with the game in idle.
Death Squared is a riot that should be compared to recent successes like Overcooked—a chaotic puzzler that's bound to turn any living room into one giant shouting match. With that said, it's not the most difficult puzzler and a lot of elements are recycled to no end (albeit, in some very clever ways). This became even more obvious when playing through the game in single-player. When you're not required to coordinate with another player, the puzzles are a bit of a breeze.
There are a few standout levels later on, no doubt, but for every one head-scratcher, there are another two that you'll glide through with little to no effort. In fact, some more unique puzzles are provided by David and our not-so-friendly AI. Every now and then, they'll throw a curve ball in your directions, like reversed controls, that spice things up.
We reviewed Death Squared on Nintendo Switch with a copy provided by the publisher.
Death Squared Review
7.5 GREAT
VERDICT
Death Squared offers up a long list of puzzles akin to classics like Echochrome and Monument Valley while bringing its own humorous flair. While it attempts to be as challenging as the aforementioned puzzle classics, it never quite reaches the head-scratching heights of those that came before it. Death Squared works better as a party game. An excuse to split the Joy-Cons, crack a few tinnies and blame all your problems on your friends and family. You laugh, you'll cry, you'll fall to the floor in hysterics when you've made the same dumb mistake four times over.
What we liked...
Some comedy gold to be found the deeper you dig
Outrageously fun couch co-op
Super easy to pick up
What we didn't like...
Could do with a more consistent difficulty curve
For more information on how finder scores games, check out our review guidelines.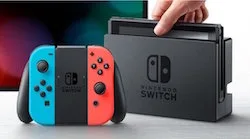 Purchase Nintendo Switch
from eBay Australia
Purchase the Nintendo Switch with grey Joy-Cons or Neon Blue and Red Joy-Cons from eBay today.
View details
More guides on Finder