Date ideas in Sydney: Truffle hunting in NSW | A couple of travel makers
What you need to know for a day out hunting for and eating these delicious morsels.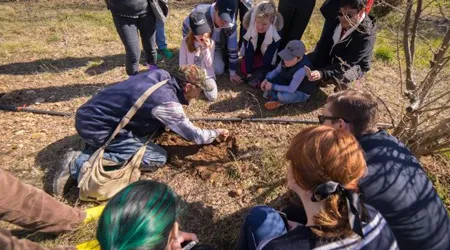 We're reader-supported and may be paid when you visit links to partner sites. We don't compare all products in the market, but we're working on it!
What you need to know for a day out hunting for and eating these delicious morsels.
My husband and I are both massive foodies. So when our housemate brought a giant truffle nugget back from one of his chef adventures and filled the house with its pungent smell, we were quick off the mark to book a day out in NSW in the hopes of scratching up our own gastronomic treasure.
The places to go if you're coming in from Sydney is south-west NSW and the Canberra Region.
The time to go is over winter, from mid-June until early September. That's truffle harvesting season, and it's also when the Canberra Truffle Festival is in town. It's three months of truffle hunting, truffle-inspired menus, truffle-infused beer and truffle market fare.
It's making my mouth water already. Let's get stuck in.
We're Stef and D, a pair of married jetsetters. Together, we've visited over 50 countries, and we're determined to see even more – all while working full time and paying off a mortgage. We count our dollars at home and away and are here to share our tips on how you can travel on a budget.
New blog posts every fortnight on Mondays | Follow us: @acoupleoftravelmakers
Where can I go truffle hunting in NSW and Canberra?
There are more than a handful of truffle hunting tours in the region to put your name down on. These include The Truffle Farm, Tarago Truffles, Turalla Truffles, Macenmist Black Truffles and Wines and Blue Frog Truffle Farm.
Most of the larger truffle farms, such as The Truffle Farm, Blue Frog Truffle Farm, Macenmist and Turalla Truffles offer online bookings. Others, such as Tarago Truffles require you to call or email to save your spot.
All offer some level of hunt only or hunt and brunch/lunch/dinner options. You also have the chance to purchase fresh truffles from the farm on the day.
For our hunt, we did a stock-standard Google search and the stars (read, dates) aligned with Tarago Truffles. It offered a three-hour experience, which included the hunt, a demo in the truffle shed and a light lunch of hot soup and bread with fresh truffle. We were sold.
When should I book?
The short answer is: as early as possible. When we were searching for our hunt, we were met with a lot of "sold out" signs or expensive degustation and hunt options.
This is because each hunt has a strict limit on how many people can attend and hunts generally only happen on select days. Hunts are also limited to the season, which is at its peak from mid-June until the end of August.
We were almost ready to abandon ship but found Tarago Truffles and shot them an email with our date request. It was denied a day later. However, included in the email were alternate hunting dates. We quickly replied, requesting to book one of them and were immediately accepted.
So if you feel as though all hope is gone, I suggest contacting the farm direct to see if they can help.
What should I wear on a truffle hunt?
The season is winter, and being Canberra, you should be rugging up for this one. Bring a jacket, wear full-length pants and wear sturdy flat shoes. You're walking on a farm where there may be hilly inclines, so you don't want to find yourself awkwardly bumbling about.
Other than that, wear clean clothes as you don't want to contaminate the area (more below).
What happens on a truffle hunt?
Here's where the fun begins. After a mini road trip from home to the farm, you'll check into your hunt and be walked to the entrance of the fenced-off truffle area along with the truffle farmer and their trusted truffle-hunting dog.
Yes, that's right, dog. Unlike popular convention, most farms use the keen senses of dogs instead of pigs these days as it was found pigs had a tendency to eat the truffles they found. Man's best friend has a lot more self-control.
At the entrance of the truffle area, you'll be asked to clean your shoes by stepping on a wet disinfectant mat. This is to draw out any nasties that might be attached to the bottom of your shoes that could be introduced to the farm and contaminate the truffles.
The dog is trained to do this as well, which is absolutely adorable.
Inside is where the hunt begins with the farmer following the dog up and down the rows of trees as it sniffs away. When it catches a whiff of potential truffle goodness, the farmer goes in, putting his or her own nose to the ground in search of that distinct truffle smell before carefully digging archaeological style around so as not to break the precious thing.
It's a slow and delicate process that left many of us waiting with bated breath every time.
Unfortunately, there were a lot of false positives on the day. We did manage to find one truffle, but the farmer deemed it to be bad and threw it back into the dirt for it to decompose.
After the hunt, you'll head back with the spoils of your efforts (if any) and visit the truffle shed. If you're as unlucky as we were, this is your chance to come face to face with the farm's truffle finds of the season. If you want to take any home, you can pick your nugget, which is then weighed and sold by the gram.
Most hunts offer a light dish to let you savour a sampling of truffle as well. Ours was a soup with bread, both sprinkled with the good stuff.
3 of our favourite things to do in Canberra/country NSW once your truffle hunt is over
Continue the celebrations by tucking into a truffle-themed meal. Black truffle is all the rage in Canberra during winter with restaurants in the region turning over their menus to hero the good stuff. Check out the players in this game on the Canberra Truffle Festival page.
Swing by a local winery. If you're driving in from Sydney, you'll pass a few signs beckoning you in for a swill. Stretch the date out with a tasting at one that piques your interest.
Be a tourist in Canberra. More than a school excursion destination, Canberra offers quality cafes, hiking trails and museums. Hands-down, our favourite is Questacon because who doesn't want to be a kid again? Other top attractions include the National Zoo and Aquarium, Australian National Botanic Gardens and Lake Burley Griffin.
Truffle hunting experiences in Australia you can book online
For more ideas on what to do in Canberra, visit our Canberra travel guide.
More guides on Finder