D-Link COVR-C1203 review: D-Link's cheaper mesh solution
The D-Link COVR-C1203 can't compete with premium mesh networking solutions, but at the asking price it delivers a decent speed boost to your home Wi-Fi.
Quick Verdict
The D-Link COVR-C1203 doesn't quite live up to its speed claims. It's not even the fastest COVR product D-Link produces. However, for the asking price, it delivers a decent if not stunning boost to your home's Wi-Fi, and that may be enough for your needs.
The good
Easy set-up.
Interesting design.
Dual gigabit ethernet ports.
The bad
Dual-band rather than tri-band.
Slow set-up of new nodes.
Faster mesh solutions are available.
---
We've grown so accustomed to having Wi-Fi everywhere that when it doesn't work, it's intensely frustrating. It's a total first-world problem, of course, because Wi-Fi isn't one of life's absolute necessities in the way that clean water or food is, but it still ranks highly in the list of modern life's annoyances.
D-Link launched its take on a mesh networking set-up at this year's CES, with the tri-band COVR-2022 and dual-band COVR-1203 systems set to take on established names such as Linksys' Velop, Netgear's Orbi or Google's Google Wi-Fi products. Here in Australia, D-Link is only releasing the lower-end COVR-C1203 to the market. It's a lower-cost mesh networking kit, which is always welcome, though with that lower price comes some compromises.
D-Link COVR-C1203 : Design
I certainly can't fault D-Link's designers for coming up with a system that looks almost nothing like typical networking equipment. The D-Link COVR-1203 system comprises three nodes in the standard pack, all of which look like tiny spaceships. Or maybe they're digital incense burners?
Either way, these colourful little pucks are easy to hide around your home, and they're not so brutal to the eye that you'd automatically want to. You're even provided with optional gold and blue covers for two of the nodes so you can more easily tell them apart. It's pretty rare that networking manufacturers pay attention to aesthetic details like this, and it's a very welcome inclusion.
The one catch here is that when they're in operation, the top of each COVR node emits a bright white light. You can switch that off from the web interface, but not from the app itself, which is a strange limitation. At worst, you could always cover it with a box to avoid disturbing your sleep patterns.
Back to top
D-Link COVR-C1203: Installation
As with competing mesh networks, the optimal way to set up the D-Link COVR-C1203 is with D-Link's own wireless app, although you can also configure from a web interface if you prefer a more hands-on solution.
D-Link's D-Link Wi-Fi app for iOS or Android devices walks you quite simply through the installation process. One of the nodes is set to be the primary "A" node, and it's wise to keep the sticker on that node for future reference.
Installation involves plugging that "A" node into your modem-router and initialising it through the D-Link Wi-Fi app. The app warns you that the full synchronisation process will typically take around 3 minutes, and it's not lying. While the nodes in the box are meant to be pre-configured and paired with each other for quick set-up, this certainly wasn't the case in my tests. It's not too onerous a process to add what the D-Link COVR-C1203 thinks are new nodes, but it is rather slow to fully synchronise.
You also don't get much feedback beyond the single light on the top of each node, which flashes orange when it's out of sync with the other nodes. It will flash white when it's connected poorly or stay fully lit when properly connected. But getting through those stages does take some time even if you're just switching nodes around different power points.
Back to top
D-Link COVR-C1203: Performance
Testing any kind of wireless booster always brings with it certain assumptions, because the reasons for poor wireless coverage can be extensive, and no two test environments will be the same. Your environment might be blanketed with dozens of competing networks, or you may have physical barriers such as certain wall or wiring configurations that also act to block or limit wireless signals. You might just have a huge property that you're trying to cover with Wi-Fi, so distance is your enemy.
As such, any testing is comparative rather than absolute, because you may find that the D-Link COVR-C1203 provides more or less than in our findings. For the purposes of testing, I used my home and home office, because I'm very well aware of its particular limitations. To be specific, my home office sits at one end of my home in an extension to the original property which means that there's a barrier external wall clad away in the middle, acting as a very effective block to wireless signals. This gives me a good "extreme" test scenario, as well as being able to test elsewhere where Wi-Fi signals can extend more easily.
For comparative purposes, I first tested with macOS' inbuilt Wireless Diagnostics to get a baseline RSSI (received signal strength indicator) result for the COVR system from points next to my router, one room away, and finally in the far home office location. It's the same test I recently ran for the Telstra Smart Wi-Fi Booster, which meant I already had comparative figures for it, the Telstra Gateway Frontier and Linksys' Velop router in the exact same environment.
The key here is seeing how well the COVR-C1203 manages radio signal boosting over a wide area, with one COVR point in each area. The close and mid-range points both gave a steady white light, indicating decent signal, but the far node flashed white, indicating it had issues getting a significant connection. D-Link's solution to this is the same as any other mesh provider, namely to move the node closer to the primary access point, but in my case, this wasn't practical. Naturally, your situation may vary.
Here's how the D-Link COVR-C1203 compares for RSSI readings:
So far, so good for the D-Link COVR-C1203, because those figures do indicate that you should be able to see its network from long range.
The other part of the equation is in being able to actually do something meaningful with that signal strength, and to test that, I ran finder's broadband speed test to gauge likely throughput.
Broadband quality can vary for a wide variety of reasons, so again this is more to give an indication of likely quality, not a hard and fast number that you automatically will see.
Here's how the D-Link COVR-C1203 compared:
The D-Link COVR-C1203 seemed to be neck and neck with the much pricier Linksys Velop for radio signal strength, so what happened there?
The answer almost certainly lies in the fact that the D-Link COVR-C1203 is a dual-band mesh network product where the Linksys (and D-Link's own COVR-C2022) are tri-band, with one extra 5GHz network dedicated purely to data backhaul. The D-Link COVR-C1203 lacks that third network, and it shows in the overall performance of the system, which dips lower as a result.
That's not to say that the D-Link COVR-C1203 doesn't actually work. Compared to using nothing at all, where the network could be seen but no online activity was possible, the D-Link COVR-C1203 did allow network packets to flow, albeit not at full pace.
One way that you can boost the D-Link COVR-C1203's performance is via ethernet, with two gigabit ports on each node, making it easy to either share a wired connection if you're in a cabled environment, or more simply and directly share out to ethernet-only devices.
Back to top
D-Link COVR-C1203: Verdict
D-Link doesn't hide the fact that the D-Link COVR-C1203 is only a dual-band mesh product, and that's reflected in its asking price. It's substantially cheaper than full tri-band mesh networking systems, and that may be its saving grace, because while it's slower than a full mesh product, it does work at extending your Wi-Fi network, which is what you'd want out of it.
If both your needs and budget are modest, the D-Link COVR-C1203 should suffice, but if you need even more speed and you can stump up a little more cash, there are faster alternatives.
Back to top
D-Link COVR-C1203: Pricing and availability
The D-Link COVR-C1203 retails in Australia for $449.95 outright.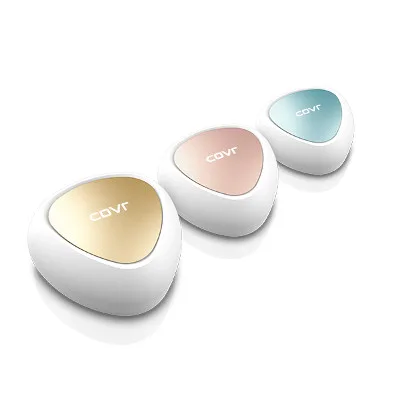 D-Link COVR-C1203
from Amazon
The D-Link COVR-1203 is an affordable mesh networking solution designed to provide fast and seamless Wi-Fi access around your home.
View details
D-Link COVR-C1203: Alternatives
If you've only got light Wi-Fi issues, it may simply be that you need a new modem-router. We've compared 26 different NBN-ready modem-routers here for your convenience.
If you're a Telstra customer, the recently tested Telstra Smart Wi-Fi Booster might be a good alternative at a lower cost than the D-Link COVR-C1203, although that's only supplied as a pair of boosters, which could impact overall signal performance.
If you need more bandwidth than the D-Link COVR-C1203 can provide, you could consider Linksys' Velop or Netgear's Orbi products, both of which offer tri-band mesh networking. D-Link does have a COVR product in this category, the D-Link COVR-C2022, but there's no sign of an Australian release for that model just yet.
Specifications
Product Name

D-Link COVR-C1203
2.4GHz Connectivity

802.11 ac/n/g/a
5GHz speeds

Up to 866Mbps
Ethernet connectivity

2xGigabit
Number of nodes

3
Price

$449.95
Back to top
---
Follow us for all the latest mobile phone news and deals
---