D-Link COVR-2202 review: Three heads are better than two
The D-Link COVR-2202 brings improved 5GHz backhaul over its simpler COVR-C1203 system, but it still lags behind other mesh networking solutions.
Quick Verdict
D-Link's addition of 5GHz backhaul to its COVR mesh wireless networking system should deliver better results, but our testing suggests you'd need to invest in more than just the base two connection points if your wireless connectivity isn't up to snuff.
The good
Attractive tower design
Simple set-up
Dual gigabit Ethernet ports.
The bad
Having only two connection points limits mesh viability
Speeds sadly don't live up to the hype at the extremes
Faster mesh solutions are available
---
While many Australians are enjoying faster Internet access on the NBN (although this is far from universal, sadly), we're often stymied by the quality of the broadband we're able to send around our own homes and offices. We've tested plenty of NBN-ready modem-routers, including most of the popular models supplied by Internet service providers (ISPs) as part of your NBN contract, but many of them assume that you're living in a very small apartment with minimal interference, whether that's from competing networks or the simple architecture of your home.
Here's the problem. Australians like larger houses, often build extensions and, like the rest of the planet, rather like having the Internet everywhere, not just right next to wherever their ISP has placed their modem.
We've seen a number of solutions to the problem of extending wireless range over the years, from range extenders through to power line products that route your broadband through your existing electrical wiring. Those have their place, but in 2018, the current best solution for high-quality wireless sharing is with a mesh solution, such as D-Link's COVR-2202.
D-Link launched its take on a mesh networking set-up at this year's CES, with the tri-band COVR-2022 and the dual-band COVR-1203 systems set to take on established names such as Linksys's Velop, Netgear's Orbi or Google's Google Wi-Fi products. Here in Australia, D-Link released the lower-end COVR-C1203 to the market first, with the higher-priced (but theoretically more powerful) COVR-2022 only coming onto the local market recently.
D-Link COVR-C1203: Design
Attractive tower design
Includes dual gigabit Ethernet
Where the D-Link COVR-C1203 used three small hockey puck style devices to share your wireless around, the D-Link COVR-2202 instead provides two rather attractive tower devices. Like the cheaper COVR solution, one of these will be the "A" node, which you need to install near your existing modem or modem-router, while you can place the secondary node wherever you need to extend wireless performance to. More on that shortly.
Having written through the period where modem-routers and networking equipment were designed by engineers with a passion for blinking lights and little else, it's nice to see network manufacturers providing gear that wouldn't embarrass you to have on display. The COVR nodes do have bright logo lights on the front which could be aesthetically problematic, although there's nothing stopping you from turning the lit section towards a wall if it truly offends.
While they're not immediately apparent, each node has two gigabit Ethernet ports for cabled connections. One of these on the A node will need to be sacrificed for actual Internet connectivity, but that does leave the rest for hooking up older equipment or anything where you absolutely must minimise lag.
Back to top
D-Link COVR-2202: Installation
Easy app-based set-up
Google Assistant and Alexa compatible
As is the case for the existing COVR-C1203, the easiest way to set up the D-Link COVR-2202 is with D-Link's own wireless app, although you can also configure it from a web interface if you prefer a more hands-on solution.
D-Link's D-Link Wi-Fi app for iOS or Android devices walks you through the installation process. One of the nodes is set to be the primary "A" node, and it's wise to keep the sticker on that node for future reference.
You're given a QR code for the app to scan, and from there it's a very simple matter of following the onscreen instructions, setting up the primary node and then the secondary nodes as needed. Those with more networking chops may prefer a web-based interface, but for the mass public that just wants that sweet, sweet broadband to flow, it's a very attractive proposition, especially as both Google Assistant and Amazon Alexa are supported for voice-based network configuration.
Back to top
D-Link COVR-2202: Performance
There are two big differences between the D-Link COVR-C1203 and the more expensive D-Link COVR-2202. First, the C1203 provides three connection nodes in the box to the 2202's two, which makes set up simpler, but at a potential cost of mesh coverage. You should be able to hook up additional COVR-2202 nodes to a system, but that will of course come at additional cost.
The other big technical detail is that the D-Link COVR-2202 is a proper tri-band solution, with a 2.4GHz channel and two 5GHz channels to broadcast across. The secondary 5GHz channel is used exclusively for backhaul management in the same way that competing solutions from the likes of Linksys work, and that should give the D-Link COVR-2202 potential for significant performance improvements.
Testing any kind of wireless networking equipment is always a challenging proposition. The reasons for poor wireless coverage can be extensive, and no two test environments will be the same.
Where you're struggling with wireless networking may be because of dozens of competing networks eating up the available airspace. You may have physical barriers such as certain wall or wiring configurations that also block or limit wireless signals. You simply could have an extensive property that you're trying to cover with Wi-Fi, so distance is your enemy.
Any testing is comparative rather than absolute because you may find that the D-Link COVR-2202 works better (or worse) than in our tests.
For the purposes of testing, I've once again used my home and home office because I'm well aware of their particular limitations.
My home office sits at one end of my home in an extension to the original property. That means that there's an external wall in the middle, acting as a very effective block to wireless signals. This gives me a good "extreme" test scenario as well as being able to test elsewhere where Wi-Fi signals can extend more easily.
For comparative purposes, I first tested with macOS's inbuilt Wireless Diagnostics to get a baseline RSSI (received signal strength indicator) result for the COVR-2202 system from points next to my router, one room away and in the home office.
It's the same test I've run for other networking products, including the Telstra Smart Wi-Fi Booster, which means I already had comparative figures for it, the Telstra Gateway Frontier and the Linksys Velop mesh router.
However, the COVR-2202 presented a slightly different challenge to the COVR-C1203 because of the inclusion of only two nodes, where the C1203 provides three. This meant I had one node set up near a Telstra HFC broadband connection, while the other sat in my home office with no "mid-point" node to speak of. That's the configuration I'd use as a consumer, but it's not the same as with the COVR-C1203, or for that matter Linksys's competing Velop router, both of which come with three nodes in the box.
What you want here is for relatively stable RSSI readings because that will indicate good radio signal sharing between the nodes, and with it good blanket Wi-Fi coverage.
Here's how the D-Link COVR-C1203 compares for RSSI readings:
The D-Link COVR-2202 compares favourably against the Linksys at close range, but it does tail off in more extreme conditions. Again, having a third node to share the balancing might have made a big difference here. Still, I had no problems seeing the D-Link COVR-2202's network even at the extremes. But was the signal actually any good for meaningful Internet use?
In order to test that, I ran finder's broadband speed test to gauge likely throughput.
Broadband quality can vary for a wide variety of reasons, so again this is more to give an indication of likely quality, not a hard and fast number that you automatically will see.
Here's how the D-Link COVR-C2203 compared:
This is where the D-Link COVR-2202 ran into problems. At close and mid-range positions, there was no problem, and it was functionally identical to the pricier Linksys. However, in my home office, which was the furthest distance away, it was a very different story indeed. The COVR-2202 delivered results that were slightly
worse
than the cheaper COVR-C1203, despite the presence of that tertiary backhaul channel.
That's almost certainly a balancing question of lacking that third point to punch through more data against a solid and Wi-Fi defying wall. Your own circumstances may vary and its performance with it, but in a known bad coverage situation, which is exactly what anyone buys a mesh network system to overcome, the D-Link COVR-2202 fell far short of expectations.
Back to top
D-Link COVR-2202: Verdict
Where the COVR-C1203 comes in at a lower price point than most mesh solutions and can be more easily forgiven for lacklustre performance, the D-Link COVR-2202 has no such excuses. It does work, and it will boost your wireless signal over and above the likely performance of your ISP-provided router.
However, you're not getting the kind of best-in-class performance you should expect out of a tri-band mesh networking router. For that, our recommendation, despite the price hike, remains the Linksys Velop.
Back to top
D-Link COVR-C1203: Pricing and availability
The D-Link COVR-C1203 retails in Australia for $499.95 outright.
D-Link COVR-C1203: Alternatives
If you've only got light Wi-Fi issues, it may simply be that you need a new modem-router. We've compared 26 different NBN-ready modem-routers here for your convenience.
If you like D-Link's approach, consider the D-Link COVR-C1203. It's now even cheaper in Australia, and in our tests delivered very similar performance to the COVR-2202.
If you're a Telstra customer, the Telstra Smart Wi-Fi Booster might be a good alternative at a lower cost than the D-Link COVR-C1203, although that's only supplied as a pair of boosters, which could impact overall signal performance.
If you need more bandwidth than the D-Link COVR-C1203 can provide, you could consider Linksys's Velop or Netgear's Orbi products, both of which offer tri-band mesh networking.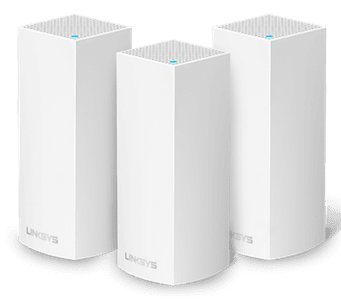 Buy Linksys Velop Whole Home Wi-Fi System
from Amazon
Super simple setup and exceptional wireless performance can be yours with the Linksys Velop Mesh router system.
View details
Specifications
Product Name

D-Link COVR-C2203
2.4GHz Connectivity

802.11 ac/n/g/a
5GHz speeds

Up to 866Mbps
Ethernet connectivity

2xGigabit
Number of nodes

2
Price

$499.95
Back to top
---
---