The Cyber Monday sales are now in full swing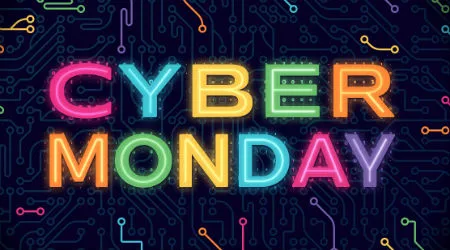 If you didn't get to shop last week's sales, you still have time to grab yourself a massive bargain from a range of big name retailers.
Whether you missed the enormous Black Friday sales event on Friday or just aren't quite shopped out yet, we have some good news. The Cyber Monday sales are officially underway, which means that there are plenty more bargains to be had.
Black Friday was originally an event for brick and mortar retailers, while Cyber Monday began as an opportunity for online stores to get involved in a mega shopping day of their own. According to Australia Post though, almost three quarters of all Australian households are now shopping online, which means that both sales events are now able to be shopped online, resulting in a four-day affair known as Cyber Weekend.
This means that a huge number of big name retailers that took part in last week's sales continued their deals over the weekend and have rolled them into today as well. Just some of the stores still offering huge bargains include eBay, Amazon, David Jones, The Good Guys and Myer.
Most of the sales will officially wrap up at midnight tonight, so you're going to have to get in quick if you want to snag yourself a bargain. Cyber Monday is also the last major shopping event before Christmas, making it the perfect opportunity to cross a few things off your Christmas gift list.
Click through to see a list of extended Black Friday sales or check out all the deals exclusive to Cyber Monday on the Cyber Monday sale page.
---
Black Friday is a 24-hour shopping event, which was held this year on 29 November. The massive sales event is closely followed by Cyber Monday, which falls on 2 December and sees even more bargains offered by a huge number of online stores.
---
Latest Black Friday 2019 deals and news
Main image: Getty