Cuphead review: Is Cuphead all it's cracked up to be?
This near-porcelain perfect action game has only a few chips.
We're reader-supported and may be paid when you visit links to partner sites. We don't compare all products in the market, but we're working on it!
Cuphead is a nightmare. For myself personally, that's quite literal. Late nights grinding away at some of Cuphead's more difficult bosses left me rattled to the point I was seeing these bouts in my dreams. Repetitive stress dreams, where I convinced myself I had figured out some kind of method to the madness. Only to wake and find the solution was all in my head. I would pick up the controller and go through the same nine circles of Hell with Cuphead, no better or worse than I was before I wrapped up the evening prior.
Despite the cruel and unforgiving hand it deals you, I managed to crack Cuphead quickly. But I wouldn't credit that to any kind of proficiency for platforming, or a preference for pain-dealing action games. With four days in the game and now two days to ruminate, I'm still convinced that Cuphead is, although lovingly crafted, too random for its own good.
But first, let's discuss the colossal feat that is Cuphead's development. Solely created by a three-person team (Studio MDHR), Cuphead is quite the sight to behold. Its old-timey cartoon style isn't just visually stunning, it's also a testament to the team's commitment. Each boss encounter consists of roughly 1,500 hand-drawn frames, each spliced together to give the player a sumptuous view while they're getting their mugs walloped.
The game has been in development since 2011 and by normal standards, that's a pretty hefty dev cycle. But for this small team (who repeatedly changed up their goals throughout development), six years is a triumph.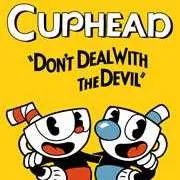 Purchase Cuphead for Xbox One
from Microsoft Store
Play this cartoon game as Cuphead or Mugman and acquire new weapons, learn powerful super moves, and discover hidden secrets, today!
View details
Cuphead tries to capture the nostalgia of old-timey cartoons like Steamboat Willie while in the same stroke invoking a difficulty in games long forgotten. To confront the game's many wily bosses (each with their own debt to the game's main villain), Cuphead and Mugman use a small cache of tried and true weapons and special abilities.
While there are a six weapons to unlock and a few more supers and abilities, my loadout was consistently peashooter for primary (standard rapid-fire attack), lobber (grenade-like arched projectile) for secondary, the smoke bomb charm (invulnerable while dashing) and the only super worth its weight is the energy beam, a powerful offensive attack that makes you invulnerable for its duration. Toying with different weapons if you're struggling to get by is never a bad idea, but I found little use for the weapons and abilities outside of the collection I listed above.
There are two types of levels in Cuphead, Run 'n gun platformer levels and the main attraction, boss fights. The former was never a part of the original game plan for Cuphead but somewhere down the line, Studio MDHR was pressured by its audience and publishers to add them in and it shows. They're without a doubt the weakest part of the game and each instance just has you itching to get back into the big, theatrical brawls. Thankfully Studio MDHR nails these brutish bouts.
Each boss cycles through a series of attacks, which come at you in a random sequence, and a new phase, which is triggered once you've dealt enough blows. The hand-crafted boss fights are a visual smorgasbord. Wherever you look on the screen, there's some kind of moving part that's been lovingly handcrafted to fit within that bosses theme, whether it's a nautically-charged battle with Medusa, or a high-flying dogfight with a dastardly genie, every attack and tiny detail echoes the bosses motif. It's overwhelmingly beautiful and a truly commendable feat.
The only issue is, you're so caught up in narrowly avoiding death at every turn that taking a moment to take in the scenery will almost certainly result in an instant hit to your health points. But that was half the fun and when battles take a turn like this, you've only got yourself to blame. However, there are other random factors that don't feel as fair and in a game that's already asking so much of you, cheap deaths can be twice as infuriating.
There are moments in Cuphead where its random of sequence of attacks overlap, creating an inescapable barrage of projectiles. In one boss fight, an enemy would come running in from the side of the screen, attacking you if you're slow to jump or attack. Easy enough on its own. However, when this attack triggered at the same time as another move, an unstoppable serpentine attack that forced you to one side of the screen, the new move would effectively create a shield for the incoming enemy, meaning you couldn't land a shot until it was already too late.
This wasn't the only instance, but the most common example of this I found was when projectiles from a previous attack (flying swords etc.) would pop randomly in from the sides during another attack (that often required you to stick to the edges of the screen). In the case of the aforementioned Genie battle, I had played through at least 10 times before these random attacks started to hunt me. By that stage, I should have known everything the boss had to throw at me but the unsystematic nature of the boss's attacks left me feeling cheated when I'd already slogged away at the boss more times than I'd like to admit.
Granted, the unpredictable nature of Cuphead keeps you on the edge of your seat, white-knuckled grip on your Xbox One X controller, fearful of what could sneak up unexpectedly. Though, there are fairer ways to incite this feeling.
These moments drove me a little batty playing through Cuphead because if nothing else, a game should never feel unfair. However, everything else about this future timeless classic is an absolute joy. From the painstakingly crafted animations to its stellar 1930s-inspired soundtrack (I really wish I had more space on the page to talk about this), to its frantic, fun and sometimes a little unfair level design, Cuphead is a mugful of sunshine. Just expect to go through some dark times before the credits roll.
We reviewed Cuphead on Xbox One with a copy provided by the publisher.
Cuphead
8.0 EXCEPTIONAL
What we liked...
The Max Fleischer-inspired art and the painstaking process behind it will go down in history as one video game's greatest success stories
The Vaudevillean soundtrack will have you tapping your toes (and throwing your controller)
When the level isn't stooging you, Cuphead's shooting and platforming is an absolute pleasure to master
What we didn't like...
Inescapable deaths caused by randomly sequenced attacks
Run n' gun ain't no fun
VERDICT
Cuphead is an amazing feat in video game development and it could be damn near-perfect if it was a little kinder with its signposting. Regardless, it's truly exceptional artstyle and bopping soundtrack will make it a timeless classic that will be remembered for many years to come.
For more information on how finder scores games, check our review guidelines.
---
More guides on Finder