5 of the best cruises for couples young and old
The most romantic cruise lines to set sail with into the sunset.
With the wide open ocean in sight, the sea breeze blowing through your hair and an exquisite state room booked, cruises are the epitome of romance.
And let's not forget the other perks. On a cruise you can laze about in your swimwear all day, you won't be bothered by family or friends during date-night and with your package paid for, you don't have to worry about blowing the budget on unexpected purchases.
Whether you're celebrating a special occasion, spoiling your other half or you just want a remote escape where you can stare dreamily into each other's eyes, there's a cruise for you.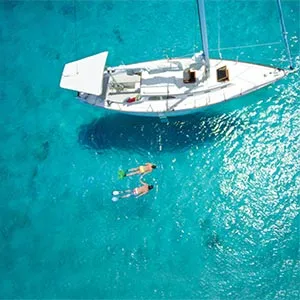 1. Celebrity Cruises via CruiseAway

Dive into a cruise holiday fit for the celebrity that you are with this line.
The Celebrity Cruise fleet incorporates modern design with high quality pampering and dining experiences to deliver elegance and luxury throughout your journey.
Ideal for: Couples in their 20s and 30s
Most romantic cabins: AquaClass, where you'll get priority seating at specialty restaurants and spa perks
Special touches: CelebrityLife activities like cooking and dance classes, unique onshore excursions, wine workshops, professional photography and celebration packages
Go to Celebrity Cruises via CruiseAway website View coupon codes for Celebrity Cruises via CruiseAway
---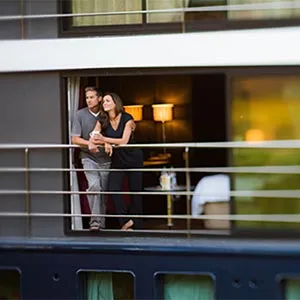 2. Avalon Waterways via CruiseAway

Get up close and personal with your surroundings without the cruise ship crowds with an intimate Avalon river cruise.
If you're on a long holiday through Europe, Asia, South America of Africa, Avalon river cruises can provide an indulgent break away from the big cities and tourists. Book one of its Suite Ships for extra comfort and panoramic views from your suite.
Ideal for: Couples in their 40s and 50+
Most romantic cabins: Choose a suite, as beds face the window
Special touches: Breakfast in bed, private cocktail functions, celebration packages and flower delivery
Go to Avalon Waterways via CruiseAway website View coupon codes for Avalon Waterways via CruiseAway
---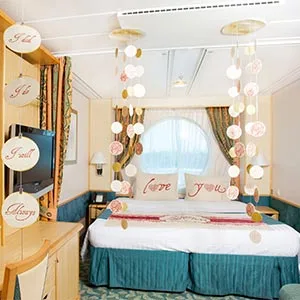 3. Royal Caribbean via CruiseAway

With more than 260 romantic destinations to sail to, you and your other half will be lazing on a tropical beach with a cocktail in hand in next to no time with Royal Caribbean.
This cruise line understands that not all couples want to remain poolside for their entire trip. It offers a number of adventurous and relaxing activities including rock climbing, onshore excursions, private FlowRider surfing lessons and a couples massage
Ideal for: Couples in their 30s, 40s and 50+
Most romantic cabins: Balcony suites and oceanview rooms
Special touches: Onboard deliveries of roses and wine, decorated room upon request, breakfast in bed, anniversary packages and onboard weddings
Go to Royal Caribbean via CruiseAway website View coupon codes for Royal Caribbean via CruiseAway
---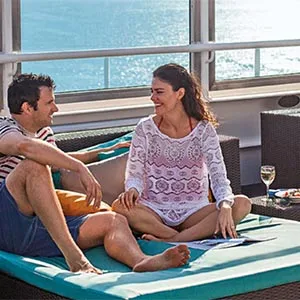 4. Carnival Cruises via CruiseAway

Couples celebrating can take advantage of Carnival Cruises' special occasions packages which include wedding and vow renewals onboard.
Even if you're.not on your honeymoon, don't worry. Carnival can still provide that picture-perfect romantic itinerary complete with door decorations, flowers, gifts and specialty cakes.
Ideal for: Couples in their 20s and 30s
Most romantic cabins: Balcony state rooms for the view or suites for the VIP check-in service
Special touches: Serenity adults-only retreat, Spa Carnival
Go to Carnival Cruises via CruiseAway website View coupon codes for Carnival Cruises via CruiseAway
---
Top deals for cruising couples
It looks like we don't have any coupons at the moment. Take a look at our most recent deals
---
Feature image: Avalon Cruises
Related Posts
Top Cruise Posts