Retail Rewards Credit Cards Comparison
Earn rewards for your everyday spending and enjoy more shopping perks with a retail reward credit card.
We're committed to our readers and editorial independence. We don't compare all products in the market and may receive compensation when we refer you to our partners, but this does not influence our opinions or reviews. Learn more about Finder.
Retail reward credit cards are designed to offer you points and other benefits for shopping with select retailers, supermarkets and petrol stations. Depending on the card you choose, you could earn a higher rate of points per $1 spent with retail partners, redeem points instantly in-store or enjoy other perks such as free shipping for online orders and exclusive events.
Use this guide to compare retail reward credit cards and learn more about them so that you can decide if one of these cards is right for you.
Comparison of retail rewards credit cards
How do retail rewards credit cards works?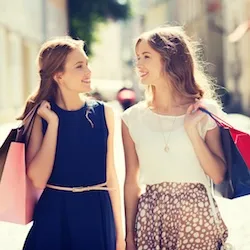 These credit cards are similar to other reward options, earning you points per $1 spent on eligible purchases. Usually, a retail reward card will also offer specific benefits when you spend with partners. These could include:
Points per $1 spent. You may earn a higher rate of points per $1 spent with partner retailers. For example, the David Jones American Express Platinum offers 4 points per $1 spent at David Jones, 3 points per $1 at major petrol stations and supermarkets and 1 point per $1 spent on most other eligible purchases.
Instant reward redemptions. Some retail credit cards let you use your points to pay for purchases with retail partners. For example, if you have a Coles credit card, you can use it as your Flybuys rewards card. This means you'll be able to redeem your points for Flybuys dollars and get cash off your shopping at Coles or other participating Flybuys partner stores.
Shopping offers and discounts. Your retail reward credit card may unlock exclusive discounts such as free delivery for online purchases, monthly discounts when you pay with your card, complimentary gift wrapping or exclusive sales.
What should I expect from a retail rewards credit card?
Encouragement to spend in-store. You will have the opportunity to earn points no matter where you spend on your credit card, but your redemption of points can be restricted to the store whose name is on the credit card. This is true for the cards mentioned above, although the David Jones card does also have an option on travel rewards with Qantas and other airlines. Thus, your main focus when you compare retail rewards credit cards should be on whether the store offers you the kind of products you would like to take home with you, because that's the store where you'll be spending your rewards.
To earn more points for loyalty to the brand. The number of points you earn per dollar will depend upon where you make your purchases. You should earn more points for shopping in-store than at other locations.
Short-term offers and discounts. These should come your way at regular intervals, so that you can earn more points for a limited period, or perhaps by purchasing certain items. You can also reasonably expect that discounts are applied to selected products in-store that are purchased with your affiliated credit card. In this respect, a retail rewards credit card can operate very much like a store card.
What should I look for in a retail rewards credit card?
A good points-to-rewards ratio. When shopping around for a retail rewards credit card, it is important to look into how many points are needed to purchase items that you desire. Rewards points aren't created equal, so it is worth making a comparison of the rewards value of competing cards.
The purchase interest rate. Invariably, the purchase interest rate will be higher on a rewards credit card than any low rate credit card counterpart. Rewards cards are usually only financially rewarding for consumers who pay their balance in full each month.
Cap and expiry. A cap on your points means you will not be able to earn more than a certain amount in any year. This punishes you if you are a high spender. Similarly, an expiry date on your points penalises the low spenders who may have to exchange their points for a lesser reward. Worse, if you forget that your points are about to expire, they may end up disappearing for ever. Some cards have neither of these conditions, but it is worth checking. You've been warned.
Annual fees. Whilst an annual fee for the credit card itself is pretty standard for a rewards credit card, you should be wary that a fee can also be charged to be a member of the rewards scheme.
Interest-free days. Interest free days gives credit card users a chance to balance their balance before interest is applied. However, please be aware that there are no interest free days if you carry a balance from the previous month.
Is a retail rewards credit card for me?
That depends on whether you want to be tied to a certain retailer for your rewards. If not, then you should be looking at a more general rewards scheme that offers a wider range of redemption options. If you know your credit rating is not so hot, you may want to think twice about even making an application. These cards require a sound credit rating, and every application you make will be logged in your history, whether successful or not.
How to use a retail rewards credit card
Action you should take with your retail rewards credit card
Shift some regular bills and purchases to your card. You will be spending hundreds or even thousands of dollars each month that earn you nothing back. Anything you use cash, a debit card, or a direct debit to pay for could potentially be moved to your credit card to earn points. This action is, however, fraught with danger if you do not set aside the cash you would have used. This will be needed to cover your credit card debt at the end of the month.
Actions you should avoid with your retail rewards credit card
Spending just to earn points. Justifying an unnecessary purchase on the basis that you have earned some points is poor thinking. Not only could you end up with a purchase of little value, but you may take your balance into an area that you cannot pay off in full.
Losing track of your spending. If you have any doubts about your ability to manage a larger credit card bill, or to balance any sudden large shift from cash to plastic, then putting your everyday bills onto your retail rewards credit card would be very unwise. Your balance needs to be paid off in full each month for your points to be of some benefit. If you end up paying interest, you have lost the game.
Making cash transactions. These include cash withdrawals from ATMs, cashback at a cash register, traveler's cheques and foreign currency, and gambling transactions. These will not earn you points, but they will earn your a higher rate of interest from the moment they are made, as well as a cash advance feel.
Store credit risks
Know that the rate of interest following an introductory low purchase interest rate or balance transfer offer is usually very high — often in the region of 20% p.a. or so. Consumers need to be diligent working towards repaying their debts before a big interest rate swoops in.
Picture: Shutterstock
Credit Cards Comparison
* The credit card offers compared on this page are chosen from a range of credit cards finder.com.au has access to track details from and is not representative of all the products available in the market. Products are displayed in no particular order or ranking. The use of terms 'Best' and 'Top' are not product ratings and are subject to our disclaimer. You should consider seeking independent financial advice and consider your own personal financial circumstances when comparing cards.