Net Worth Calculator Plugin for WordPress
The Net Worth Calculator plug in allows you to publish and keep track of your net worth. You record information on your monthly assets and liabilities, and then graph or display a data table tracking your net worth. The calculator is perfect for doing monthly blog posts about your net worth as you can embed monthly snapshots of your net worth as a graph or table.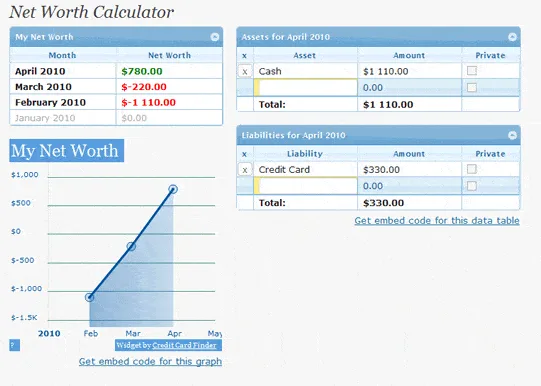 <<Download and Install the Plug in now
Plugin backend where you enter your assets and liabilities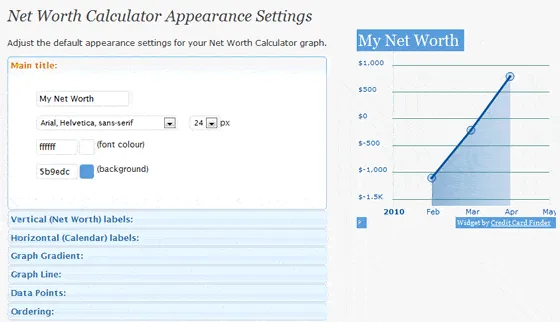 Customisable the appearance of the graph and table of your net worth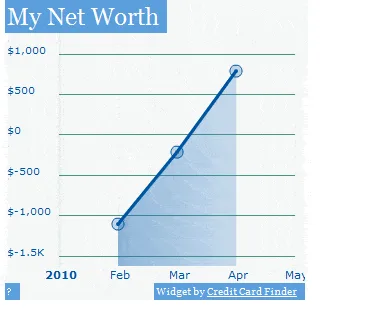 Graph display in a WordPress post or page

Insert the Table of your net worth into a post or page
How to install the plugin
Automatic Install
If your WordPress installation has appropriate permissions, this plugin can be installed directly through the "Add New Plugin" feature in the WordPress admin dashboard.
Manual Install
If your WordPress installation does not allow you to download and install plugins directly:
1. Download `net_worth_calculator.zip` from https://www.finder.com.au/credit-cards/net-worth
1. Unzip `net_worth_calculator.zip` into your `/wp-content/plugins/` directory
1. Activate the plugin through the 'Plugins' menu in WordPress
What does net worth mean?
According to Financial Dictionary the definition of net worth is: 'The amount by which a company or individual's assets exceed their liabilities.' In other words, what you own after you've deducted what you owe.
Calculating your net worth is quick and easy to do, once you have all your financial information to hand, and with our Net Worth Calculator Plugin you can keep track of your finances online.
Why calculate your net worth?
Letting your finances go unchecked means that you may unwittingly fall further into debt. If you calculate what you're worth every month it's a way of staying on the straight and narrow - for the majority of people; ironically, those who could do with calculating their net worth rarely do. Of course, even if you're not laden with debt checking your net worth regularly is a good financial habit to have, and gives you the chance to congratulate yourself every now and again on your excellent budgeting skills.
Net worth calculator plugin guide
So, without further ado, let us introduce our Net Worth Calculator Plugin. This plugin for WordPress allows you to publish your net worth and financial information online. It may not be for everyone - after all, some people like to keep these things private - but many people have already found it very useful. The calculator is perfect for doing monthly blog posts regarding your net worth as monthly snapshots of your assets and liabilities can be easily uploaded and displayed in graph or table form directly to your website.
You can choose to install the plugin automatically through your WordPress admin dashboard. Just search for and add the calculator via the "Add New Plugin" feature. Or, install the plugin manually by downloading it from here and activating it through the WordPress dashboard.
It's important you take some time to read the FAQs thoroughly as they offer some valuable pointers on how to install the plugin correctly. Once you have the plugin successfully installed, and you can view it via the dashboard, you can get started on figuring out your net worth.
Frequently asked questions
Back to top
Credit Cards Comparison
Updated February 28th, 2020
* The credit card offers compared on this page are chosen from a range of credit cards finder.com.au has access to track details from and is not representative of all the products available in the market. Products are displayed in no particular order or ranking. The use of terms 'Best' and 'Top' are not product ratings and are subject to our disclaimer. You should consider seeking independent financial advice and consider your own personal financial circumstances when comparing cards.