Credit Card Rewards or Credit Card Regrets? – PF Comic #5 – Part 2 of 2
PF Comic #5 - Credit Card Rewards or Credit Card Regrets? (...continued)
Part 2 is complete! We left Part 1 of PF Comic #5 Credit Card Rewards or Credit Card Regretswith a bit of a cliff hanger.
What happened to Money Funk - will she be ok? Find out now in Part 2 of PF Comic #5 featuring:
Meanwhile... Baker summons the 'Bear Grylls' from within himself to try and survive the Guatemalan jungle...
Previous Personal Finance Comics
Need some of the background?
First time reading one of our Personal Finance Comics? You can catch up on past comics here: Personal Finance Comics
Share personal finance comics with others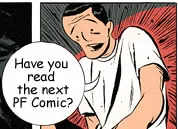 Coloured by Credit Card Finder®

Credits:
Illustrator: Francis Vallejo - Graphics, Panel Layout and Inking
Story: Enemy of Debt
Editor: Fred Schebesta
Related Posts