Credit card advertising rules and laws
From 0% interest offers to bonus points, bold text and all the fine print, here's what you need to know about credit card advertising.
We're reader-supported and may be paid when you visit links to partner sites. We don't compare all products in the market, but we're working on it!
Advertising has huge potential to influence the credit card you choose to apply for. By highlighting the key benefits of a product and putting additional details in smaller print, advertisements can persuade us of the value of a card while minimising the potential drawbacks.
Whether it's online, in a newspaper, on television or flashing across a billboard there are rules and regulations that all credit card advertisements must follow. This ensures that the information you receive is factual, clearly communicated and not misleading. Here, we look at the current guidelines and regulations around credit card advertising in Australia so that you can make an informed decision when applying for your next credit card.
How does credit card advertising work?
Credit card advertising is designed to encourage you to choose specific products through features, promotions and suggestions of the possible outcomes you may achieve if you do so. According to research from the Department of Justice - Consumer Affairs Victoria, there are two key strategies used in credit card advertising:
Fact-based advertising. This approach focuses on highlighting product features such as interest rates, balance transfer offers and rewards programs. These ads illustrate the potential of a credit card to offer you savings, a means of living well with debt or greater control of your finances.
Aspirational advertising. This type of ad is less about facts and more about the possibilities that a credit card may enable you to buy or experience. Consumer Affairs Victoria says advertisements may achieve this by "showing people living life to the full and taking advantage of all that they wanted to thanks to their credit card."
In addition to these two advertising strategies, Consumer Affairs Victoria reports that promotions also commonly include the appearance of the card (for example if it was gold, platinum or black). Some advertisements also include the suggestion that it would be easy to apply for (and get) a credit card.
What are the risks of credit card advertising?
The Australian Securities and Investments Commission (ASIC) has identified key risks around advertising for both promoters and consumers. In its guide to advertising financial products and services (Regulatory Guide 234), it says promoters may be tempted to focus on the benefits or advantages of credit cards and give less prominence to "unattractive features".
"For consumers, there is a temptation to make decisions on the basis of advertisements alone and not to seek further information, even though advertisements necessarily only contain limited information about the product or service."
This means that, regardless of which strategies are used for credit card advertising, there is potential for it to influence your decision-making process and your behaviour when it comes to using credit cards. That's why it's important to understand the advertising strategies, rules and regulations so that you can make more informed decisions when you look at different cards (or other products).
What rules and laws apply to credit card advertising in Australia?
Did you know?
All advertisements for financial products and services in Australia have a legal obligation to provide factual information. As the ASIC Regulatory Guide 234 outlines, promotions must not make "false or misleading statements or engage in misleading or deceptive conduct."
For credit cards specifically, this means that advertisements should include details such as:
Promotion start and end dates
Details of the requirements to access or use promotional features
Details of standard rates, fees and features
Details of the calculations used for any comparisons or advertised savings
Notice of any requirements for additional features such as complimentary insurance
Credit card companies are also required to provide you with a "Key Facts Sheet" before you apply for a particular product. This sheet highlights the financial details of the card, including the promotional interest rates that may apply (and for how long), the standard interest rates for purchases and cash advances, the length of any interest-free period and details of the annual fee and late payment fees.
Many providers also give you access to terms and conditions for the card, as well as information about any rewards program and complimentary extras. This allows you to consider all the relevant details before you apply, rather than just relying on the highlighted features of an advertisement, so you can make a more informed decision about whether or not a card will work for you.
What are the key details to look for in a credit card ad?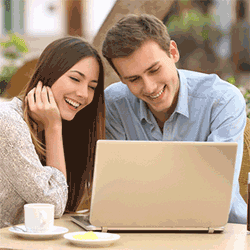 While there are rules and laws that credit card providers must follow when advertising their products, it's ultimately your responsibility to decide whether or not a card will suit your needs. So if you're on the market for a new credit card and an advertisement catches your eye, make sure you consider the following details before you apply:
The end date for introductory offers. Most introductory offers are only available if you apply and are approved by a certain date. For example, a card may offer 0% on balance transfers for 12 months for people who apply by 31 December. If you applied after that date, you would not be able to get this balance transfer deal.
Honeymoon periods. Credit cards that offer promotional interest rates on balance transfers or purchases do so for a limited period of time. For example, you may get 0% on balance transfers for 12 months, or 1% on purchases for 6 months. This is known as the honeymoon or promotional period, which usually starts when you're approved for the card or when you activate it. With these offers, it's important to consider how long the period lasts and what the rates will revert to at the end of this time.
Bonus point offer requirements. Reward and frequent flyer credit cards that offer bonus points may have a number of requirements you need to meet in order to get this reward. For example, you usually have to be a new credit card customer that applies and is approved during the promotional period. Often you'll also have to spend a set amount of money in the first few months you have the card. Make sure you consider these details and your budget so you can decide if this type of offer will be worth it for you.
Cashback offer requirements. Similar to bonus-point offers, credit cards that advertise cashback will have a number of requirements you need to meet to be eligible, such as spending a set amount of money in the first few months you have the card.
Balance transfer fees. Some balance transfer credit cards charge a one-off processing fee for balance transfers. This fee has to be included in advertising material, and is usually 1-2% of the total balance transfer. So if you wanted to transfer $5,000 to a new card, you could end up paying an extra $50 or $100.
Other balance transfer conditions. Balance transfers can come with a lot of other terms and conditions. For example, most cards only accept balance transfers from other credit cards (as opposed to personal loans) and will only allow the balance to be worth up to a certain amount of your approved credit limit. There are also conditions around which providers you can and can't transfer a balance between. If you want to take advantage of one of these offers, it's important to spend time reading through the conditions so that you can find out if that is suited to your circumstances.
Standard variable interest rates. Promotional interest rates are often the first thing we'll see in an advertisement. While it's easy to focus on the benefits of 0% interest for a set amount of time, make sure you also check the standard variable rates and when they'll apply so that the card you choose is affordable beyond the honeymoon period.
Interest-free offers. Most credit cards offer up to a certain number of interest-free days, such as "55 days interest free". While this may be advertised as a benefit of a specific card, it's important to understand that interest-free days are only available if you pay off your balance in full by the due date on each statement. There may also be other requirements based on the individual card, so don't count on this feature being automatically available for the card you choose.
Standard annual fees. Some credit cards offer reduced or waived annual fees for the first year, which may be highlighted in advertising materials. This can make it easier to overlook a higher, standard annual fee. So when you see the annual fee listed for a credit card ad, make sure you check if it's a promotion and look for the ongoing annual fee for a realistic idea of the cost of the card.
Complimentary extras. Perks such as travel insurance, airport lounge access and even flight vouchers are frequently highlighted in credit card advertising. While these benefits can add value to a card, they also have individual requirements for you to access them. Plus, they will only really be worth it if you can actually use them. So if you're attracted to a card based on complimentary extras, make sure you take time to look at what you'll need to do to use them.
How to use credit card advertising to your advantage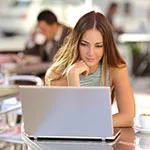 Helena is interested in getting a 0% balance transfer card for her existing $5,000 credit card debt. She's briefly searched for one online, but hasn't done much more than that.
One day, while she's scrolling through her Facebook feed, she sees an ad for a credit card that says: Save with 0% interest on balance transfers for 12 months and $0 annual fee*.
The ad includes an image of the card, which is platinum, and she can see there is fine print relating to the asterisk, but it is too small to read on her screen. So she clicks on the ad to review the full details of the offer. She's taken to the provider's page, where the key features are highlighted. Further down, she sees the following details in smaller print:
Revert rate. After the 12-month introductory period, the balance transfer interest rate reverts to a standard cash advance rate of 21.99% p.a.
Annual fee. While the annual fee is $0 in the first year, it is $199 for every year after that.
Balance transfer fee. This card charges a balance transfer fee of 1.5%. In Helena's case, this would mean she paid an extra $75 if she applied and was approved for her balance transfer on this card.
Instead of hitting the "apply" button on the provider's page, Helena compares a number of other 0% balance transfer cards. She finds one that offers 0% for 12 months and also reverts to a cash advance rate of 21.99% p.a. but offers no annual fee for life. It also doesn't charge a balance transfer fee. By applying for the card Helena found through her comparison, she'll save $75 in the first year, and $199 on annual fees for every year she has the card.
If you're on the market for a new credit card, advertisements can draw attention to competitive offers based on your interests and needs. However, they can also make it tempting to apply for the first option you find. Instead, you may want to use a credit card ad as a reference point for your comparison so that you can weigh up your options before choosing one that's right for you.
Picture: Shutterstock
Back to top
More guides on Finder