Free creative resume template (Australia)
A creative resume isn't only about showcasing work experience. It's about selling yourself.
We're reader-supported and may be paid when you visit links to partner sites. We don't compare all products in the market, but we're working on it!
Many employers will only spend a few moments glancing at a resume to determine if an applicant is a good fit for a job opening. So, your resume needs to create a fast and positive impression that sticks in the mind of hiring managers.
If you're applying for a job in a creative industry, a great starting point is to give your traditional resume a makeover so that it better highlights your key skills. Let's take a look.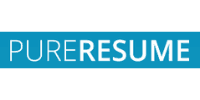 Pure Resume Offer
Get a professionally designed resume starting from $24.99.
What is a creative resume?
Simply put, a creative resume is a resume that doesn't follow a traditional template. It still incorporates your work experience, education and skills. However, it does so in a striking way, either by using an inventive design or an out-of-the-box format.
For example, a graphic designer can use their skills to transform their resume into an infographic. A film editor might send in a video resume. A marketing specialist can tweak their resume to look like a brochure. A coder has the option of building a dedicated website tailored for the job they're interested in.
In other words, a creative resume sells your qualifications in a way that plain words on paper just can't.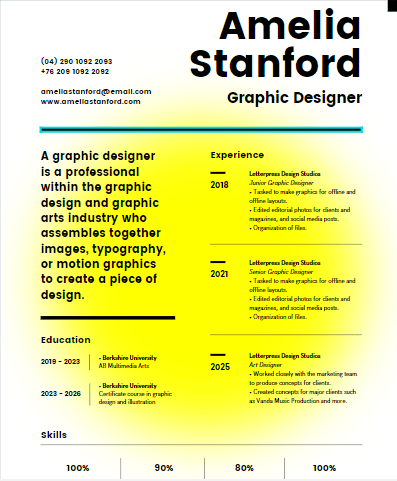 Download this creative resume template at Canva
What are the features of a creative resume?
A creative resume is designed to immediately attract the attention of the recruiter or hiring manager. To accomplish that, make sure that your resume is:
Branded – it could reflect some of your individuality.
Well-organized – the essential information should be easy to follow, even if the format or design is uncommon.
Readable – the information ought to be easy to scan (otherwise, you might end up frustrating the reader).
Tailored – it should be carefully customised for the job you're applying to.
Memorable – ensure it's attention-grabbing from the get-go.
What should I include in a creative resume?
A creative resume should include everything you'd normally include in a traditional resume – and then some.
Start by writing up a draft with all the relevant information you believe will benefit your job application.
From there, brainstorm ways to best package this information so that it tells a story about who you are and how you can help the company you're reaching out to. Whichever way you go, every creative resume must include the basics:
Contact information – like name, phone number, website and social media profiles;
A summary statement – point out how you can bring value for your potential employer;
Work experience – preferably in reverse chronological order;
Skills – all the abilities that fit the job description;
Education – include any pertinent training or courses.
Once these sections are covered, you can spice up your creative resume with whatever else you might think improves your chances of landing the job.
You can add a section about hobbies, volunteer work, personal projects, goals, awards and so on. Or, you can incorporate fun facts about yourself that emphasise your spark of brilliance or expertise.
Get a creative resume template to meet your needs
How much does a creative resume cost?
You can craft a creative resume without spending a dime as long as you're confident in your abilities. After all, that's the main purpose of it: to prove that you're artistic and imaginative. Building it from scratch also ensures that your resume will truly be one-of-a-kind.
Alternatively, you can use a creative resume template (see the table above) to help you get started. Some of these are available for free, while others cost between $5 and $15 on average.
You also have the option of hiring a professional writer or designer to help you out, but that gets pricey, especially if you have a complex project in mind. Think anywhere between $100 and $1000.
Pros and Cons of a creative resume
The most important factor to consider when building a creative resume is suitability. While it's appropriate to send in a non-traditional resume for a job in a creative field, when applying for positions within finance, academia, insurance or banking it's best to stick to a traditional format.
The same applies if you're sending your resume to a big corporation that receives tens of applications on a daily basis. A lot of them use applicant tracking systems (ATS) that assist hiring managers to quickly reject any unqualified applicants. These systems look for keywords when scanning a resume – in which case, a wacky format won't work in your favour.
Pros
Create a unique, eye-catching CV
Reflects your skills in an effective way
Allows you to showcase your personality
Wins you bonus points, handy if you don't have a lot of work experience yet
Cons
Not suitable for many industries
Not always ATS-friendly
Bottom line
A creative resume is a surefire way to catch the eye of a hiring manager and make a strong first impression. That being said, an unconventional format doesn't excuse bad grammar or poor design choices. Proofread, and then proofread again.
Back to top
Frequently asked questions about creative resume
How do I make sure that a creative resume is suitable for the job I'm applying to?
The most sure-fire way is to make sure you do lots of research on the company and position you're interested in. If the company has a relaxed culture, your creative resume will likely be welcome. If they have strict guidelines about the application process or the resume format they accept, follow those to the letter.
How long should my resume be?
If you're going with a paper resume, we'd generally recommend that you stick to no more than two pages as a maximum. If you're sending in a video resume, it should ideally be shorter than two minutes. You don't want to test the hiring manager's patience.
Do I need to include references in my creative resume?
Only if the job description requires you to. Most employers only ask for references later in the hiring process. You can specify that references are available upon request.
More guides on Finder