Cordless phone buying guide: How to choose the best phone for your home
Learn how to compare home cordless phones from major brands across Australia.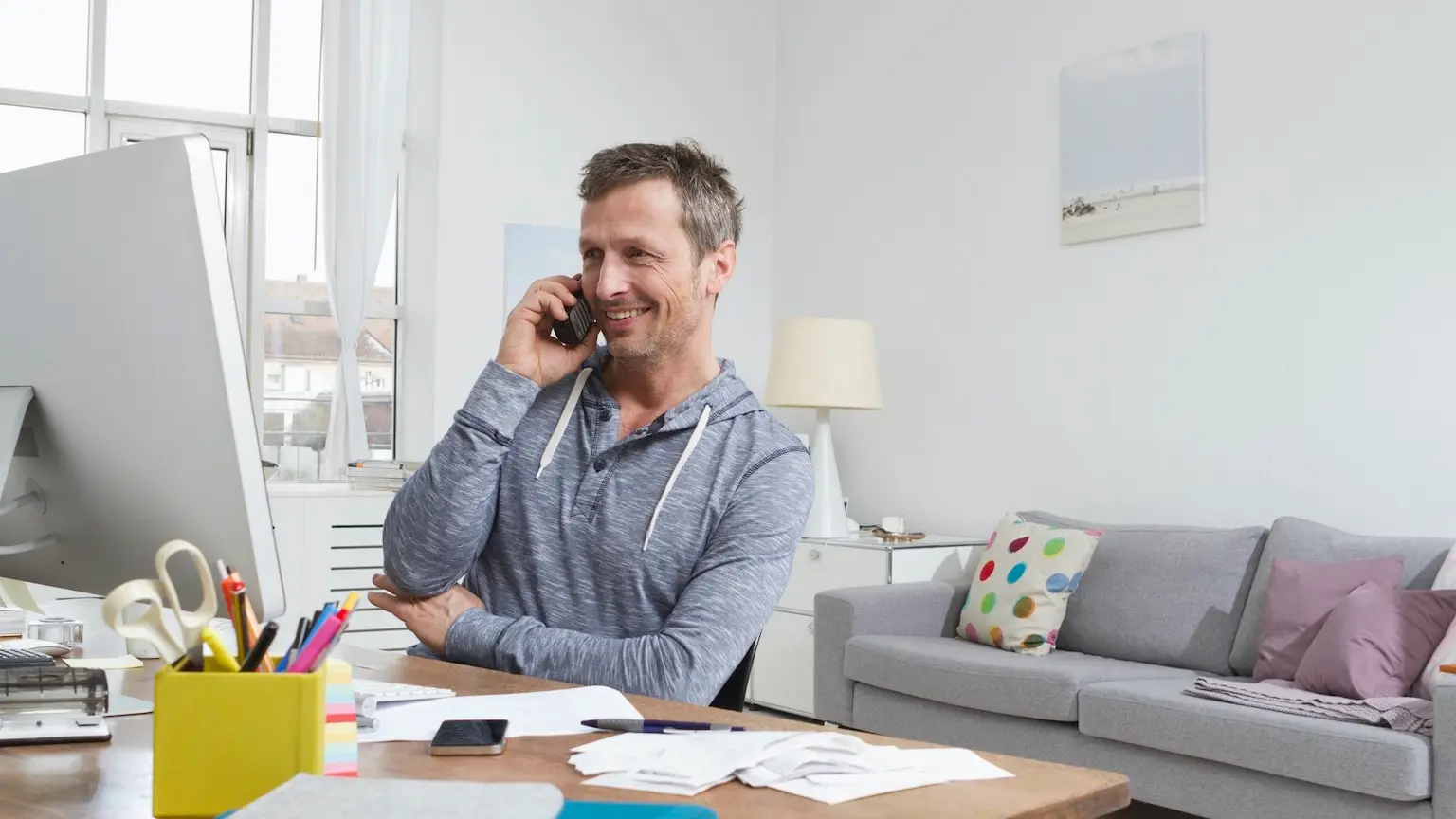 We're reader-supported and may be paid when you visit links to partner sites. We don't compare all products in the market, but we're working on it!
Quick facts about cordless phones
Cordless phones can offer better sound quality than the average smartphone and their dependable coverage means you don't have to worry about reception dropping out halfway through a call.
Prices range from around $30 to $200 for most models.
Many providers allow you to bundle your home phone and broadband Internet package to save money.
Pros and cons of cordless phones
Better sound quality. Landlines typically produce better sound quality than mobile phones, which can be an especially important feature if you're hard of hearing.
Reliable coverage. If your home is a mobile black spot or you have problems with patchy mobile coverage, cordless phones combine the reliability of a fixed line with the freedom of movement provided by a mobile.
Alternative to a mobile phone. If you don't have any desire to ever get a mobile phone, a cordless system is a practical and affordable alternative.
Save money. If you're already paying for a phone line for your Internet connection, getting a cordless phone can make good sense. By bundling your home phone together with your broadband Internet costs, you could potentially get good value for money.
Unnecessary. If the vast majority of the calls you make are on your mobile, it might be time to consider doing away with your landline altogether.
Added expense. With most mobile phone providers offering plans with unlimited calls and text at prices similar to (or sometimes less than) landline rental fees, a cordless phone may simply be an unnecessary expense. In fact, finder.com.au research has shown that home phones may become extinct by 2037.
NBN. Another reason to consider ditching your landline may be if you're switching over to the NBN. Once you've completed the switch, your home phone will become a VoIP (Voice over Internet Protocol) service, which means your phone will go down whenever there's an Internet outage. Despite this, our research shows that 64% of NBN users decide to keep their landlines.
Apps offer overseas calls. And if you've been holding onto your landline to contact friends or relatives overseas, smartphone apps like Skype and WhatsApp make this even cheaper and easier.
Compare mobile plans from leading providers
What types are available?
There are plenty of choice available when shopping for a cordless phone, with models from Panasonic, Telstra, Uniden, AT&T, VTech and a host of other brands.
Apart from their price points, one key way to distinguish between different models is to check whether they feature a built-in digital answering machine. Models with answering machines tend to boast a wide range of features and sit towards the top end of the price range.
Another factor to consider is whether the cordless system has a corded base unit, or whether all handsets provided are cordless.
How to compare cordless phones
When choosing a cordless phone, you'll need to consider the features you want in your landline, such as the number of handsets and the size of its phonebook as well as the amount of money you want to spend. Use the following items as a checklist when comparing cordless phones and their features:
Sound quality and volume
Check the quality of the sound that each model puts out. If you're hearing-impaired, you may want to check how much volume adjustment is available or even consider a model with amplified sound that is specially designed for those that are hard of hearing.
Number of handsets
Think about how many handsets you need around your home. Check how many handsets come included as standard and, if applicable, whether there's scope to expand the number of handsets even further. Some models allow you to use up to 12 handsets.
Range
Range is a key factor as it determines how far you can wander from the base unit and still be within reception range. Compare the claimed ranges of any model you're considering and if you want greater reach, take note that some manufacturers offer cordless phones that use a repeater to substantially increase coverage from the main base station.
Phonebook size
How many numbers can you store in the unit's phonebook? While 50 is a common limit, some models can store hundreds or even thousands of numbers.
Answering machine
If you want a cordless phone with a built-in digital answering machine, check what the machine's capacity is and what time limit applies to voicemail recordings. Also check the sound quality of messages.
LCD screen
Cordless phones typically feature an LCD screen that can display your phonebook, caller ID, battery strength, length of call and other useful information.
Call block
If you want to stop a specific number calling you, many models offer a call-blocking feature.
Call waiting
This feature alerts you if someone is trying to phone you while you're already on a call. However, check with your phone network to find out whether this will incur an additional fee.
Text to speech
This voice feature announces numbers as you dial them and reads out the names of incoming callers.
Sleep mode
Sleep mode allows you to set the phone not to ring during a specified period. This is a very useful inclusion if you don't want to be interrupted during dinner or woken up in the middle of the night.
Conference calls
The conferencing feature allows other members of the household to pick up a separate handset and participate in a conversation.
Two-line support
Some higher-spec models allow you to receive calls for two separate lines on the one phone. This may be a useful feature if you run a home business, and you can set separate ringtones so you immediately know which line has an incoming call.
Controls
Are the keys large and easy to read? Is the keypad backlit so the numbers can be easily seen in low light?
Ease of set-up and use
Entry-level models are typically easy to plug in and use straight out of the box, but those with more advanced features may have a complicated set-up process. Look for a cordless phone that is simple to set up and has an easy-to-navigate menu system.
Battery life and charging time
Talk times on cordless handsets usually range from around 5 to 10 hours. A low-battery warning should tell you when the phone needs charging. It's also worth investigating how long a full charge will take.
Wi-Fi compatibility
Older cordless phones were susceptible to interference from microwaves, while models operating in the 2.4GHz or 5.8GHz band may also experience interference from your home Wi-Fi network. To avoid this problem, look for a cordless phone labelled DSS or DECT (or DECT 6.0, XDECT, WDECT, ECO DECT etc) – this essentially means that it operates in the 1.8-1.9 GHz band and won't suffer interference from other devices.
Bluetooth support
Some phones use Bluetooth technology to allow mobile phone calls to be made using a cordless handset. This means you can make and receive calls from your mobile and landline on the same phone.
Hands-free
The inclusion of a speakerphone lets you chat hands-free and allows other people in the room to join in a conversation. Many models also feature a headset jack if required.
Bundling your home phone and Internet
If you've decided that a cordless phone is right for you, you may also want to consider your home phone plan options. Those that don't have an Internet connection will need to look for a standalone home phone plan, but if you want both Internet and a home phone, then you should consider bundling your two plans together.
If you keep your Internet and home phone plans separate, you may end up paying more than you need to. With this in mind, it's worth shopping around to find a home phone and Internet bundle that offers good value for money.
While a smartphone may be all that some people need, cordless phones do offer some important benefits.
More guides on Finder