What does a competitive mortgage rate look like in November 2019?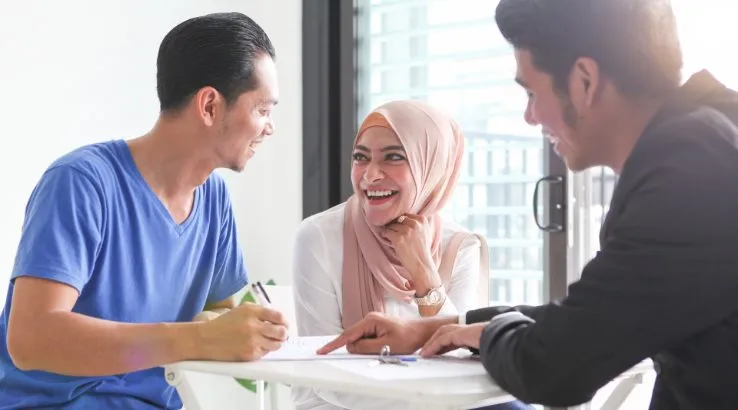 Rates have never been lower, but you still need to do your homework to get a good deal.
In November 2018 the lowest variable rate you could find was 3.54%.
But after three cuts to the official cash rate home loan interest rates have never been lower. The lowest variable rate in Finder's database is 2.69%. That's almost 80 basis points lower than a year ago.
While this is great news for borrowers, getting a competitive home loan is a little more complicated than just finding the cheapest rate around. Your rate type, the lender you choose and features like offset accounts all have a big effect on making your mortgage competitive.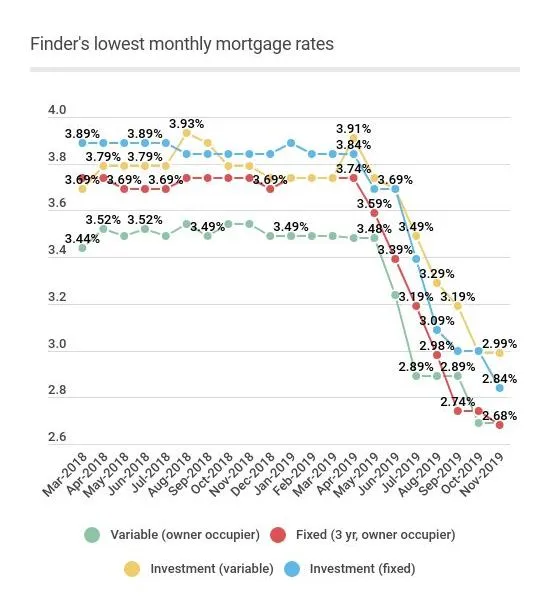 Competitive lenders often have more restrictions
The lowest rates on the market are all from smaller lenders. The lowest variable rate from one of the Big Four is NAB's Base Variable Rate Limited Time Offer at 3.20%. This is much higher than the 2.69% Low Rider Variable offer from Reduce Home Loans.
But going with a smaller lender can have some drawbacks. A smaller lender might only have phone and online support, meaning you won't get the face-to-face help of someone at a local bank branch.
A lender with a very low rate may not lend in your state or region, or may only be willing to lend up to 80% of a property's value.
Every lender has its own restrictions when it comes to apartments too. I spoke to a lending specialist at one very competitive online bank this week who told me that if I was buying an apartment in my suburb in West Melbourne I could only borrow 70%. But if I was buying a house I could borrow 80%. That's a huge difference in deposit size.
Another online lender I spoke to was fine with apartments in the same suburb but didn't offer pre-approval. This meant I would have to start a full application with them even before I had found a place to buy. For some borrowers, this can be a significant turn-off.
The fixed versus variable conundrum has never been more complicated
The lowest fixed rate in Finder's database right now is 2.68%, a single basis point lower than the lowest variable. This is unusual (the lowest three year fixed rate this time last year was 3.74%).
But most Aussie borrowers aren't interested in fixing to the lowest rate ever. According to recent data from Mortgage Choice, only 14% of their customers in October took out fixed rate mortgages.
"The level of demand for fixed rate home loans has not changed in four months and is significantly lower year on year," said Mortgage Choice CEO Susan Mitchell.
Ms Mitchell suggested the reason for this is because "speculation is rife that the Reserve Bank of Australia will cut the cash rate a fourth time this cutting cycle, which would be reason enough to keep borrowers from locking in."
A cut to the cash rate early next year would definitely see variable rates falling further. So that 2.68% fixed rate might not look quite as sharp a few months from now.
It's also harder to refinance a fixed rate loan due to break costs. But if you value certainty around your repayments and want to lock in a good rate now, fixing is an option to consider.
Do you need an offset account?
Getting a mortgage with an offset account gives you the option to use extra savings to reduce your interest charges. It's one of the most useful features on a mortgage. But loans with the lowest rates often lack this feature.
Of the 50 lowest fixed rate loans in our database, only 13 have offset accounts and some require a monthly fee to open one. Of the lowest variable rates, 26 did.
If you have extra savings to put in an offset account, this feature could save you more money even if it means going for a slightly higher interest rate.
The bottom line is this: mortgage interest rates have never been lower. But you still need to do your research and look carefully at the lender and the loan features to make sure it's a good deal for you.
Compare your mortgage options now and get a better deal
Latest home loans headlines