Free college resume templates (Australia)
Learn how to efficiently highlight your academic experience and pertinent skills.
We're reader-supported and may be paid when you visit links to partner sites. We don't compare all products in the market, but we're working on it!
For a lot of us, college is when we start to seriously consider our professional future. Not only that, but we take the first steps towards achieving our career goals - whether that means getting a part-time job for extra cash or going after a coveted internship that will win us bonus points in the long run.
To land a gig, however, you need a rockstar resume. The good news? Even if you have little or no working experience, you still have abilities that make you an appealing candidate in the eyes of a potential employer.
Read on to find out how to showcase them in style.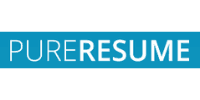 Pure Resume Offer
Get a professionally designed resume starting from $24.99.
What is a college resume?
A college resume is a document that lists your education, achievements, abilities and work experience while you're in college or university. Think of it as a marketing tool meant to convince a hiring manager that you're the right person for the job.
Writing a resume while still in college is a great idea, whether you're applying for a graduate program, internship or part-time job.
This document is the first interaction between you and a recruiter or hiring manager, so it's imperative you put in the time to make sure you're presenting the best version of yourself.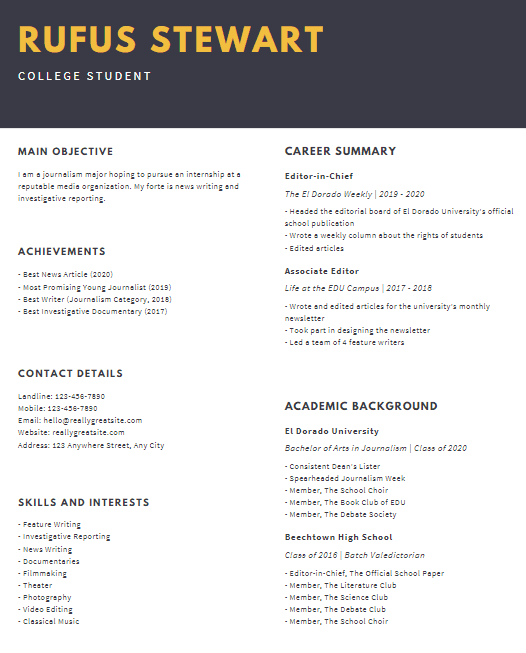 Download this template at Canva
What are the features of a college resume?
To help you put your best professional foot forward, a solid college resume needs to be:
Honest. Don't lie if you don't have any experience, this will only hurt you in the long run.
Persuasive. Include all the achievements that recommend you for the job, regardless of how unimportant they may seem to you.
Appealing. Use modern design elements and consider a creative format if you're really looking to stand out and your industry warrants it.
Tailored. Make sure your resume is tailored to fit the position you're applying to.
Typo-free. Proofread, then proofread again, then ask a friend to proofread for you.
What should I include in a college resume?
Regardless of what kind of gig you're considering, all resumes include the following information:
Contact details. Your name, email, phone number and location.
Objective. This isn't mandatory, but it's recommended if you're just starting out as it enables you to explain how you can use your abilities to help the company you're reaching out to.
Education. The institution you're attending, major/area of study and academic grade if impressive; you can also add academic achievements and prizes.
Work history. If you don't have any official work history to list (remember that part-time gigs like babysitting count!), include 'relevant experience' instead and list any volunteer activities, personal projects or extracurriculars.
Skills. Incorporate both hard skills (e.g. coding, photo editing, mixing drinks) and soft skills (leadership abilities, attention to detail, problem solving and so on).
Interests. Hobbies that may help you land the job; for instance, if you're applying for a job with a literary magazine, you can mention your love of books.
Get a college resume template to meet your needs
Does your company belong in this list?
How much does a college resume cost?
Writing your own college resume costs nothing but the time spent researching best practices and typing out the resume using a word processing program.
If you're after a professional resume, a resume writer can charge you anything between $30 and a few hundred dollars to create the document for you.
However, if you want some of the professionalism of an expert resume without the price tag, you can also use a resume template from an online service like Pure Resume, Resumonk or Canva.
Pros and cons of using a college resume template
Pros
Gives you a professional looking resume without the cost of working with an expert
Helps you make a good first impression when applying for a job
Cons
Can be more expensive than creating it by yourself
Bottom line
Regardless of what your next professional step is, you need to learn how to create a resume if you're hoping to land an interview and eventually get a job.
While the endeavour can seem overwhelming at first, practice makes perfect. Don't be afraid to experiment with different resume formats until you find one that best suits your field and personality.
Frequently asked questions about college resume
Why do I need a resume?
Having a resume is crucial regardless of your professional aspirations. You will need it at job fairs, to apply for jobs, as part of a graduate school application or even to accompany a request for a letter of recommendation. The sooner you write yours, the better.
What is the best resume format?
There is no such thing. While most hiring managers prefer a chronological resume, it depends on what kind of jobs you're applying to. If you're hoping to work in a creative industry, for instance, a creative resume might give you an edge.
How long should my resume be?
You should stick to one page, especially when you don't have a lot of work experience under your belt. Make it a point to describe your experiences clearly and concisely to save the hiring manager time.
More guides on Finder