Coffs Harbour Hotels | Where to stay in the Mid-North Coast city
Find hotels, cabins and homestays for your family holiday, romantic escape or surf retreat in Coffs Harbour.
We're reader-supported and may be paid when you visit links to partner sites. We don't compare all products in the market, but we're working on it!
Flaunting sunshine-soaked beaches, unbeatable surf and a backdrop of undisturbed rainforest, the town of Coffs Harbour has lots to offer for all sorts of holidaymakers.
Accommodation in the area serves up a selection of luxury beach resorts, cosy Airbnb apartments, affordable hotels and tranquil camping spots. In other words, you'll have no problem finding the perfect place to stay for your break on the North Coast.
Today's Coffs Harbour accommodation deals
How did we pick these Coffs Harbour hotels?
Our editorial team selected the Coffs Harbour hotels on this list based on price, location and real customer feedback from hotel booking sites and review platforms. Where applicable, we used our own personal experiences to make recommendations.
Where to book Coffs Harbour hotels online
Does your company belong in this list?
Our top picks: Best Coffs Harbour accommodation
Pet-friendly Coffs Harbour accommodation
A huge draw to Coffs Harbour for pet owners is the amount of dog-friendly beaches in the area, some of which are off-leash.
Luckily for owners, there's plenty of beachside accommodation that caters to your four-legged friend. For example, Mcauleys Beach House welcomes pets and is a five-minute walk from the dog-friendly Diggers Beach.
Friday Creek
is home to several self-catered cottages that sleep up to eight people, as well as your cat, dog or almost any other pet you might have.
If you're a stickler for traditional lodgings, one of the only hotel-type accommodations in the area that allows pets is the Big Windmill Motel. It also happens to be a steal for a night's stay.
Our top picks for pet-friendly accommodation: Friday Creek Retreat, Mcauleys Beach House and Big Windmill Motel.
See more pet-friendly accommodation
Cheap Coffs Harbour accommodation
Visiting Coffs Harbour on a budget is easy. There's a healthy amount of backpackers and hostels around, such as the Jetty Blue Backpackers, and there are a number of conventional hotels, like Coastal Bay Motel, that offer reasonable rates, too.
Most low-cost accommodation is located in the northern part of town, which isn't too inconvenient. Within a 10-minute walk you've got the town's main attractions and sandy beaches.
If you don't mind staying further from the beach, there are deals to be had on self-catered villas and cottages. has a number of one-bedroom and family apartments with rates from $80 per night. This gives you access to a shared pool, a children's playground and a communal sun deck.
Our top picks for cheap accommodation: Jetty Blue Backpackers, Coastal Bay Motel and Aqua Villa Resort.
Luxury Coffs Harbour accommodation
Treating yourself in Coffs Harbour means beach-side resorts, the majority of which are just a short drive north of the CBD. These resorts offer relaxation in the form of saunas, swimming pools and tennis courts.
For something truly upsale, the Nautilus Beachfront Villas and Spa has a private beach, salt-water pool and on-site beauty centre.
If you're after romance, try Aanuka Beach Resort out for size. Its studio hotel rooms allow for the ultimate freedom during your stay. For that extra wow-factor, book one of its Paradise Spa Bures. Each is fitted with a private spa bath and balcony, perfect for a candlelight dinner.
Our top picks for luxury accommodation: Pacific Towers Beach Resort, Nautilus Beachfront Villas and Spa and BreakFree Aanuka Beach Resort.
Cabin accommodation in Coffs Harbour
Reconnecting with the great outdoors is one of the best things about Coffs Harbour. So what's the best way to do it? With a cosy cabin of course.
Most caravan parks in the area offer cabins of all shapes and sizes. They often include a kitchen, living space and a small outdoor space. All of them, with the exception of BIG4 Park Beach, are a 10-minute drive from Coffs Harbour, so you'll need your own transport to get around.
BIG4 Park Beach Holiday Park has a more central location, as well as all of the extras that you'd expect from a big-name caravan park. It offers beachside cabins that can accommodate up to eight people.
A little bit of cabin luxury can be found further up the north coast at The Bellingen Valley Lodge.
If you're on a budget, you may want to find something a little less dear. Locally run spaces like Park Beach Cabins offer more affordable alternatives. The lodgings may be simple, but at $50 a night, you can't complain.
Our top picks for cabin accommodation: BIG4 Park Beach Holiday Park, Bellingen Valley Lodge and Park Beach Cabins
Where in Coffs Harbour can you find these hotels?
---
Alternate Coffs Harbour accommodation
A small number of Airbnb and Stayz options operate in Coffs Harbour. Most are scattered along the coastal road and are perfect if you want to embrace local life or stay the length of the surf season.
Coffs Harbour has no shortage of campsites and caravan parks to choose from as well. It's mainly big-name brands like BIG4, Discovery Parks and Reflection Holiday Parks that operate in the area, though you'll find a few locally run places and free camping sites in the area too.
Our Coffs Harbour accommodation reviews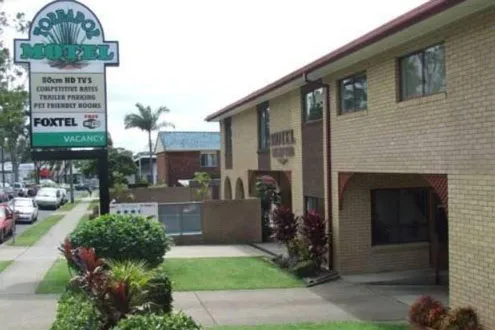 Toreador Motel, Coffs Harbour
from Finder Hotels
Reviewed by: Angus Kidman, Editor-in-chief
Just a block from the city centre and set off the Pacific Highway, the Toreador is a convenient option if you're passing through Coffs Harbour. The rooms are a good size and well-maintained.
Budget: Medium
Pros: Spacious room, close to city centre, on-site kitchen if you want to save on eating out
Cons: Not near the beach
Would I stay there again? Yes
Check availability
Frequently asked questions about Coffs Harbour accommodation
What accommodation is close to Coffs Harbour Jetty?
The budget-friendly Jetty Blue Backpackers, the mid-range Caribbean Motel and the slightly more upscale Pacific Marina Apartments all put you within a short minute's walk of the jetty.
Which pubs offer accommodation in Coffs Harbour?
Pub accommodation in Coffs Harbour is basic but very affordable. For a centrally located pub, try Coffs Hotel, or, for something closer to the beach, go for The Pier Hotel.
What accommodation is close to Coffs Harbour Hospital?
Located a couple of kilometres south of the city centre, Sanctuary Resort Motor Inn and Arosa Motel both offer easy access to Coffs Harbour Hospital.
Which sites let me book Coffs Harbour accommodation with free cancellation?
These sites let you make a refundable booking for your trip to Coffs Harbour, so there's less risk of losing the cost of your stay or deposit. Some sites only offer free cancellation on select Coffs Harbour hotels or at a slightly higher rate, so it's best to check the terms on your booking before confirming your stay.
Most sites, like Wotif or Expedia, will clearly state whether each Coffs Harbour hotel is non-refundable.
Which sites let me use a coupon code to book Coffs Harbour accommodation?
Using one of our coupon codes at these sites will save you money on your Coffs Harbour stay. Some may ask you to pay for your stay upfront rather than on arrival in order to apply the code to your Coffs Harbour booking, but the same cancellation policy does apply so if you are able to cancel, you'll be able to get refunded.
Which sites let me book Coffs Harbour accommodation without a credit card?
compare credit cards that offer hotel rewards here
.
Which Coffs Harbour hotel booking sites have rewards programs?
Get access to cheaper prices, collect points toward free stays and get extra perks like Wi-Fi or breakfast if you book your Coffs Harbour accommodation on sites like these: