Civilization VI Review: A timesink of massively fun proportions
Civilization VI is fantastic, intricate and one of the biggest timesinks in gaming, but it's still a game that must not be missed.
We're reader-supported and may be paid when you visit links to partner sites. We don't compare all products in the market, but we're working on it!
Every single time I fire up Civilization VI, I get a little scared. Not because the designers have eschewed the traditional 4X gameplay in favour of shambling zombie hordes (although they could be in there somewhere, I guess), or because I'm particularly scared of Ghandi and his love of nuclear weapons, although he is once again present in a game that, as the name suggests, spans the history of, well, human history.
No, the reason I get scared by Civilization VI is that starting a game is rather like the reason you'd get scared if you were staring into a black hole. It's massive, it seems to have its own gravitational pull, and the simple act of being anywhere near it means that time will sink into it whether you want it to or not.
I'm well aware that by the time I finish a game of Civilization VI I may well be several years older with a scraggly beard and bleary eyes from staring at hexes and assessing whether they're better suited for dropping down a barracks, library or wonder of the world. All of these are skills that are essential to success in a game of Civilization VI, but they're unlikely to carry much weight when you turn up to work the next day bleary eyed because you were up all night seeing off the combined German and Chinese forces just long enough to score a science victory. Unless, that is, you can get your boss hooked as well, but then that might have terrible consequences for your long term job security.
Reviewing Civilization VI is also a rather daunting task, because the scope and complexity of the game means that there's really nothing quite like it, and no real point where anyone could claim to have "finished" it. That gives it immense replayability if you do allow it to sink its time-stealing hooks into you, far and above any other title I could think of. On a pure hours-per-play metric, nothing could or would even come close.
Then again, this has been the Civilization story for a whole quarter of a century now. It's the game that defined the 4X genre, and successive releases have honed that gameplay, largely by adding new complexity wrinkles to that same compelling "one more turn" gameplay model. If you're something of an OCD control freak, the chances are high that you're a fan of the series, and I say that with love, because that's exactly how I'd describe the way I play Civilization VI.
Where Civilization V changed the strategy of battle by removing your ability to easily stack military units on a single space, Civilization VI takes the next step along this path by applying the single-space rule to the improvements you make to your cities. This means that you've got tougher choices to make, because you can't (for example) just stack your capital city with wonders of the world because each of those takes up a space that you might need for a farm, a campus or any other improvement. The resources and terrain type of surrounding tiles will make a huge difference to the growth rate of your city, so it's not as simple as just dropping tiles wherever they may fit. All of this has to be managed against the racing progress of other players, AI-controlled or not, as well as intermittent barbarian raiders that will happily pillage your new hex improvements the minute you've finished fashioning them. Hey, nobody said that being the leader would be easy, did they?
The shift to hex-based single tile city building is one that will likely flummox established players for a while, but it's an exceptionally welcome one once you wrap your head around the way that terrain and adjacent building bonuses work. When you get it right and your economy is humming along nicely, it's an immensely satisfying feeling.
Governments are also refined in Civilization VI with the introduction of policy cards that can modify how your government actually operates. This gives you immense flexibility to make smaller scale changes to adapt to the moves of other players, because if you find yourself under sudden attack you can switch out buffs that might have increased science or the learning rate of scout units for ones that improve defensive capabilities. Your policy choices are limited by your governmental type, so broader changes still require full governmental changes, but it's quite welcome to be able to make smaller incremental changes to your overall buffs as well.
Civilization VI does a fine job improving on the existing formula, but a game of this depth will appear challenging to any new player. There's a huge swathe of concepts to come to grips with, and while the game's Civilopedia does in fact contain absolutely everything you need to know, it's all too easy to feel overwhelmed by the information on display.
By default choices come up as slide-in/slide-out panels, and you're likely to be staring at many of them all at once as you balance your way to victory however you choose to chase it. Focus is still key, whether you're a fan of military domination victories or more subtle cultural or science victories, because you can't specialise in everything all at once, but you're still going to have to work at least a little across all fields, because your military might could be crushed easily by a more scientifically inclined foe, or you may face revolt at home if you're only ever building up tanks when your people demand temples.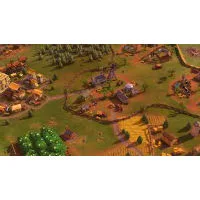 Buy Civilization VI
from Humble Bundle
Get Civilization VI to expand your empire across the map, advance your culture, and compete against history's greatest leaders to build a civilization! Order game from the Humble Bundle now.
View details
The worst thing that Firaxis could have done would have been to try to "fix" Civilization by dumbing it down. They've already been down that path with the much lighter Civilization Revolution games, and while those were fine "My First Civ" style tasters, there's nothing like the pure rush of the real thing. Civilization VI is a fine return to form, and an easy recommendation for any strategy fans. Just be sure to book a few months off work before purchase, because it will dominate your gaming time easily if you let it.
We reviewed Civilization VI on PC with a copy provided by the publisher.
More guides on Finder